UCDVH News: Veterinary Blood Donor Clinic
The Veterinary Blood Donor Clinic is one of the services provided to canine and feline patients referred to the UCD Veterinary Hospital from external veterinary practices. It was launched in 2007 by Prof Carmel Mooney and former UCD lecturer, Sheila Brennan. The Veterinary Blood Donor Clinic is run by Aimee Hope (Resident in Small Animal Medicine), Claire O'Driscoll (Veterinary Nurse) and Karolina Fawcett (Technical Officer) under the supervision of Prof Mooney.
Pictured is Karolina Fawcett with Anto Byrne and Ricky and Oscar during Ricky's last donation before turning 8 years old.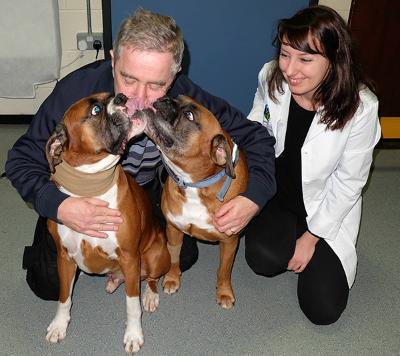 The main objective of the Veterinary Blood Donor Clinic is to supply blood products, such as whole blood, packed red blood cells and frozen plasma, to transfusion dependent patients. The most common reasons for blood transfusions at UCDVH are anaemia or any lack of cells needed to form blood clots. Products stored in the blood bank laboratory are administered based on blood typing and crossmatching results.
Successful activity of the clinic would not be possible without our clients who voluntarily participate in our blood donor programme. Donors need to meet specific criteria (please see table below) and in January 2018 we recruited our 100th canine blood donor. Donors undergo regular health checks and if they show any signs of illness, they are referred back to their veterinary practices for further investigation and treatment.
Currently, the Veterinary Blood Donor Clinic has 9 DEA 1.1 negative (universal) and 14 DEA 1.1 positive donors, however we are constantly trying to recruit more donors in order to meet an increasing demand for blood transfusions.
If you would like further information about the Veterinary Blood Donor Clinic and our blood donation programme, please contact Karolina Fawcett (01 716 6137).
Canine and Feline Blood Donor Criteria:
Aged between 1-8 years old
Weight: above 25 kg (dog), above 4kg (cat)
Healthy, not receiving any medications
Vaccinations and worming up to date
Has never received a transfusion
Never travelled outside Ireland or UK
Good temperament