Dean's Lunchtime Clinical Club
After a very successful first year, the Dean's Lunchtime Clinical Club is running again in the School of Veterinary Medicine for the 2017/2018 academic year. The Clinical Club is a series of talks aimed at pre-clinical students on the Veterinary Medicine and Veterinary Nursing programmes, and they take place at lunchtime every Tuesday during term. The talks are case-based and focus on giving students exposure to the clinical work that takes place in the UCD Veterinary Hospital; the sessions are relatively informal, and there is a discussion after each talk. While the talks are primarily geared towards pre-clinical students, they are also attended by staff from a range of areas across the Vet School and we've been delighted to have a full attendance for each session to date.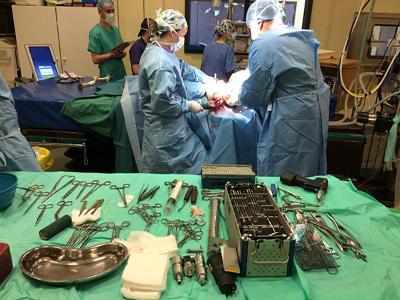 So far this semester, a range of areas have been represented at the Clinical Club - Farm Animal Clinical Studies, the Equine Field Service, Small Animal Surgery, Small Animal Internal Medicine and the UCDVH Blood Donor Clinic. The sessions got off to a flying start with Dr Eoin Ryan discussing a case of a Humeral Fracture in a Sheep; Barbara, an 18 year old Suffolk X ewe was admitted to the UCD Veterinary Hospital with the advice from her owner to look after her 'like a dog.' Her surgery and post-op care involved a large team from across a range of disciplines and a successful outcome was evident when she returned to eating biscuits soon after the procedure! The lively session was concluded with a discussion around the ethics of treatment in such a case.
Dr Steve Martin presented a talk on 'When Vaccine Reactions become Surgical…' to the Clinical Club, which involved an interesting case of a Yorkshire Terrier who suffered a severe reaction following on from a rabies vaccine. This case involved intensive treatment, surgery and a long hospital stay for the dog in question, but happily there was a successful outcome and the dog is now happy and healthy again.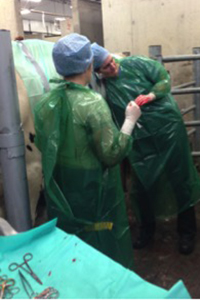 Other fascinating and thought-provoking topics to have been presented on include a complicated Equine Dental case from Dr Sinead Devine, Vagal Indigestion from Dr Catherine Carty and a case of Eosinophilic Gastroenteritis in a puppy which was presented by Dr Aimee Hope. There are a range of talks to follow this semester from staff in Diagnostic Imaging, Pathology, Small Animal Intensive Care and Equine Surgery and all are welcome to attend.
‌