Research News
Staff and students from across the School have been busy with a range of research activities over the Summer months and into the start of the 2017/2018 academic year. Highlights include Annie Lin representing UCD at the World Veterinary Congress in Korea in August, Alice O'Byrne winning a Student Summer Research Award for her project completed with colleagues in UC Davis and Dr Nikki Walshe, Assistant Professor in Equine Clinical Studies, who has been awarded a research grant from the Veterinary Council of Ireland. We are also delighted to announce that Professor David Brayden has been elected as a Fellow of the American Association of Pharmaceutical Scientists (AAPS) – this is a first for an Irish scientist.
Alice O'Byrne – Student Summer Research Awards
During the Summer, Alice O'Byrne, a UCD student, travelled to UC Davis to work with faculty member Dr Karen Shapiro on a project entitled 'Molecular epidemiology of Sarcocystis neurona from land to sea: detection and molecular characterization in opossums and marine mammals from western Washington.' This project explores the hypothesis that strains of the parasite S. neurona identified in opossums in western Washington State will match strains present in marine mammals from the Pacific Northwest. This would provide evidence of shedding of the parasite by opossums, acting as a reservoir for infection of marine mammals.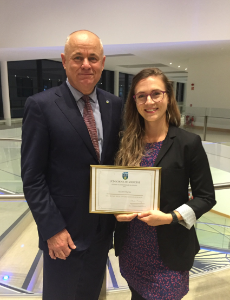 To read more about our Summer research collaborations with UC Davis see http://www.ucd.ie/vetmed/about/alumni/alumninewsletteraugust2017/ucdsquared/ - d.en.385858 ‌
On 26 September, Alice presented her research project as part of the annual Summer Student Research Awards (SSRA). She was subsequently shortlisted as one of eight finalists to present on 4 October as part of the SSRA Gold Medal Finalist Presentations, at which, Alice was awarded the SSRA Research Excellence Bronze Medal for her project. Congratulations to Alice and all involved in the project – we look forward to further collaborations with our UC Davis colleagues in the future.
Annie Lin – World Veterinary Congress
Annie Lin, a Stage 3 MVB (Graduate Entry) student from the UCD School of Veterinary Medicine represented UCD at the 33rd World Veterinary Congress (WVC) in Korea in August. Annie was the only representative from UCD to present at the WVC. Her poster was featured in the Internal Medicine Section and was entitled Evaluation of Iris-pupillary Ratio as a Non-Invasive Biomarker of Higher Sympathetic Activity in Hypertensive Canines and Felines. This project was based on the hypothesis that measuring pupil diameter (pupillometry) could be used as a stress marker in animals. It is a well established practice in medicine but there has been little work done in the veterinary field. The images of canine and feline eyes were collected by two students, Annie Lin and Colleen Bourque (who graduated this summer) and the data analysis was done by Dr Arun Kumar from the Veterinary Biosciences section. This work is part of a larger project being undertaken by Dr's Arun Kumar and David Kilroy which aims to determine the effectiveness of pupillometry as a non-invasive bio-marker of stress in a variety of species, both domestic and wild. Data obtained on poultry are currently being analysed and another large scale study of dairy cows stress is underway. Well done and congratulations to Annie and everyone involved in the project!‌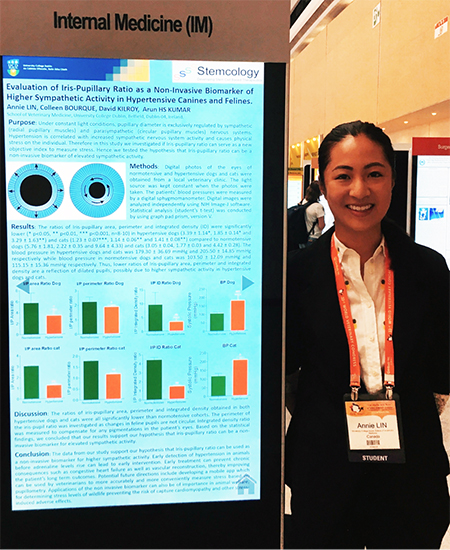 Nikki Walshe - Veterinary Council of Ireland Research Grant
Dr Nikki Walshe is an Assistant Professor in Equine Clinical Studies, with her work focused on the UCDVH Equine Field Service and also on teaching students as part of the Equine Clinical Studies rotation. Nikki qualified from UCD in 2011, before heading down to the southern hemisphere where she worked in several different areas of the equine veterinary industry for 4 years. After that, she returned home to Limerick to work in equine practice here in Ireland. Nikki has been working in UCD for over a year now, and has recently started a thematic PhD in Infection Biology, investigating the immune and microbiome response to anthelmintic treatment of cyathostomes. Nikki's project, which is detailed below, has recently been awarded a research grant from the Veterinary Council of Ireland; the project is entitled Better Treatment Options for Horses at Risk from Acute Larval Cyathostominosis
Cyathostomins (small red worms) are the most prevalent equine parasites; all horses with access to grazing are infected to some extent. Ingested larvae migrate into the mucosa of the large intestine, and may remain dormant there for months to years until resuming development and emerging into the gut lumen. The factors influencing dormancy and redevelopment of cyathostomin larvae are not completely understood. Removal of adult worms by anthelmintics is known to be one factor involved in synchronous emergence of larvae from the mucosa, and a severe acute inflammatory syndrome, involving colitis and protein-losing enteropathy (acute larval cyathostominosis), which is fatal in 50% of affected individuals; anthelmintic treatment of horses harbouring pathogenic adult burdens, but also dormant larvae, must be undertaken with extreme caution.
Central to Nikki's project is the hypothesis that the development of colitis could be influenced by alterations in the gut microbiota, or by a loss of the immuno-regulatory effects (Immunoregulatory Brake) of adult helminths in the large intestine, as well as choice of anthelmintic. Nikki's study aims to provide information that will help design improved control measures and prevent post-worming colitis in horses, and will also investigate factors underlying colonic dysbiosis/dysfunction, and the potential modulating effects of helminth infections.
David Brayden - Elected to Fellowship of the American Association of Pharmaceutical Scientists (AAPS)
We are delighted to announce that Professor David Brayden, Professor of Advanced Drug Delivery at the School of Veterinary Medicine and the UCD Conway Institute, has been elected to Fellowship status of the American Association of Pharmaceutical Scientists (APPS) at its annual conference in San Diego on 12 November – this is a first for an Irish scientist. "AAPS Fellow" is one of the highest honours given to members of the association. Each year, AAPS elevates a few members to Fellow in recognition of their professional excellence in fields relevant to AAPS's mission: to advance the capacity of pharmaceutical scientists to develop products and therapies that improve global health. Each Fellow has demonstrated a sustained level of superior and distinguished professional achievement and contributions in fields related to this mission. Fellows are nominated by supporters, selected by a committee of their peers, and elevated by the AAPS Executive Council. Professor Brayden has spent over 25 years in drug delivery research. He spent 10 years as a Senior Scientist at Elan Corporation before moving to UCD in 2001. His research focuses on how to deliver poorly permeable macromolecules across the intestinal epithelium in order to guide formulation of oral dosage forms. As author or co-author, he has published over 200 peer-reviewed articles of which 10 have been cited over 100 times. Currently, he is a co-lead Principal Investigator of Science Foundation Ireland's Centre for Medical Devices (CURAM). Founded in 1986, AAPS is a professional, scientific society of approximately 20,000 members employed in academia, industry, government, and other research institutes worldwide. Congratulations to David from all of his colleagues in the School of Veterinary Medicine.