News Headlines‌
Women in Technology and Science (WITS) is delighted to partner with the UCD Women@STEM Student Network to host a panel discussion on Tuesday 26 March at 6pm. It will focus on early career strategies for students and new graduates. Please register on Eventbrite so that catering can be organised. The event is supported by UCD Women@STEM and the Equality, Diversity and Inclusion (EDI) group at UCD.
---
International Day Of Women And Girls In Science
As part of UCD Women@STEM's commitment to help educate young women on the opportunities available to them in STEM, Dr Sharon Shannon invited primary school students who have previously participated in a UCD STEM workshop programme, to return for a journey through science by experimentation and to celebrate the women scientists who lead the way for current generation of women researchers.
In addition to the workshop the UCD EDI group held an exhibition celebrating women within the College of Science. The female role models were on hand to discuss their roles within STEM fields and to share their experience with the primary school students, teachers and staff across the university.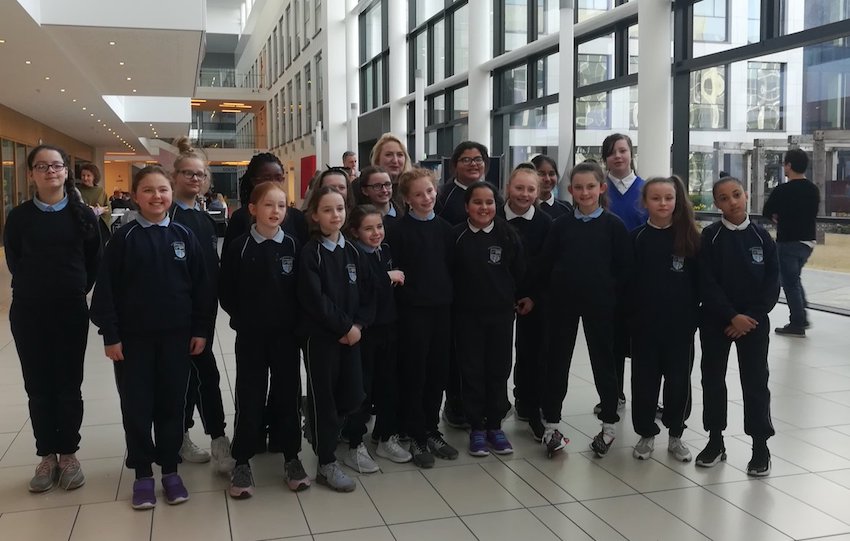 International Day of Women and Girls in Science. Celebrated with an exhibition on the ground floor of UCD Science Centre and a visit by primary school students in the Outreach Laboratory.
---
Join us for UCD's 2019 flagship International Women's Day event Shifting the Dial: Female Leaders Changing Culture. Hear from guest speakers Irish Woman of the Year 2018, Su Carty, who was the first woman appointed to the World Rugby Council, and Dr Ebun Joseph, Coordinator of Ireland's first Black Studies and Critical Race Perspectives course at UCD and Career Development Consultant at RCSI. These inspirational speakers will share their story, addressing gender and race inequalities, leading change and creating a more inclusive culture for women in higher education, sport and workplaces in Ireland.
For more information on this event, see:
https://www.ucd.ie/equality/newsandevents/news/internationalwomensday2019/
---
The objective of the Girls in tech mentorship workshop program, Stepping Up, is to build and foster an organic community promoting good mentorship. This will NOT be a typical mentorship program, there will be no match making, instead we will focus on substance to bring you the knowledge & tools to approach mentorship; access to mentors whom they can learn from; and with inspirational stories to pave their journey.

Tickets can be bought on Eventbrite.
---
Be inspired by leaders who have excelled in their field, grow your professional network and learn more about key topics facing women today. On Thursday, 7 February 2019, UCD will host the annual Arthur Cox UCD Women in Leadership Conference in O'Reilly Hall.
Keynote Speakers include:
Derville Rowland, Director General, Financial Conduct, Central Bank
Dr Justine Mutale, acclaimed as one of the most influential and inspirational women of African origin, Dr Justina Mutale was awarded the honour of "African Woman of the Year" in 2012.
Panel discussions will include:
Balancing it All - The Work/Life Balance
Resilience - Overcoming Adversity
Conflict resolution
To book tickets use the link here: Women in Leadership 2019
---
International Union of Pure and Applied Chemistry invites you to join a Global Breakfast.

Join in a Global Women's Breakfast
A global networking event for empowering women in chemistry, will be held on the 12th of February 2019. The Global Women's Breakfast aims to assist women chemists to expand their network of contacts, both locally and internationally. Organizations of all types, e.g., universities, companies, national chemistry societies, government laboratories, and other scientific organizations, as well as individual groups of chemists, are invited to participate.
For more information you can visit this website https://iupac.org/100/global-breakfast/
---
Future Female Leaders Scholarship Programme
Sanofi, one of the top 5 global pharmaceutical companies, based in Waterford, are offering two scholarships to female undergraduate students who are in either their 2nd or 3rd year of their honours undergraduate degree. The students must be based in either UCD, UCC or WIT.
The scholarships offer a €3,000 scholarship allowance, mentoring from a senior leader in Sanofi as well as a paid summer placement. Further details and how to apply can be found at the link below.
https://en.jobs.sanofi.com/job/waterford/future-female-leaders-scholarship-programme/20873/10408843
The deadline for applications is January 31st 2019.
---
Women@Stem Launch Event

The Women@Stem network offical launch event was held on Monday 12th November 2018 in the O'Brien Centre for Science in UCD. The event, "Diversity in STEM", was held in conjunction with the UCD Japan group, and was a huge success. The keynote address was given by Prof Y. Takahashi, President of Tsuda University, one of the oldest and most prestigious higher educational institutions for women in Japan.
| | |
| --- | --- |
| The Women@Stem committee members meeting Prof. Y. Takahasi, President of Tsuda University. | Women@Stem Co-Chair, Dr. Sharon Shannon, opening the "Diversity in STEM"event. |
Panel discussion: "Fair Opportunities for an Inclusive Workplace within Academia"Moderated by Louise Holden Panellists (left-right): Director Triona McCormack, Dr. Saoirse Tracy,Prof. Gerardine Meaney, Asst. Prof. Fiona McGillicuddy
---
Wednesday 7th November

Professor Máire O'Neill, a leading cybersecurity expert, is visiting the Royal Irish Academy on 7 November. Máire is the youngest ever engineering professor appointed at Queen's, the youngest to be elected a fellow of the Irish Academy of Engineering, and she previously won "British" Female Inventor of the Year. She is currently PI of the Centre for Secure Information Technologies (CSIT), QUB, and Research Director of the £5M UK Research Institute in Secure Hardware and Embedded Systems (RISE), funded by EPSRC and the UK National Cyber Security Centre (NCSC). She also leads an EU H2020 SAFEcrypto project in the area of practical quantum-safe cryptography.
Please rsvp to a.rosenbusch@ria.ie
---
Tuesday 25th June – Thursday 27th June 2019

"Our conference theme, About Face, aims to spur conversation about the multitude of ways in which inequalities shape the contemporary global context, and how these are both enforced and challenged within and through education."
---