Almost 400 students from all over Leinster and beyond descended on UCD Lyons Farm for the latest event in the Agri Aware Farm Walk & Talk series.
The farm in Kildare welcomed students from Dublin, Meath, Kildare, Wicklow, Wexford, Longford, Carlow, and Laois to give them a practical insight into many of the themes in the Leaving Certificate agricultural science syllabus.
Agri Aware Farm Walk & Talk returned UCD Lyons Farm in the middle of lambing season. The ag science Students even rolled up their sleeves & helped deliver some of the new arrivals under the watchful eye of Professor Tommy Boland.
Farm Walk and Talk is a longstanding collaboration between Agri Aware, Teagasc, UCD, the Irish Farmers Journal, and I.A.S.T.A.
The senior-cycle students made their way around the stands that covered topics linking in with the new Leaving Certificate Agricultural Science syllabus and included talks from agribusinesses like ABP Foods and Dairymaster.
Students and teachers across the country were delighted that the Agri Aware Farm Walk & Talk series of ten events has returned for the first time since 2020 when many of the events were cancelled due to the outbreak of the coronavirus.
Professor Frank Monahan, UCD Dean of Agriculture and Head, UCD School of Agriculture and Food Science said: "The UCD School of Agriculture and Food Science is delighted to host the Agri-Aware Farm Walk and Talk event again this year and to welcome over 350 students from 14 schools to our UCD Lyons Farm.
We see this initiative as a very important one in supporting Agri-Aware's objective of raising awareness of the importance of the Irish agri-food sector among the public at large.
The students who visit the farm today will influence the future development of the Irish Agri-Food sector, some by becoming directly involved in farming and food production, others as consumers. Understanding the essential role agriculture plays in delivering a secure and sustainable global food supply is critical. Today's event will contribute to that understanding"
Marcus O'Halloran, Agri Aware Executive Director said: "Agriculture is hands-on and events like the Agri Aware Farm Walk and Talk provide students with an insight into the practicalities of farming and the hard work that farmers do each day.
"It's great today just to see so many students back, in-person enjoying the event, thank you so much to UCD Lyons for hosting what was a brilliant day.
"We hope those who take part will leave with a greater understanding of what a future in agriculture could be and how these students might help to shape it."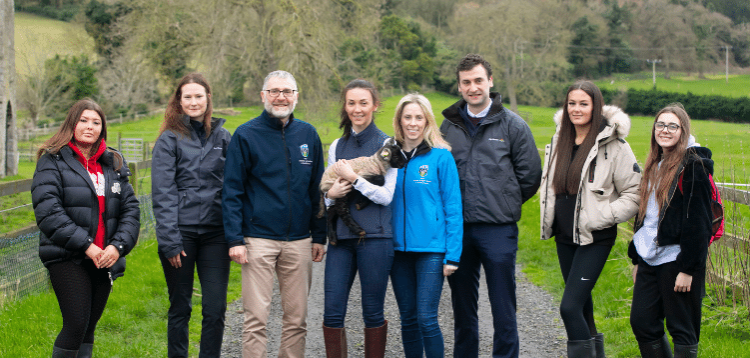 UCD School of Agriculture and Food Science
Agriculture and Food Science Centre, University College Dublin, Belfield, Dublin 4, Ireland. T:
+353 1 716 7205
|
Location Map