Testimonials
Show/hide content Open Close All
Linlin's Pre-Master Experience
Yingman's Pre-Master Experience
Show/hide content Open Close All
Zeyu Chen, Pre-Masters 2019/20. Progressed to Master of Regional and Urban Planning 2020/21
I completed the International Pre-Master's Pathway Programme in UCD Applied Language Centre in 2020. As a Chinese student, I found the language courses here in ALC particularly helpful, as they provided focused approaches to academic English which helped me being well-prepared for the oncoming master's degree. The optional modules, such as Modern Ireland, are also worth underlining regarding their exclusive access to multi-aspects of learning experiences in UCD. It is a vibrant and open environment here in UCD and this programme supported me to connect with many other facilities and resources in this environment. One of the handy events is the Alumni Event which gave me exceptional opportunities to understand the outcome of the programme and future choices.
I'm currently doing my master's degree in Regional and Urban Planning, which is a very interactive programme. Having completed the International Pre-Master's Pathway Programme, I do find it smooth while cooperating with other classmates. By the way, Ireland is a breathtaking place to live and there are plenty of opportunities to explore during the programme!"
Weihao Meng, Global Engagemet Pre-Masters 2019/19. Progressed to MEngSc Biopharmaceutical Engineering
My name is Weihao Meng. Now I am a master student majoring in Biopharmaceutical Engineering. I joined premaster in 2018 by UCD-BUCT program. This year's English for academic purposes (EAP) education has significant influence on my future career development. This project enabled me to perform better in my master's courses, including communication with teachers and group discussions. Moreover, I have also made great progress in academic writing which means a lot for a master student. At present, I am applying for Ph.D. position. The education in premaster is the cornerstone of my future academic career.
Show/hide content Open Close All
Hema Baretto, Pre-Sessional (At-Distance) 2020/21. Progressed to MA Education
As I look back to the pre-sessional experience, I feel that this laid a good foundation as it prepared me to induct myself into the Masters smoothly. The pre-sessional was well designed to help develop academic language and literary skills. Above all, the tutors kept reminding us that one needs to be responsible as an autonomous learner. The tutors were approachable for guidance and support. The group discussions in break out rooms gave me an opportunity to interact with other students, it helped me to acknowledge and respect others' point of view. It is at the beginning of the pre-sessional that I was initiated to surf books online from the library which helped to explore the 'online library' from a distance. I am grateful to the mentors for their unflinching support. The moulding during pre-sessional, though challenging, has given me confidence to take on the Masters Degree of Arts (Education). I am looking forward for an enriching and empowering learning at University College Dublin.
Yumi Shirai, Pre-Sessional (At-Distance) 2020/21. Progressed to MSc Climate Change: Science & Impacts
I enrolled in the pre-sessional course 2020, the course gave me sufficient basic knowledge about what academic courses in UCD would be like.
As a mature student, the pre-sessional course was a great opportunity to switch my brain to study mode in English from working life mode in my mother language. Particularly, academic writing classes were significantly useful to understand the structure of academic essays,
I got good grades at essay assignments thanks to the pre-sessional writing classes! If you do not have enough confidence to take a master degree in UCD, I would definitely recommend taking the pre-sessional course.
It would provide you with adequate knowledge... and give you confidence for your academic life in UCD for sure.
Jyoti Thomas, Pre-Sessional (At-Distance) 2020/21. Progressed to MA Education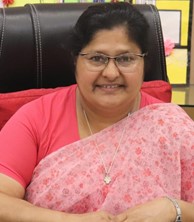 "Always walk-through life as if you have something new to learn, and you will". Exactly that's what I did as I embarked on a 7-week pre-sessional Program with UCD from 14 June 2021. Reminiscing those busy days, I feel it was a golden opportunity for me to initiate myself into a prestigious international university...
It was indeed an intense preparation for me for the Master's program. Days just slipped by with academic reading before the virtual classes and reference work after the class, along with all the tests of reading, writing and listening and interesting quizzes. Initially these tasks were totally unfamiliar and difficult but with the constant support of tutors, academic coordinator and caring professors of U C D, learning was interesting and enjoyable. I look to the past with gratitude for the exposure I had to mingle with staff and students from various countries and share and learn the rich culture and experiences with them. I am grateful to everyone at U C D and the Pinnacle project.