Celebrating 70 Years of Lifelong Learning in UCD
1949 - 2019
Tuesday, 26th November 2019
This year, UCD's celebration of World Access to Higher Education Day (WAHED) on Tuesday, 26th November, marked the University's 70 year-long tradition in lifelong learning.
The event took place with the consideration that, in Newman's time, evening public lectures were offered "with a view to opening the advantage of the University to the furthest possible extent". Today, UCD continues this commitment through an expanded and reimagined lifelong learning programme now offered in association with a wide range of cultural institutions, including dlr LexIcon, National Library, Hugh Lane Gallery, Collins Barracks, National Gallery. This commitment is underpinned and recognised by our designation as an Age-friendly University.
Overseen by Dr Bairbre Fleming, Deputy Director of Access & Lifelong Learning, the event was officially opened by Professor Mark Rogers, UCD Registrar and Deputy President, before a keynote address from Dr Maurice Manning, NUI Chancellor. Dr Fleming also addressed attendees on the history of Lifelong Learning at UCD, as well as its future.
The event concluded with the presentation of the 2019 UCD "See One Be One" Awards by Fiona Sweeney, Head of Outreach, Transition and Engagement at Access & Lifelong Learning.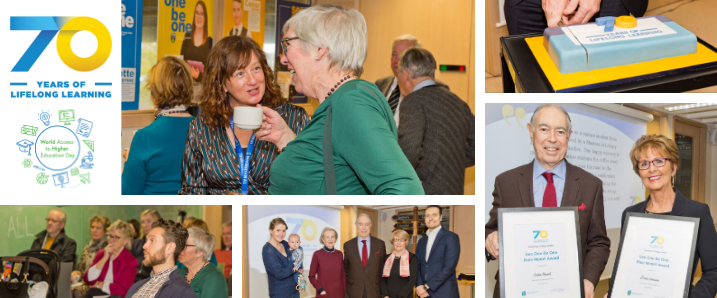 Full Event Programme
Welcome Address
Professor Mark Rogers | UCD Registrar and Deputy President
Keynote Address | "Spreading in Naas and Clonakilty..." Reflections on Adult Education in Ireland
Dr Maurice Manning | Chancellor, NUI
Turning our Eyes to a Hundred Years to Come | Lifelong Learning in UCD: Its History and Its Future
Dr Bairbre Fleming | Deputy Director, UCD Access & Lifelong Learning
UCD "See One Be One" Awards Presentation

Professor Mark Rogers |UCD Registrar and Deputy President

Fiona Sweeney |Head of Outreach, Engagement and Transition, UCD Access & Lifelong Learning