Global Perspectives Seminar Series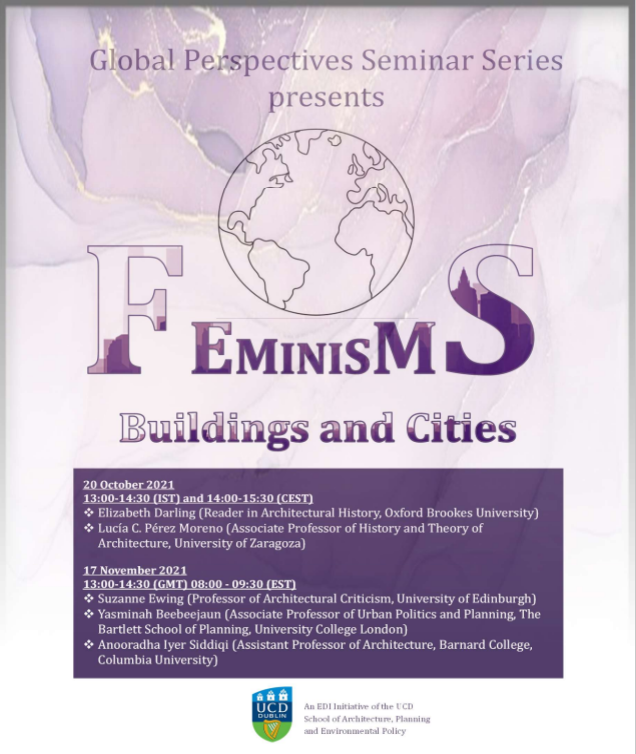 The Global Perspectives Seminar Series is an EDI initiative of the UCD School of Architecture, Planning and Environmental Policy. The aim is to invite diverse voices who offer different perspectives on architecture, planning, landscape architecture, environmental policy and urban design.
The focus of this trimester's seminars is on feminism and the built environment. We have invited a number of academics to discuss how a feminist lens provides different views of buildings and cities, while highlighting the complexities of the relationship between feminism and the built environment.
Please note both seminars will take place online.
Seminar 1: Feminisms and Buildings
20th October 2021
13:00-14:30 (IST) and 14:00-15:30 (CEST)
Speakers:
Dr Elizabeth Darling (Reader in Architectural History, Oxford Brookes University)
Dr Lucía C. Pérez Moreno (Associate Professor of History and Theory of Architecture, University of Zaragoza)
Registration link: https://ucd-ie.zoom.us/webinar/register/WN_jedFwYJ4Rzykaoq630tnpA
About the speakers:
Elizabeth Darling researches and publishes on gender, modernism and urban/social reform. In this work she has consistently sought to "see" the ways that women have made and re-made space. Publications include Re-forming Britain (2007), Women and the Making of Built Space in England (2007), and the SAHGB Colvin prize shortlisted, Suffragette City (2020) (co-edited with Nathaniel R Walker).
Lucía C. Pérez-Moreno is Associate Professor of History and Theory of Architecture at the University of Zaragoza and Senior researcher at the Institute of Heritage and Humanities (IPH) of this university. She is currently in charge of a research project funded by the Spanish Government entitled Women in Spanish PostModern Architecture Culture,1965-2000. This project documents the contributions of women architects to the Spanish-built environment since the 1960s and analyses the difference of their female gaze. Her research team is formed of Researchers from eight Spanish universities. In total 24 researchers are involved in this project team. She is also a member of AMIT (Association of Women Researchers and Technologists), AECA (Spanish Association of Art Critics), PMAC (Platform of Women in Contemporary Art), and EAHN (European Architectural History Network).
Seminar 2: Feminisms and Cities
17th November 2021
13:00-14:30 (GMT) 08:00 - 09:30 (EST)
Speakers:
Professor Suzanne Ewing (Professor of Architectural Criticism, University of Edinburgh)
Assoc Prof Yasminah Beebeejaun (Associate Professor of Urban Politics and Planning, The Bartlett School of Planning, University College London)
Dr Anooradha Iyer Siddiqi (Assistant Professor of Architecture, Barnard College, Columbia University)
Registration link: TBC