Patrizia La Piscopia, UCD School of Archaeology doctoral candidate was involved as organiser and trainer in the first CPP Course for the Irish Armed Forces
On the first week of November 2019, Patrizia La Piscopia, as member of the Irish Committee of the Blue Shield, was involved in delivering to the Irish Defence Forces their first training on Cultural Property Protection.
Emerging form the recent Irish ratification of the 1954 Hague Convention, the Irish Committee of the Blue Shield worked to provide training to the Irish military personnel. This course run for three days in Cathal Brugha Barracks in Dublin, and was organised with the support of the Irish Defence Forces, Blue Shield International and the Heritage Council. The course was open to military personnel and civilians from national heritage institutions. The aim of this practical training was to encourage participants to think about the importance of Cultural Property Protection for Peacekeeping deployment as well as the complexity of group values and identities related to their heritage.
The course provided participants with knowledge and understanding of International Humanitarian Law relating to Cultural Property Protection and made them aware of their responsibilities and obligations, at home and on overseas deployments, regarding the protection of cultural property.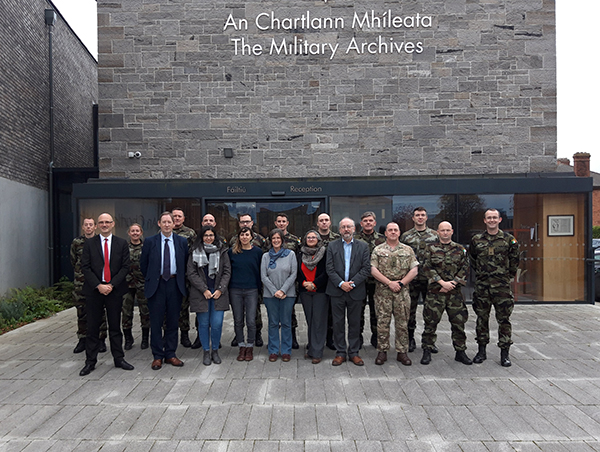 Participants to the first Irish CPP training course 2019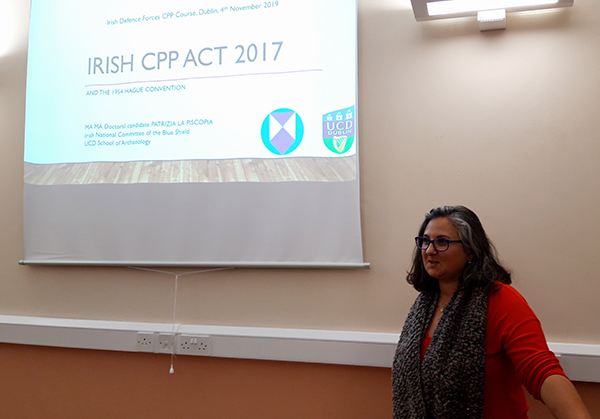 Patrizia La Piscopia introducing the domestic legislation passed as a consequence of the Irish ratification of the 1954 Hague Convention and its Second Protocol