What will I study?
Core modules are specifically designed to enhance knowledge of Sustainable Development Goals, climate science and policy as well as skills for sustainable building and urban design. Options will allows students choose from a wide range of architecture, planning and policy based modules, as well as energy and sustainability modules from around the University. Linking to prestigious industry-collaborative research projects will allow students action their research and knowledge to advance careers in sustainable practice, consultancy, policy and academia.
In the final trimester students will complete a linked research project. This can take the following 3 forms;
Option 1: Placement with a linked employer. The student will undertake a programme of work for an industry or public body. The work will be agreed between the student, academic supervisor and the placement host if a suitable option is available.
Option 2: Working on established industry-collaborative research projects as part of a research team in the fields of architecture or urbanism, or related areas including; energy efficient buildings, smart cities, climate action policy research etc.
Option 3: Individual study in a research area of choosing by the student and agreed with the module coordinator.
The pathway mode involves part-time study in the autumn and spring of years 1 and 2, and in the spring and summer of the final year. This may be completed in three to four (maximum) academic years.
Core Modules Include:
Architecture and Climate Change
Sustainable Built Environments
GIS for Policy and Planning
Urban Design Theory
Research Methods into Action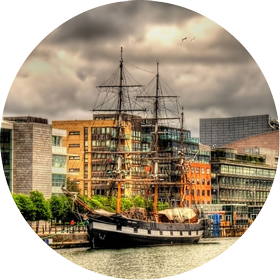 Career Opportunities:
The range of climate change response, and environmental sustainability, related careers is broadening. This sector is set to expand rapidly in coming years. This MSc gives students a unique set of skills to allow them stay ahead of the curve and apply for exciting and fulfilling job opportunities. Potential careers include sustainable architecture and practice, sustainability consultancy, engineering consultancy, energy efficiency agency, public and environmental policy, sustainable development, energy supply and management and NGOs. This MSc can be a springboard into exciting careers in research and academia. It will allow students pursue further research opportunities into anthropologic and architectural responses to climate change. High achieving masters students will also be invited to continue onto PhD study in UCD either via in-house project opportunities or by applying for funding through national funding schemes.