Moya Doherty Receives Honorary Doctorate of Literature at UCD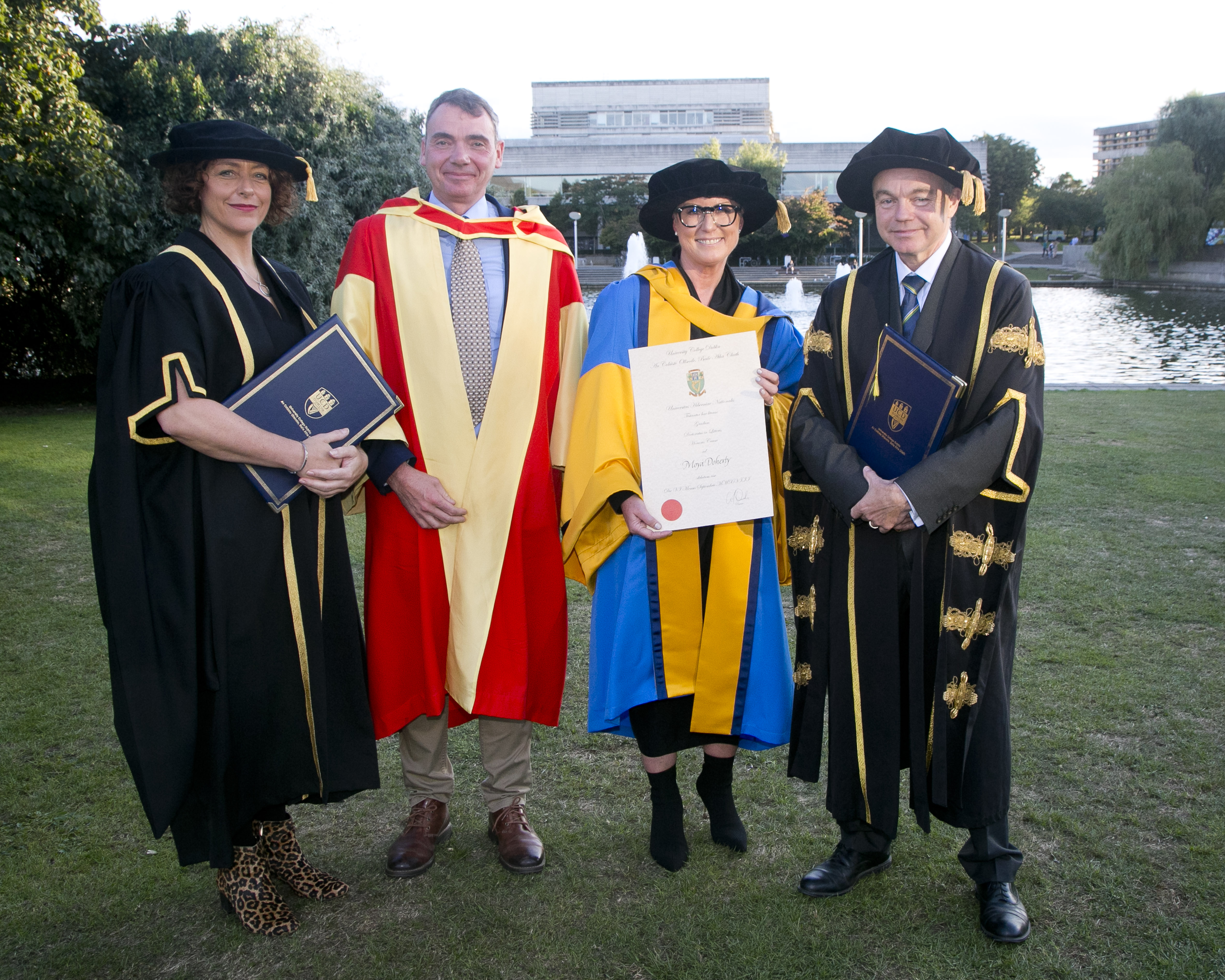 Pioneering broadcaster, journalist, producer, Riverdance co-founder and RTÉ Chair Moya Doherty was conferred with an Honorary Doctorate of Literature with UCD Arts and Humanities at the O'Reilly Hall. The Honorary Doctorate of Literature recognises her extraordinary career and her creative vision, bravery and dedication in championing the Arts and Irish culture at home and on the global stage.
In the presence of hundreds of Arts and Humanities graduates and their families at the end of the ceremony, a citation was delivered by Associate Professor P.J. Matthews, School of English, Drama and Film, before she received her Honorary Doctorate.
In response, Moya Doherty took to the podium and spoke with great honesty and passion to a very attentive audience about poetry, dancing, #metoo, public media, the arts, personal choices and the road ahead for graduates, amongst other themes.
‌Citation delivered by Associate Professor P.J. Matthews, School Of English, Drama and Film - CLICK HERE
‌
UCD HONORARY DOCTORATE ACCEPTANCE SPEECH
MOYA DOHERTY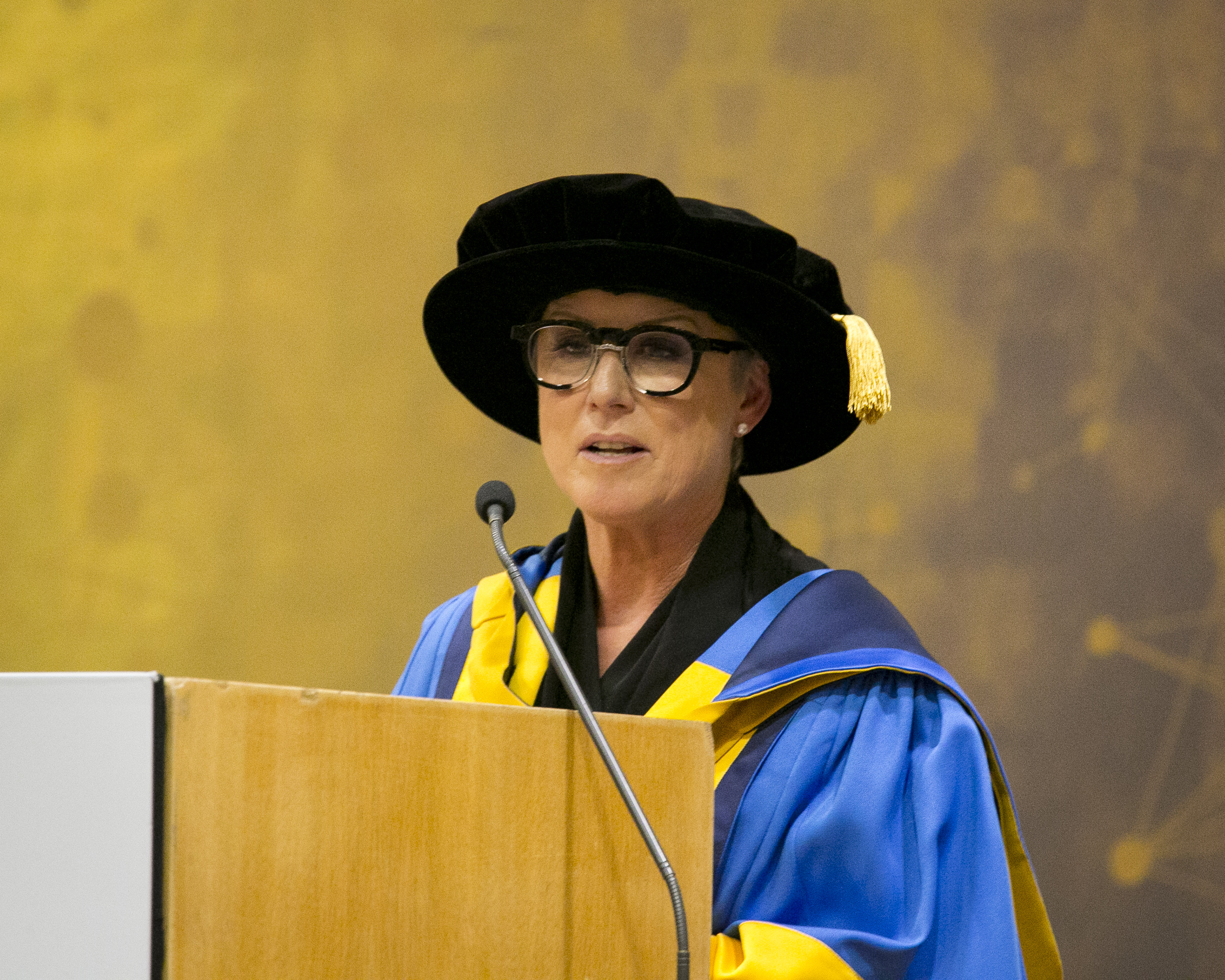 ‌Congratulations to each and every one of you.
One of the true pleasures of receiving an honour such as this is the encouragement it gives to step back from the hamster wheel of everyday life and contemplate what it is that has brought me to this point and what, if anything, might be worth passing onto others.
It's been a long day for you all; you will be delighted to hear that my contemplations were somewhat short and that my rendering of them will be even shorter.
I love to escape the pressures of work commitments through poetry.
If I think about what attracts me most to poetry it is both the use of language, the lyricism of the best verse, and the ability of the best poets to capture ideas through metaphor.
It is through metaphor that often we come to find the meaning in the things we do, say, and think or, indeed, fail to do, say or think.
Much of my life has been associated with a different art form, with dance. It is this artistic form which has offered me the opportunity along with my husband, producer/director John McColgan, composer Bill Whelan and a dedicated team to produce, create, develop a business, and travel the world in search of the essence of what it is that makes us both Irish and global at one and the same time.
Recently I've been drawn to a metaphor for life which places dance away from that global stage and onto a platform more traditional and rooted in the rural communities from which this modern nation has emerged.
Lately my mind has been dancing at the crossroads.
The emergence of the #metoo movement and the heightened visibility of the female voice in Irish politics, culture and public life has forced me to think about my responsibility as a woman in Ireland, the role I should play in helping to advance real diversity, be it gender, class or ethnicity.
As each year passes we are prone to ponder what is to become of the rest of life.
Time becomes a precious commodity, not to be wasted on activities that don't bring joy, peace, or new knowledge and understanding.
You question the pathways travelled, not with regret, but with an anxiety to understand how you arrived at this point in life.
And this personal dance also challenges the decisions you will make about the most fulfilling way to move forward into a future peace. It is no surprise that this dance often comes in the long hour of the night.
A different crossroads must be navigated in professional life.
For me with John and the team this means finding ways to ensure that Riverdance remains relevant for a 21st century audience in its 25th anniversary year.
It means finding a way to appropriately reflect the legacy of Riverdance while using it as a platform for contemporary expressions of the same cultural hybridity which made it so forceful.
It means negotiating a roadmap for RTÉ at a time when public service broadcasting is under siege both politically and technologically and this at a time when the balance and objectivity of a national broadcaster is needed more than ever.
One of my greatest hopes is that we here in Ireland find the new model for public service broadcasting a model which will be the benchmark for, and the envy of, other European nations.
It means thinking about how I wish to express my own creativity at this point in my life.
Above all it means ensuring that the arts remain accessible to all rather than the few and fighting for the place of the arts and culture in education, in health, and in the national debate underlining the fact that arts and culture are no longer luxuries but, as framed in the creative industries, contribute billions of euro to the national economy with every likelihood that they will become the dominant economic space over the coming decades.
Sustaining the culture, arts and the creative industries is not easy in a political context where the dancing at the crossroads has swung dramatically to the right, a macabre dance where the extremes of the populist voice is drowning out reason.
Volatility lies at the heart of American politics, the UK threatens to drag us all into economic uncertainty with a lemming-like rush to Brexit, and while the major technology giants come to monopolise the public space the scapegoat for the chaos that is modern life is often the immigrant and the most needy, those who have least opportunity to effect any influence on the public sphere.
In the face of these dances it would be easy to be pessimistic but I am not. I believe, emboldened by the voice of the people as expressed in recent referendums, that we can construct a new set of dances at a crossroads capable of cementing the kinds of connections these early dances once created.
The reason for this optimism sits in front of us now, you; you all are about to embark on you careers, about to build lives, families, your own network of friends.
You have to select which road to now take.
Often the choice will be between financial stability and work which offers you excitement and possibility.
For what it is worth I believe deeply that work should be a means of bringing meaning to time and would encourage all of you to do that which involves the greatest risk because that will bring the greatest peace and joy to your life.
It will of course drive your parents insane with worry but your contentment will make their angst worthwhile.
Whichever path you choose, travel it with respect for others, with respect for yourself, with the same curiosity you brought to your degree studies, and in the knowledge that through creativity there is a life to be made here in this place which made your life.
At the dance of the crossroads there is only one poem which comes to mind, possibly the most misunderstood poem in the English canon.
When Frost speaks of 'the road not taken' he is not suggesting that you should always take the unconventional road but, simply, that you must choose and when you do, accept the consequences of that choice.
May you all choose wisely and according to your intuitive need, and may your dance, to paraphrase Tolkien, go ever on.
Thank you once more for honouring me with this award.