€2.7million funding for Ireland-Wales 'Healthy Oats' collaboration
Project to help develop oats that are most healthy and most climate-resistant
UCD to lead research with Aberystwyth and Swansea Universities and Teagasc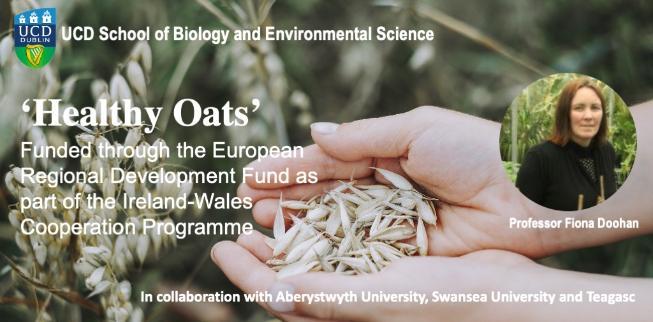 17 February 2021
UNIVERSITY COLLEGE DUBLIN: Researchers in Ireland and Wales have been awarded €2.7million to explore the development of oat varieties that are climate-resistant and have high nutritional value and superior health benefits.
The 'Healthy Oats' project – €2.18million of which has been granted from the European Regional Development Fund as part of the Ireland-Wales Cooperation Programme – will also help farmers and industry prepare for the changes pending under the EU Green deal, including reduced use of fertilisers and pesticides.
Led by UCD, in collaboration with Aberystwyth University, Swansea University and Teagasc, researchers will work with agricultural communities and stakeholders to promote the health, economic and environmental benefits of growing oats – a crop which is ideally suited to the climate of both countries and well-established in their traditional farming systems.
The researchers will test the resilience and performance of different varieties under reduced and targeted input tillage systems, and will work to identify varieties that have a combination of enhanced performance under low inputs and superior nutritional and health benefits.
Project leader at UCD School of Biology and Environmental Science, Professor Fiona Doohan said: "Oats are culturally and historically a very important part of both Irish and Welsh agriculture and there is renewed awareness of their health benefits and the potential of farm-to-fork strategies to deliver innovative, healthy and nutritionally enhanced oat products. This EU-funded project is very timely as it will build on Irish and Welsh oat research to help industries in these regions to capitalise on the growing demand for sustainably produced oat products.
"This project brings together expertise on oat agronomy, nutrition and health science to help Ireland and Wales exploit the maximum value from our oat crops. Work in Teagasc and UCD, in collaboration with our Welsh colleagues, will select varieties and breeding material that has key agronomic benefits under reduced input agricultural systems, and is nutritionally superior. Work in UCD will also test the nutritional and sensory qualities of oat products, while work in Wales will test the health benefits of derivative oat products."
Minister for Public Expenditure and Reform, Michael McGrath, TD said: "This project marks another successful cooperation between Irish and Welsh institutions supported by the EU maritime cross-border Ireland-Wales programme." He added: "Joint participation by institutions in Ireland and Wales in EU programmes has been a positive force for deepening the close relationships between us and promoting ongoing and increased engagement across the Irish Sea."
Consumer demand for oats is increasing with the demand for healthier products, with food manufacturers capitalising on new opportunities in food categories including cereal bars, breads and drinks. The higher protein and oil content of oats mean that they have very high nutritional value and, in addition, are an effective replacement for imported soya.
Leading the research within the Institute of Biological, Environmental and Rural Sciences (IBERS) at Aberystwyth University, Professor John Doonan said: "Oats grow very well in Wales and Ireland and new products will provide the opportunity to increase both production and add value to a traditional crop. We will be working with colleagues on both sides of the Irish Sea to increase awareness and understanding of the potential of this crop."
Head of oat breeding at Aberystwyth University, Dr Catherine Howarth added: "In addition to examining modern oat varieties, this project will explore the climate adaptability and grain composition of heritage varieties of oats from across Wales and Ireland. To increase the resilience and value of cropping systems to rural communities, we need to improve agrobiodiversity."
Head of Crops Research at Teagasc, Dr Ewen Mullins concluded that projects such as 'Healthy Oats' provide a key research platform from which to address the needs of stakeholders in the sector. "Healthy Oats, in combination with on-going projects, will deliver research-led solutions to current and future challenges. This will support the expansion of the oats market, bringing added value to producers and all actors in the value chain."
Lastly, the Welsh Minister for Environment, Energy and Rural Affairs, Lesley Griffiths said: "I am very pleased to see that the 'Healthy Oats' project has been supported via the Ireland-Wales Cooperation Programme. Continued co-operation between universities and in Ireland and Wales marks not only our continued commitment to encourage such collaborative research relationships, but also to promote all-important innovation and co-operation within our food sector. Initiatives such as these are vital to our economy and we are pleased to continue to support them."
A digital platform will be built as part of the project so that information and knowledge can be shared with industry and other stakeholders.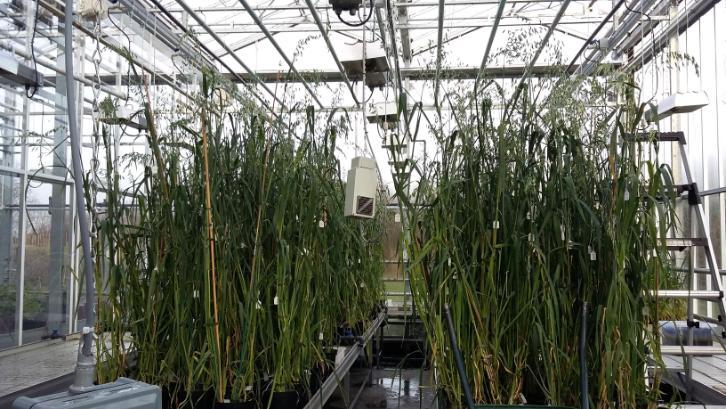 Research in UCD and Teagasc is determining if old heritage varieties of oats show resistance to some of the diseases that cause yield loss for farmers today.
For further information please contact Professor Fiona Doohan, UCD School of Biology and Environmental Science, at fiona.doohan@ucd.ie or Caroline Byrne, Communications Manager, UCD Research, at caroline.byrne1@ucd.ie.
Notes to Editors
Funding in addition to that from the European Regional Development Fund was provided from the collaborating partners.
TEAGASC
Teagasc, the Agriculture and Food Development Authority, is the national organisation in Ireland providing integrated research, advisory and education services to the agriculture and food industry and rural communities. For more information visit www.teagasc.ie
ABERYSTWYTH UNIVERSITY
Institute of Biological, Environmental and Rural Sciences (IBERS)
Welsh University of the Year 2020 – The Times / The Sunday Times Good University Guide 2020. Established in 1872, Aberystwyth is a leading teaching and research university. It was awarded Gold in the Teaching Excellence and Student Outcomes Framework (TEF) in June 2018 and was named University of the Year for Teaching Quality in The Times | Sunday Times Good University Guide 2019, the first university to be awarded the accolade for two years running. In the 2020 National Student Survey, Aberystwyth was the best university in Wales, and of the universities featured in The Times / Sunday Times Good University Guide 2020, is one of the top 5 universities in the UK for overall student satisfaction. The latest Research Excellence Framework in 2014 reported that 95% of the research activity submitted by Aberystwyth was of an internationally recognised standard or higher. The University is a community of around 8,000 students and 2,000 staff committed to delivering inspirational education and research in a supportive, creative and exceptional environment. Registered charity No 1145141. For more information visit www.aber.ac.uk.
SWANSEA UNIVERSITY
Swansea University is a world-class, research-led, dual campus university offering a first-class student experience and has one of the best employability rates of graduates in the UK. The University has the highest possible rating for teaching – the Gold rating in the Teaching Excellence Framework (TEF) in 2018 and was commended for its high proportions of students achieving consistently outstanding outcomes. Swansea climbed 14 places to 31st in the Guardian University Guide 2019, making us Wales' top ranked university, with one of the best success rates of graduates gaining employment in the UK and the same overall satisfaction level as the Number 1 ranked university.
The 2014 Research Excellence Framework (REF) 2014 results saw Swansea make the 'biggest leap among research-intensive institutions' in the UK (Times Higher Education, December 2014) and achieved its ambition to be a top 30 research University, soaring up the league table to 26th in the UK. The University is in the top 300 best universities in the world, ranked in the 251-300 group in The Times Higher Education World University rankings 2018. Swansea University now has 23 main partners, awarding joint degrees and post-graduate qualifications. The University was established in 1920 and was the first campus university in the UK. It currently offers around 350 undergraduate courses and 350 postgraduate courses to circa 20,000 undergraduate and postgraduate students. The University has ambitious expansion plans as it moves towards its centenary in 2020 and aims to continue to extend its global reach and realise its domestic and international potential.
Swansea University is a registered charity. No.1138342. Visit www.swansea.ac.uk.