Cell and Molecular Biology Research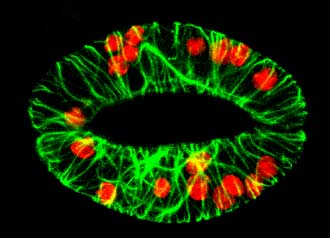 Confocal image of guard cells showing chloroplasts (in red) and microtubes (green)
The Cell and Molecular Biology Theme focuses on the organisation and function of the cell at the molecular level. Seven research groups are housed in a newly refurbished cell and molecular biology facility within the School. Cellular, biochemical and molecular biology approaches are combined with advanced light, confocal and electron microscopy. Their research programmes are devoted to several topics including analysis of cell signaling, programmed cell death, organism-organism interactions at the cellular level, prion diseases, and cellular responses to stress and environmental change.
Researchers within this theme seek to address the following key objectives by focusing on a series of specific questions.
1. Characterise the hierarchical organisation of complex biological systems.
2. Elucidate the mechanisms that mediate cellular responses to altered environments.
3. Understand the molecular regulation of organism-organism interaction.
For further information please contact Prof. Jeremy Simpson