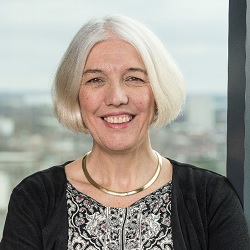 Beverley Nielsen
MBS '82
With a resumé that includes stints at Vogue in New York, CNN in London and the Confederation of British Industry in Brussels, Beverley Nielsen is combining her wide-ranging experience and expertise through her role as director of the Institute of Design and Economic Acceleration (IDEA), at Birmingham City University. She also sits on and chairs the boards of a number of entities and, in 2017, was the Liberal Democrat candidate campaigning in the inaugural West Midlands mayoral election.
About Beverley Nielsen
Tell us about your education and early career
My family moved to Ireland from Malvern Worcestershire when I was eight years old – my mother being (Northern) Irish and my father's family from Yorkshire, of Danish origin.
After completing a law degree at Trinity I switched over to a master's in business studies, which at the time was quite a radical move. I had thought I'd like to be a barrister but I wasn't confident I would succeed at the Irish Bar. I enjoyed the communications side of law, and marketing was the nearest thing I could think of for a post-grad, so I decided on an MBS in international marketing at UCD. That really did change my career route. My parents had both been involved in academia and research and whilst my grandma had run her own very successful store in Newtownards, Co Down, I hadn't had a huge exposure to thinking about business. Going to UCD really made me think about how bigger businesses work along with the processes involved. It opened my eyes to a lot of routes that I would probably never have thought of as a potential career.
After completing the masters I applied for a number of jobs through the milk round but didn't get anywhere. But I also applied for some jobs independently and was offered two – one was as a management trainee at C&A and the other was a role as a policy advisor in European affairs in the Confederation of British Industry (CBI). I took the CBI job because it involved writing and communications across a range of businesses.
I was initially based in London, researching the impact of non-tariff barriers on British business, which was considerable at the time, and later based in Brussels when I became deputy manager of the office. After about a year, the young man I was going out with was killed in a car accident – a dreadful tragedy. I returned to Ireland where I worked for a short period before leaving for New York. There I started doing more marketing-based work and had a brief period at New York Vogue, which was quite exciting.
But I was really keen to try and get into television during this time. Finally, I wrote on spec to VisNews, an international news agency that had been set up by the BBC and several other broadcasting corporations. They hired me and my very first job was to help organise the satellite links for Live Aid.
I thought satellite technology would transform broking so I wrote to Dermot Desmond in Dublin and said I'd like to talk to him about it. He invited me over and then offered me a job. I accepted and after three months in equity research my first day on the trading floor at Dermot's new brokers was Black Monday 1987!
A couple of years later I got a job with CNN back in London selling news to European and North African broadcast stations during the Gulf War.
When my husband got a job in Manchester I returned to the CBI. I spent the next nine years there, starting off as assistant director North West and then director for Birmingham and the West Midlands. For me, that really highlighted the tremendous manufacturing cluster in the Midlands as well as the many competitive impediments facing manufacturing, so I started writing about that subject and it really set me off on what I consider my 'proper career'.
In 2000, I joined the board of Aga Rangemaster plc, a FTSE-250 business, as a non-executive director. Then I was offered a full-time job as managing director of Fired Earth, one of Aga Rangemaster's subsidiaries. And so I ran that business for over three years, moved through a number of roles following that – notably retail and special projects director AGA Rangemaster.
But I missed being involved in policy so I set up a consultancy specialising in design-driven innovation, which I ran for about a decade. At that time, I became very conscious that it was difficult to find young people who could understand both business and design. So I linked up with Birmingham City University and got a job as a visiting tutor. And I started lecturing on the MA in design management. My big focus over the last 10 years has been to bring design and business together in the curriculum.
I've had a number of roles at the university during that time, including corporate affairs director. For the last two years, I've been director and associate professor of the Institute for Design and Economic Acceleration (IDEA), which I set up with the university to bring together academics and businesses to deliver innovation-led research projects.
I feel for the first time in my working career that I'm able to pull together all the strands of what I have done following this long training and preparation period.
What motivates you?
It's really just curiosity, learning and knowledge application. I'm interested in everything and how it all fits together, market shaping and market disruption. That's probably why it took so long for my career to get going. I didn't know what I was good at particularly. I knew I was interested in communications and liked to think I was a creative person, but probably most people are. It took me an awfully long time to understand my kind of entrepreneurial capacity and push to see more ethical capitalism with a focus on the circular economy. I wish I'd known more about entrepreneurship when I went to UCD at 21 as things would have happened a lot quicker for me. But I just didn't have any confidence about starting a business. Now I really want to help accelerate things for young people.
Who or what has influenced or inspired you?
In the early stages of my career, I was inspired by certain larger than life individuals and looked to work with them – people like Dermot Desmond, Ted Turner and Grace Mirabella at US Vogue. I am grateful to them all and liked that they moulded reality to suit their version of it and they weren't prepared to compromise. When I went to work for these guys I found it hard sometimes to fit into the organisations they created, but I learned so much by being a part of them for short periods.
As regards organisations, the IDA was amazing in terms of how it put Ireland on the map. The NBST, later Eolas, where my father worked, developed a great science and tech strategy for the country that has really delivered too. Another thing that was very inspiring was the Young Scientist Exhibition. That still resonates with me – I'm very interested in closing the gap between mind and market and getting young people to think about ideas that could be commercially applicable and to be excited about that.
What is your leadership style?
It really depends on the situation. The leadership styles I most admire are more inclusive models that are flat but don't end up being a recipe for constant discussion and debate. Ideally, you want to be moving with a group of like-minded people in a direction that you feel so enthused about that you actually do progress despite the inevitable disagreements and all the usual stuff.
That would be the style of leadership I admire and aspire to. But when you're under pressure and trying to meet targets it is hard to do all of this.
What has been your biggest achievement to date?
I was quite proud of myself standing as the Liberal Democrat candidate in the first election for a mayor of the West Midlands. I think I fought a good campaign and certainly learnt a huge amount. And it really whetted my appetite for politics. I'm much more engaged now in that than I was before.
Right at the start of my career, I wrote my first report for the CBI on non-tariff barriers when I was just 23 years old. I gave evidence to the House of Lords select committee on the European Communities and that was published in their report, which I was quite chuffed about.
I was quite proud to be a director of the CBI in my 30s. I was also one of a handful of female FTSE 250 directors in the early 2000s, the first ever Aga Rangemaster female director and the first female managing director in the group.
Most recently, I'm very proud of the first book I was involved in writing – Redesigning Manufacturing – Palgrave McMillan, 2015.
Further back, I was proud to start up Midland Excellence spreading best practice amongst businesses, along with West Midlands First in 1998 and the Birmingham Made Me Design Festival in 2012 highlighting all the great brand-led products designed and made in the West Midlands – from Jaguar, Aston Martin, Land Rover, JCB, Pashley Cycles, Brooks England saddles, to Aga and Rangemaster cookers, Amtico flooring and Acme Whistles!
I am grateful to all those in business who backed me so that I was awarded Midlands Business Woman of the Year in 1998 and won the Ambassador category in the West Midlands Business Masters awards in 2013.
Have there been notable failures along the way?
There are too many to list! When Steve Jobs got fired from Apple, he said he was gutted but it gave him an incredible lightness. It enabled him to drop the heaviness of success and embrace the lightness of failure and to start again from the beginning. That is the blessing of failure. It's a dreadful experience in one sense but if you can live through that and get your mind around it, you can take the positives out of it. It does give you a fantastic freedom to explore things again. That's the big learning I've welcomed in connection with failure. As Winston Churchill says in Darkest Hour: "Success is never final, failure is never fatal; it's the courage to continue that counts."
What are your tips and advice for success?
Don't be frightened of failure. Being able and prepared to experiment regardless of the results is such a fantastic thing. My tip to any young person would be to not take yourself so seriously that you can't afford to experiment or try new things. Even if you're not that good at them you'll be learning so much about yourself and different aspects outside of the quite narrow confines of academic measurement.
What are your plans for the future?
I really want to build my institute. Although I work with well over 250 businesses externally, within BCU it's still very small at the moment and very new. I also want to continue writing and publishing. And I'm hoping political career avenues wouldn't be entirely closed to me. I'm very happy where I am and thrilled to have found something at long last that feels right.
What are your interests outside work?
I have three wonderful children, a very long suffering husband who has supported me through thick and thin and two very naughty Jack Russells. I'm really very busy. Alongside my academic activities I have a lot of non-executive roles, helping business start-ups and working with them. I'm non-exec or chairman of eight or nine companies and I've helped to start over 30 businesses so I'm very involved in that area.
Insight Track
How has your degree benefited your career?
Doing the MBS at UCD helped me to think more deeply about marketing and communications in a business context and some of the key processes and requirements for businesses to succeed.
What is your fondest memory from your time in UCD?
Hearing John Teeling lecture - because of his energy and engagement, as well as his irrepressible character. Thank you!
How important is your UCD alumni network to you?
I am afraid working in Birmingham I do not engage too much with UCD graduates.
Tell us one thing that most people don't know about you
I like long distance swimming. It's become more fashionable now but when I was young I spent a lot of time swimming across Carlingford and Strangford Loughs as well as along the Bray and Greystones coastline. When I was out swimming over the border, I'd get stopped by army boat patrols and asked if I'd got my passport with me!
What piece of technology can you not live without?
iPhone – incredible design and functionality with tremendous capacity for further innovation. (Sir) Jony Ive, chief design officer, Apple, has done a brilliant job as the lead designer there and is an inspiration.
What is your pet hate?
I love it when young and old people are engaging with each other and it's great to see this often in Irish society. But digital comms tools like iPhones, and the like, are, funnily enough, leading younger and older people to become cut off from each other and too often you see groups of people in cafes texting when they could be actually conversing directly with each other!
Who's your favourite writer and what's your favourite book?
So many and so hard to answer. When I was younger I loved all the classics - especially Dostoevsky, George Eliot, some Joyce and much of Heaney. The Irish poets I loved at school I still enjoy massively - Austin Clarke, Louis MacNeice and Patrick Kavanagh. Most recently I greatly enjoyed Prof AC Grayling's Democracy and Its Crisis.
And who are your favourite musicians?
Kate Bush, Joni Mitchell, Sinead O'Connor, Suzi Quatro, Patti Smith, Nina Simone, Van Morrison and Ute Lemper. I love the musicals of Stephen Sondheim too.
What's the last film you went to that you loved?
Darkest Hour is the most recent. I loved John Huston's film, The Dead, which I watched a long time ago and beautifully brought one of the most famous of Joyce's Dubliner short stories to life on screen.
What is your favourite dish to cook?
…Not a very good cook. I am spoilt as my husband is a tremendous cook and the chef at our house!
What team/s do you support?
All ladies football, rugby and cricket teams – they are fab and my heroines!
What is your favourite place in the world to visit and why?
My favourite place in all the world (outside of Ireland!) is Malvern Worcestershire where I've lived with my family for 25 years having been born here.
What do you do to relax?
Whereas in the past I liked long distance swimming I seem to have swapped this for long distance walking and am trying to get back into distance running.
What are your insider tips for anyone going to the West Midlands for the weekend?
Visit the Malvern and the Malvern Hills, Worcester and Worcester City Cathedral, Stratford Upon Avon and Shakespeare's Birthplace, Coalbrookdale and Ironbridge Gorge – birthplace of the Industrial Revolution, as well as the Balti Triangle in Birmingham – full of exotic sights, sounds and tastes!
Name three things on your bucket list:
Like most parents it would be lovely to see our three children happily established. They are at early stages in their careers and they have so many challenges around university debt, getting onto the housing ladder and into careers they love.
Beyond this I'd like to visit places where I can walk and enjoy the beautiful countryside - perhaps Kashmir, the Hindu Kush or closer to home complete a few cross country walks in the UK and Ireland. And of course I'd love to see my home place, the West Midlands and our population flourishing, forging ahead creatively and sustainably, and being properly recognised for our huge contribution.
What charities or causes are closest to your heart?
One in three young people are medically obese in the West Midlands and five years ago I founded a charity, Outdoor Elements, which provides young people from all backgrounds with the chance to get out into the open air and enjoy outdoor activities. This is close to my heart and run by a great team.
Nationally I have worked with the RNLI for the past decade, most recently with their international development team.
Mostly though, I like to help people start new businesses and help them to connect to sources of funding, people and information to help them get their own dreams off the ground. It's amazing how one email or phone call can transform someone's life. It often takes only a few minutes to achieve a connection for someone that they've been working on for years.
February 2018