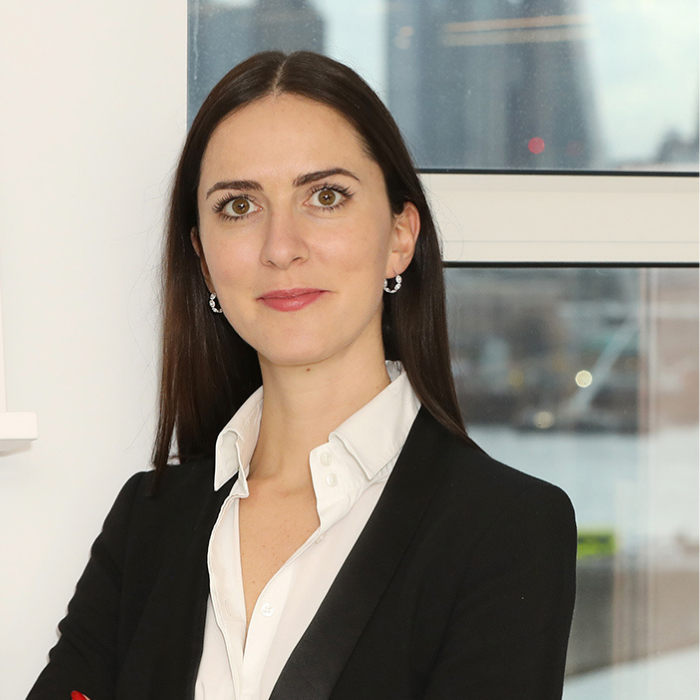 Ciara Byrne
MSc Mgt '08
Motivated by new challenges, solving problems and progressing solutions, Ciara Byrne is in the perfect role as director of new business innovation in Condé Nast, where she is based in London and leads an international team in diversifying revenue opportunities at the media giant.
About Ciara Byrne
Tell us a bit about your education and early career
After school in Mount Anville I had no idea what to do so followed in the footsteps of a lot of my siblings – I'm the youngest of eight – and did an arts degree. I studied philosophy and English in UCD, which exposed me to many different ideas. During that time I studied philosophy in the Sorbonne Paris for a year, which was extremely challenging with my Leaving Cert French but the best opportunity.
All through school and college I also studied piano and I finished with a degree in piano performance from the London College of Music. For a time I wasn't sure if I wanted to make that my career or not but realised it wasn't right for me.
Coming out with degrees in philosophy and English and music, you don't exactly have people banging on the door to employ you so I did a master's in management at Smurfit. That gave me a comprehensive deep dive into so many different areas and made me a lot more hireable.
In 2007 and 2008 there weren't many job opportunities when I was coming out of university but I ended up getting onto a graduate programme in Tourism Ireland through Ibec and spent a year in Brussels. Then I got a job back in Ireland in Google on the account strategist agency team. That was the dream first job – they spend so much time investing in their people. I spent five years there, moved to London and ended up as DoubleClick sales director.
I left Google to join Condé Nast in 2015. Google was such a fantastic place to work and there was a lot of opportunity but I wanted to broaden my horizons again. I was initially involved in launching a new business for Condé Nast Britain. I then became director of strategic initiatives and subsequently director of new business innovation.
What is your role now?
Since 2018 I have been director of new business innovation in Condé Nast. I lead an international team to drive innovation projects focused on diversifying Condé Nast's revenue away from advertising.
Condé Nast publishes across 32 markets and we have lots of different types of brands, from Vogue to Wired and GQ to Vanity Fair. My team is spread across the US, Europe and China and is responsible for growing new businesses for those brands across all of these regions.
We look for opportunities, assess them and then potentially develop new businesses. These opportunities all have very different business models, from membership to data and insights – for example, we launched data and insight products for Vogue under the Vogue Business brand.
We evaluate new opportunities using a framework we created that brings in design thinking, product development and agile delivery. The objective is to assess whether or not an opportunity is interesting as quickly as possible using as few resources as possible. Once we feel we're on to something, we incubate the idea. Then, if the idea is validated – so we know customers want it, that we can operate this type of business and that we'll make money from it – we focus on launching it and bringing it back inside the engine of the business.
What motivates you?
Very early in my career it was probably the standard things of titles and salaries but I quickly realised that what really excites me is a challenge. Doing things I have no experience in, interpreting and unravelling problems, making sense of them and progressing forward is what I love doing. It means that the moment you have the hang of something you are moving on to the next thing.
How would you describe your leadership style?
I try to lead in the way I like to be led. I like to give my teams a sense of autonomy – let them know they're trusted and ensure they're supported, both professionally and personally. When someone joins my team I try to spend a lot of time with them initially to make sure they understand what our team culture is and what we're aiming to achieve. And I'll encourage them to trust their own judgement.
Who has influenced or inspired you?
I have had some fantastic managers and mentors throughout my career; generally I choose roles based on the people I will work with or for as opposed to the jobs. But more recently, it was my last manager who was the president of Condé Nast and an incredible leader: endlessly curious, very smart and really empathetic too. He was extremely transparent and trusted people he worked with. He recently left the company but he left an indelible impression.
What's your proudest achievement?
The thing I'm most proud of is launching Vogue Business two and a half years ago. It was a very different business model for Condé Nast – entering into the B2B space of enterprise data and insight solutions – and a very different editorial mission as well. While most of our brands are aimed at consumers, it's for industry professionals. It came with a lot of risk and we had to look at it from every angle to ensure we were not exposing the business. We launched that initially in English for a global audience and then launched Vogue Business in China in Mandarin as well.
Nothing I could done before could have prepared me for launching a brand from scratch. And the fact that it had Vogue in its title also brought its own complexity.
What's your attitude towards failure?
Failure is an essential part of experimentation and of trying new things – as Einstein said "Failure is success in progress" The key is to not shy away from it. Naturally you will want to land on successful ideas and businesses, but being open to it allows you to be more curious and playful with your approach to launching new businesses. We try to learn from any setback or failure as quickly as we can and move on with that learning under our belts.
What are your tips and advice for success?
One of the things I say a lot is: "Fail to prepare, prepare to fail". And there's that Seneca quote: "Luck is what happens when preparation meets opportunity". So, try to be as prepared as you possibly can be in any given situation.
But in terms of the advice I give most, it's probably, "No one will ever care for your career as much as you will". It's your responsibility to nurture and care for it and to really map things out and adapt your career for the stage of life you're in. You can't expect a manager, coach, mentor or HR to be able to do this for you. They might be able to help you get to where you want to go but you have to know where that is.
What are your plans for the future?
At the moment, we have our hands full with the projects we're running to launch new B2B and B2C businesses for Condé Nast. We're running some really interesting and challenging projects and I'm certainly happy where I am now.
Through Vogue Business I've been exposed to areas of sustainability, not just within fashion but regarding water usage and waste management as a whole, and I'm really passionate about bringing businesses and sustainability further together and demonstrating how sustainability is good for the bottom line. That's an area I'd like to be involved in more going forward.
Insight Track
How has your degree benefited your career?
I had such a varied education up to the point I joined Smurfit so studying an MA in management gave me a stamp of hireability. It also allowed me to have a comprehensive understanding and deep dive into business management within a relatively short period of time. And there isn't a week that goes by I don't use the accounting skills I learnt from Smurfit.
What is your fondest memory from your time in UCD Smurfit School?
I am lucky to say there are many, but probably the highlight was when a group of us travelled to North Carolina, to play Duke University in tag rugby. We got to visit their campus and get to know the students there.
What are your main interests outside work?
I play the piano whenever I can, and drive my poor neighbours crazy I am sure. And then beyond music all manner of impractical sports like horse riding, skiing, and surfing.
What piece of technology can you not live without?
My mobile phone.
Who are your favourite writers and what are your favourite books?
Through studying English and philosophy I was exposed to lots of Russian literature which I love, and with that one of my favourite books is Anna Karenina by Tolstoy, one of the handful of books I have read more than once.
There is also a book my sister recommended to me called Bury my Heart at Wounded Knee by Dee Brown, which is beautiful and an utterly heartbreaking account of the Native American population and culture in the late 19th century. It is one of those books that will stay with you forever.
And what is your favourite band or musician?
I go through phases of loving new bands and listening to them compulsively so it changes a lot. One such obsession, which has lasted quite a long time now, is Max Richter's Recomposed, where he essentially recomposes Vivaldi's Four Seasons. It's a big risk, taking something as iconic as that, but I adore what he did with it.
What's the last exhibition or perfomance you went to that you loved?
With lockdown that seems like a distant memory! I travelled to Japan with work before lockdown and visited teamLAB Borderless in Tokyo, which was amazing. It's an immersive digital art museum that incorporates various light and music installations that interact with the visitors and is totally captivating.
What is your favourite dish to cook?
I have certainly not been blessed with culinary skills, so Nigella Lawson helps prevent me from poisoning anyone brave enough to come for dinner. Her pancetta risotto is my go-to, so much so it's become a bit of a joke!
What is your favourite place in the world to visit and why?
My favourite place in the world is Fenit in Kerry where I spent all my summers growing up. There is something about being so exposed to the Atlantic ocean, the air and the untouched nature there that always blows off any cobwebs. And places like Skellig Michael and Barrow beach are so untouched they seem otherworldly.
Where is home and why?
Home is Dublin as it's where my family is, simple as that!
Name three things on your bucket list
I would love to go see whales, to visit Petra in Jordan and finally try heliskiing.
May 2021