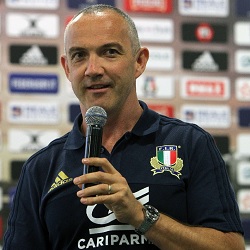 Conor O'Shea
BComm '91
Former Leinster and Ireland rugby player Conor O'Shea took over as head coach of the Italian national team in May 2016. With his sights firmly fixed on the long term view, his main focus is on putting the structures and systems in place to secure Italy's long term future in the game.
About Conor O'Shea
Tell us a bit about your education and career progression
I went to school in Terenure College and then on to UCD to do the BComm in executive finance. I followed on with a post grad diploma in legal studies in DIT, spent a little while working in Ulster Investment Bank, and then did a master's in sports management in the United States Sports Academy in Alabama.
At that time the game was starting to go professional. I wanted to play professionally but knew I had to prepare myself for a career afterwards. I opted for the master's because I wanted something that would apply a lot of what I'd learnt in UCD to a sporting context and I really enjoyed that. I was playing for London Irish at the time, so I spent two summers in Alabama doing the course work and then did research work and distance learning through Brunel University London.
I played professionally for a few years but had to retire when I was 30 because of injury. Then I got into management pretty much straight away. At that stage in rugby, there were a lot of players who had experience of the two sides: the game wasn't professional when they started so they were educating themselves for a career as opposed to for rugby. Many people from that era probably fell naturally into management because they were employed to do their passion while being ready for a life of work anyway.
I was managing director/director of rugby at London Irish for four years and then director of the Rugby Football Union's national academy for three. After that, I spent a couple of years outside the game as national director of the English Institute of Sport. I was probably out of my comfort zone but I found that incredibly interesting.
Then, in 2010 rugby came calling again and I went back to Harlequins as director of rugby. And I was there until last May when I became head coach of the Italian national team.
What does your role involve?
The main job is to put the structures and systems in place to improve rugby in Italy for the long term. We're not trying to win world cups like Ireland but to make the changes to give Italy a real future in the game. That's what we're playing for and it's a massive responsibility. We'll reset our goals as we move forward but the first priority is to make sure we create the environment that allows people to fulfil their potential.
If we get the right structures in place we'll make strides very quickly. And we are beginning to make the changes. But things don't happen as quickly as you'd like them to.
Italy is an incredible country and you really have to understand the culture here. You can't employ an Irish or Anglo-Saxon mentality completely. Learning that has been fascinating.
We've had some great days like beating South Africa and we've had some terrible days. But I think we're a lot closer than people would realise and when we make the changes we'll close the gap even further. Then we'll just keep on getting better and better.
I know we're on the right track. The long term part of me knows that. The short term part of me realises I'll get judged on results. But the people over here are committed to making the changes and understand the need to make them. It won't happen all at once and as quickly as I'd like, because it's a different culture, but it is happening.
What is your leadership style?
I am myself at all times and I do things my way. You can learn from other people but you can never be someone you're not, because people see through that.
I'd like to think I'm very inclusive. Also, the one thing rugby always gives you – regardless of your personality profile – is the ability to make decisions, because you're always at the sharp end.
But ultimately in this business, you need to recognise that everything is about your players and it's never about you. You have to try to provide the environment where they can be as good as they can be. In my current role we have the challenge of creating that environment to allow people to fulfil their potential and we plenty of work to do to catch up on a lot of countries. I'll do it my own way. If that's not good enough, I'd hate to fail being someone I'm not. I don't mind failing if I'm being myself.
What motivates you?
There's the obvious thing – you have a living to make. But it's incredible to be able to do that within an environment you feel passionate about. I grew up in a house where to say we were sports nuts would be an understatement. So I love sport and I love what I do.
Also, sometimes I love proving people wrong.
And I like to be moving forward. If I didn't feel I was making progress towards what I want, then I would become de-motivated.
What I'm doing now is an incredible project with so much to change and also people saying it can't be done. So, it's got everything really to motivate me!
If it can't be done we'll find out, but we're going to give it everything. I'd like to look back in six or eight or 10 years time when the structures we're putting in place now are delivering for this country and to think, wow I had a part in that. It's not about ego. This is about building something for the future for young people in a great country.
Who or what has inspired or influenced you?
I always my say my dad because he's the reason we're such a sporting family. But then along the way, there are lots of people who have a big impact – whether it's your first coach in school or in your club, or the person who moves you to the right position.
After the 1995 World Cup I wanted to give up because I just thought we played terrible rugby and the commitment to give everything to the players was just not there. Clive Woodward, London Irish coach at the time, had heard I wanted to do a course in America. He came over to Dublin and said this is what I want for your rugby in the future and the way it is played. Without him I probably would have given up at 25 and never would have gone professional.
What is your biggest achievement to date?
I don't know. I literally don't know. I'm unbelievably lucky to do what I do. Hopefully I'll be able to answer this question better in 40 years' time.
Any failures you want to share?
Every loss you have is a setback and it has to hurt and to drive you. Every broken leg or injury is setback. There are so many things that count as setbacks – the big ones that are public and the little ones behind the scenes.
I think the more difficult a pathway someone has had, the more you'd back them to succeed when it really comes to the crunch. There are exceptional people obviously who never have a setback but they're very few and far between. I really admire someone who's reacted well to adversity and recovered well from it.
Phil Danaher was captain when I got picked for the first time for Ireland. He said to me, I'll congratulate you when you get dropped and come back. At the time, I thought it was such a weird thing to say – it was my first cap for Ireland. Only when it happened did I understand.
What are your tips and advice for success?
Be yourself. Learn as much as you can from as many people as you can, but always be yourself.
I also believe you need a compelling reason to get up and go to work. If you don't know why you're coming work you're never going to succeed. Everyone has to know what that is. If you have a clear vision of what that reason looks like, you can proceed towards your goal. If I get up in the morning and I'm not happy doing what I'm what I'm doing or don't know why I'm doing it, I'll stop.
What are your plans for future?
We're trying to make Italian rugby fully professional. All that counts is the youth set up, franchises and the national team – that is the big priority here. If we invest in that, the bi-product is everyone else gets more. We have to give it time and put the structure in place. There's so much here that's right. Also, lots of other countries have gone on this journey already. Ireland had to do it and Scotland are doing it now.
It's not short term and it's not easy but it will be a heck of a lot better when we get out the other side.
What are your interests outside work?
My main interests are my family and sport. And when I do get a chance, I love going to the theatre and to musicals in particular. It's not very often but I do love doing it. My daughters are 10 and seven and they are getting more into gymnastics and netball and stuff like that. When you have a 10 and seven year old and are in this job your main interests tend to focus on them.
Insight Track
How has your degree benefited your career?
I think it has given me a discipline and knowledge of how to apply business principles to a sporting environment
What is your fondest memory from your time in UCD Smurfit/Quinn School?
Always the people and class I was with. UCD is a very special moment in your life and one you should value more at the time. Certainly wasn't the management information systems class though!
How important is your UCD alumni network to you?
Staying in touch and networking is more important as you get older so I appreciate it more.
What piece of technology can you not live without?
iPhone!!
What is your pet hate?
Poor time keeping – I love getting to places early.
What's your favourite book?
Depends what my last book was. At the moment I am reading The Captain Class by Sam Walker.
And what is your favourite band?
U2.
What is your favourite dish to cook?
Pesto pasta: quick, easy and the kids love it!!
What teams do you support?
Always been Liverpool in football and Kerry in Gaelic.
What is your favourite place in the world to visit and why?
Kenmare in Kerry, because it the place where I can unwind the most and I have the most emotional attachment to, and it is beautiful. I've gone every year since I was one. If I need to get away and completely relax I'll go to Kenmare. That'll get me back on track very quickly.
What are the best things about living in Italy?
Food, culture and history.
Name three things on your bucket list
Play Augusta in golf is the one and only.
What charities or causes are closest to your heart?
Anything to do with research into motor neuron disease as my housemate died of it, and leukaemia/blood cancer as a friend's daughter passed away after battling that and it impacts so many people.
July 2017