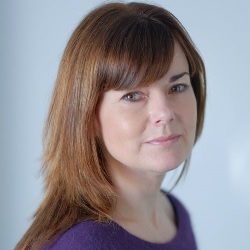 Georgina Kearney
MBA '09
A firm advocate of pursuing new directions and following a systems-based approach, Georgina Kearney founded Mint Tek – an online marketplace to enable hardware developers source printed circuit boards for their prototypes – along with her MBA classmate Siobhán Ní Chogaigh in 2014. The start-up, which is currently raising seed funding, recently signed a deal to provide its printed circuit board quotation service to RS Component's Design Spark community for electronic design engineers.
About Georgina Kearney
Can you tell us a bit about your career background?
I trained as an accountant with CIMA (Chartered Institute of Management Accountants) and my early career was in all in finance. I worked in a range of different companies, including Chivers, Symantec and Oracle. I was in my late 20s and had quite a good role when I left Oracle to go travelling. After 18 months in Australia I came back to Dublin and worked for a year as a financial controller before heading off again to South America for a year.
When I returned in 2004 I joined Dublin Bus and stayed there for eight years in various roles, starting out in finance and very much involved in helping to make the company more commercially focused.
What led to you doing an MBA?
I got the opportunity through Dublin Bus to do the MBA as the CIE chairman at the time was a very strong advocate of the programme.
One of the most important outcomes for me was that it gave me the confidence to present and work in groups. And it also had huge benefits in terms of the people I met. I ended up going into business with Siobhán, while Bob Lee, another classmate, became our first investor in the company.
In terms of my career in Dublin Bus, it led to me moving up through the ranks and also gave me the opportunity to move out of finance, because I wanted to broaden my skillset. I moved into other roles geared towards systems implementation and eventually I became quality manager.
What is the background to setting up Mint Tek?
I always knew I wanted to do something different. Siobhán and I had both done the entrepreneurship module as part of the MBA so the idea of setting up a company was definitely on our radar.
I had gone out on my own as a consultant and coach when Siobhán called me in the summer of 2014 to talk about her idea and ask if I wanted to get involved.
Siobhán had spent all her career in the sales side of the electronics industry and had most recently worked for Beta Layout, which supplied low volume printed circuit boards for people who are developing hardware products.
Recognising that developers had to research various manufacturers when they wanted to make a prototype, her idea was to create a platform connecting hardware design engineers to a base of global manufacturing companies that have been vetted by us for quality.
Through Mint Tek, if you're a hardware developer, we can put you in touch with the right manufacturer for your requirements. We call it a smart solution for hardware design engineers and it's along the lines of the Airbnb and Micksgarage smart solutions.
There's a big demand for our service and it's growing. For a long time, software increased rapidly while hardware lagged behind. Now, for various reasons – including the advent of 3D printing, growth in start-ups and the internet of things – there's much more hardware development than before.
We started off providing the service in Ireland and we also now have customers in the UK. And we recently signed our first deal with a very large global company, RS Components, which has a division called Design Spark that provides a community for hardware design engineers and provides free software. We have become the supply partner for Design Spark. The deal has only been live about a month but it's already generated sales from Scandinavia, Northern Europe, USA and Australia.
What are your roles?
Siobhan is the CEO and I'm the CFO. Because Siobhan has the industry knowledge and the vision, she's also very good on sales, ideas, networking and information. With my financial background, my job is to take the vision and ideas, put them into practical application and create systems. She's the visionary looking up and I'm looking at how it all makes sense on the ground.
What are the company's immediate plans?
We want to develop relationships with other partners like RS Components that can connect us with individual users, but we are also looking to work with more high value customers –research institutes, universities and large companies – where we can provide more of a concierge service. We have high value, repeat business from companies including the Tyndall Institute, Microsoft, NUIG, Abrel Products and CW Applied Technologies.
But our most important job at the moment is securing investment. We're in the middle of a round of seed funding that we need to develop our route to market and to work on our sales platform. Enterprise Ireland has agreed to give us €125,000, but we have to match that with private equity. So far, we've managed to get commitments of €50,000 and we're currently talking to various investors and angels.
What's the more long term plan?
We are currently moving into full assembly so we can make full products for our customers. We're also looking at ways of adding further value – basically being able to combine customers' designs with embedded technologies.
Our plan is to exit from the business in around six years. It's so important to think about when you're going to exit and for how much you want to sell your business. The reality of a start-up is that if you don't sell for a certain amount, you have to ask yourself why you bothered.
How would you describe your leadership style?
I really do think that from day one, you have to have systems for everything in the business and that makes it really easy to scale up and also ensures consistent quality. I'm very big on everything being done in a certain way at a certain time. There is flexibility in a start-up, but it's really important to have the systems there.
What is your philosophy in business and life?
I was a coach for a while and I'm big into various techniques for self improvement. I'm very interested in the subconscious and how your beliefs and emotions influence what's happening, and around the whole area of self awareness. When I have a problem or an interpersonal issue, I am constantly asking why it happened and what I can do to improve it. Again, it's a bit like a quality system: how can I do things better?
Who or what are your greatest influences?
I'm not sure about who my greatest influences are, but there are a few people I certainly respect. One is Leonora O'Brien, who is a pharmacist by trade and went on to found PharmaPod, a tech solution for pharmacies. I really admire people who are able to go from one world to a completely different world.
I also admire Nora Casey and the fact that she managed to go from being a nurse to where she is now and has been so successful in a man's world and for so long. I also like the fact that she wants to help other women.
And I admire Victoria Beckham for carving out a career in fashion design and having done it out of nowhere. She put her head down and decided she was going to do it and has done it so well. I like the idea of somebody making a massive transition in their life and really doggedly pursuing what they want to do.
What tips or advice do you have for success?
If you feel you want to make a change in your life, think about it. Don't think, I'm too old or I can't, because there's always a way. That said, it's not a good idea to make rash decisions. You have to think about it and cultivate it and take various steps towards it in a practical way. If you've got to pay your mortgage, you've got to pay your mortgage, but do something about it if you want to make a change.
What has been your biggest success or failure in business?
We're quite proud of the deal we did with RS Components. I'm also very pleased that the business is still here and is going in the right direction and growing momentum.
In terms of my own successes in business, at Dublin Bus I was brought in to make the company more commercially successful and I helped it to achieve significant cost savings and offer a better quality service.
As regards failures, it didn't really work when I went out as a coach. It's hard to get business as an independent. But it taught me that even if you want a change, it may be wise to look to go on a four-day week if you can.
What are your plans for the future?
I'd like to be in a position where I could re-invest in another company or become an investor. I really liked working in multinationals, but I value the fact that we're starting to develop a culture now in Ireland where we're creating our businesses. I'm passionate about the start-up culture and I'm also passionate about women getting more involved. I guess I'd ultimately like to invest in female-led businesses orbusinesses where there is a good female presence.
What are your interests outside of work?
I like running. I live in Connemara and I love the countryside and getting out and in touch with nature. I like to do a bit of cooking. And, I love the whole area of self improvement and working on the subconscious.
May 2016