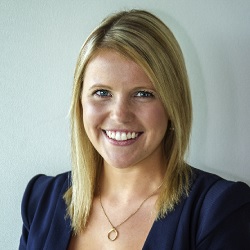 Jennifer Griffin
MSc in Marketing Practice '11
Determination, strong focus and a willingness to work hard helped propel Jennifer Griffin to the role of senior vice president and site manager at Citi Tampa by the age of just 28.
About Jennifer Griffin
Determination, strong focus and a willingness to work hard helped propel Jennifer Griffin to the role of senior vice president and site manager at Citi Tampa by the age of just 28.
Tell us a bit about your education
My biggest education was from growing up in our family pub in Co Limerick. I really learnt a lot there about interacting with so many different kinds of people, generations and backgrounds.
Formally, I did a bachelor of science in real estate in Limerick Institute of Technology. The third year of the degree was work placement, which I split between a residential auctioneers and Office Ireland, a serviced offices company, where I was in charge of the marketing. That's where I found my love for advertising and marketing, and I decided I would focus on trying to do well in my fourth year so I could do a master's in marketing at Smurfit Business School.
Given my primary degree, going to Smurfit wasn't a clear path. But I'm very ambitious and decided to aim high. I went into my fourth year with a mission and was lucky to get my first at the end of it. It was the first year of the Aspire scholarship and I was also very fortunate to be a scholarship recipient.
I went into Smurfit feeling very focused. As several people had really believed in me, I felt a huge sense that I owed it to myself and to others to do well. I really applied myself and was able to achieve top results. I also found it fascinating and was totally engaged from day one. The action learning environment assisted in my professional development and has helped shaped the person I am today.
Tell us a bit about your career to date
When I left Smurfit in 2011 I went straight into Citi on a three-month internship in marketing and public affairs and have been there ever since.
I managed to get my contract extended and was made a full time employee after a year. Then, I was made a junior analyst and my role became more focused on the company's resource and location strategy globally and I started working with our offices in Asia, Latin America, Europe, and in North America. It was all about ensuring we had consistent practices and standards across the globe.
After three years with Citi I was made a vice president of shared services and relocated to Tampa, Florida. My role focused on corporate governance, communications and standard practices related to talent and culture.
Then, in June last year I was promoted to senior vice president in public affairs and site manager for Citi Tampa. So, I'm back to where I began with Citi in public affairs and marketing, but am also directly responsible for the management of the Tampa campus, a site of over 5,500 employees.
Being Irish in a role like mine creates attention. It is amazing the brand Ireland holds internationally – as I coordinate with external partners everyone has an Irish story to tell. An interesting project I got to collaborate on was the Tampa and Dublin sister city partnership led by Mayor Bob Buckhorn of Tampa and Mayor of South Dublin Sarah Holland. I ensured Citi was involved given the direct experience with the two cities through educational partnerships, community development and talent development.
I've worked really hard and the rewards have followed but I never really planned to get to VP or SVP. It's just happened that the hard work has paid off. It's meant some long nights and very long weeks. But it has been an extremely rewarding company to be with.
What is your leadership style?
I think I'm very personable. I have to like my job and I have to like the people I work with so it's more of a charismatic leadership style. But I do have very high expectations of my team and very high expectations for the results. I do push people and I push myself.
I also like to empower people. I say to my team, go as far as you can go, nothing will break. It's similar to how I've been empowered in Citi and in my other jobs. If you give people trust and belief and responsibility I think they will go very far.
What's your philosophy in business and in life?
I have a magnet on my wall that reads: "What if we acted like everything was easy?" Sometimes I think that's the best way to approach things – don't get overwhelmed, just try to break things down to actionable points. But I still like to keep the big picture in mind so that when you do have those stressful moments, you always remember what the overall objective is.
Who or what are your influences?
I have been very fortunate to have had great lecturers and mentors throughout my education and career. Key things I have learned from leaders in my life are to be conscious of your 'shadow': as a manager and a leader you carry a brand and your team and partners feed off that.
I also get a lot of my influence and energy from my family and from just seeing people who have gone where nobody has gone before. People often say I'm too young to be SVP but several other people had done it already. It's really not impossible.
What are your tips and advice for success?
I think having the big picture in mind for yourself and where you want to go really is the biggest motivator. If you have that nothing will stop you except yourself. That's the biggest piece of advice I'd give.
I also believe that if you work hard and remain focused the rewards will follow.
What successes or failures have been your biggest lessons?
For me, a major success was getting into Smurfit. I still see that as a very pivotal point in my life and my career because it all came down to having a can-do attitude – nothing was going to stop me. I constantly think about that. And when I compare the limited knowledge I had then to what I know now it's a great motivator for me to continue striving forward.
I've also learned what not to do. I didn't just come up with the idea of acting like everything is easy – I had to learn it. There was a point when I started at Citi that I was putting my hand up for everything, both professionally and outside work. Externally, I was managing a football team, playing tag rugby and traveling to my family in Limerick helping out with the pub.
There came a point where I was totally overworked and I put so much pressure on myself, personally and professionally. I just had to take a step back.
I'm a big practiser of being mindful, being in the moment and just breaking things down. You are only one person and I've had to learn that.
What are your interests outside work?
I love being outdoors so I'm very fortunate here that the weather is beautiful. I like to go to the beach and I love swimming and I run. I'm a big GAA supporter. In Tampa we have a very small GAA club and I play with the football team. I'm one of two girls and the average age of the team is around 40. It's more about the socialising than the playing.
I'm a big believer in healthy body, healthy mind and I try to keep myself active.
What are your plans for the future?
Professionally, I'm still very much learning and growing. I enjoy working with the community and seeing projects develop from ideation to inception. There are several growing trends within the industry today with the increasing availability of customer centric data, the daily use of social media and the changing dynamics around urban development. I am excited for the workplace of the future.
Personally, I'm very happy where I am at the moment. Ultimately, I do want to live in Ireland and preferably the southern part of the country, but there are no plans to move back in the immediate future.
October 2016