UCD Woodland Walks - Getting to Know Your Campus
Since the 1930s when University College Dublin's Belfield campus was formed through the purchase of some of Dublin's finest period houses and estates, the campus has provided an important amenity to students, staff and the local community.
Today UCD is known for its parkland setting and mature landscaping. Now over 8km of woodland paths have been created and a series of walks developed to open up the beautiful 133 hectare campus to a wider community.
There are 5 walks of varying lengths to choose from with each having its own unique characteristics. Along the meandering paths, walkers will pass many mature trees dating from the 18th and early 19th centuries, which complement areas of new woodland planted as part of UCD's programme to maintain and enhance the ecological diversity of the campus for the benefit of all.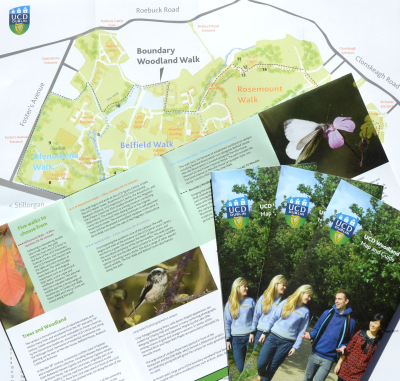 Pick up your UCD Woodland Walks Map and Guide from your local Services Desk.
UCD Campus Woodland Facts
25,000 trees in 1996
50,000+ trees in 2011
75 different species
15,000+ mature/semi-mature trees
9ha of campus woodland coverage
8km of woodland paths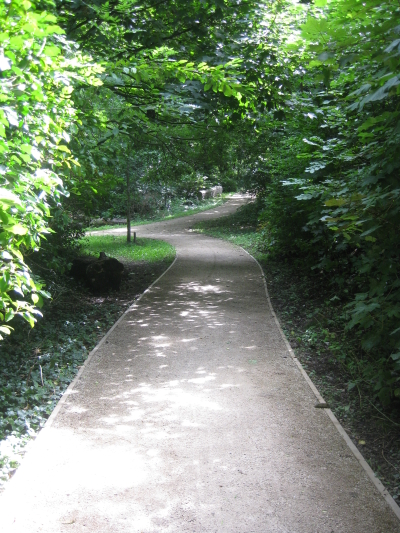 Woodland Walk passing through the Oak Walk.
Five walks to choose from
Pick up your UCD Woodland Walks Map and Guide from your local Services Desk or download a copy of the UCD Woodland Walks Map and Guide here.
Millennium Walk – 3.2km, duration 30-35 minutes
Following a meandering double line of oak trees, this path stretches from the UCD Bowl to the back of the UCD Veterinary Sciences Centre, and incorporates the UCD Newstead Precinct and the lakes and wild meadow at Woodview. The walk includes many features of ecological importance such as a pond and filter beds, a pine copse and wildflower meadow. This area has become a valuable habitat for wildlife and has a broad range of biodiversity. A Golden Ash Walk, Plane Walk and Cherry Grove are visited along this path.
Rosemount Walk – 1.8km, duration 20-25 minutes
This walk begins and ends at the UCD Sports Centre. It links the UCD Water Tower, Rosemount (UCD Environmental Research Station), UCD Oakmount Crèche, the Arboretum, and the O'Kane Centre for Film Studies situated in the Magnetic Observatory. The Arboretum is a living museum containing many rare and unusual trees dating back to the original Rosemount estate. The university continues to add specimen trees and has developed a woodland meadow in this area. A Birch Walk runs down the side of the Magnetic Observatory.
Belfield Walk – 2.4km, duration 30-35 minutes
Encompassing the academic core of the campus, this walk begins and ends at the entrance to the UCD James Joyce Library and forms a green link between the heart of the Belfield campus and the woodland periphery of the former estates. This walk passes O'Reilly Hall and the lake which is home to a number of wildlife species including swans, ducks, fish and a range of other aquatic based wildlife. The Elm Walk and Walnut Grove also feature along this path.
Glenomena Walk – 1.9km, duration 20-25 minutes
This walk joins 3.6 hectares of established woodland on campus including Belfield Wood which runs alongside Belfield House, Merville Wood which is located alongside Merville House (NovaUCD), and Foster's Avenue Wood. The path includes the tree lined avenue to Merville House (a Georgian style, two storey 'country villa'), and the Lime Walk.
Boundary Woodland Walk – 6.2km, duration 60-70 Minutes
Bringing the walks together, the 6.5km Boundary Woodland Walk extends around the perimeter of the campus to form a path linking the original and recently developed woodland areas with the wider campus landscape. Starting at the N11 entrance, this walk reveals some of the hidden treasures of the campus, such as the wildflower meadow and lakes at Woodview, the Belfield Arboretum, UCD's growing collection of sculpture, a diverse array of wildlife, and many of the original period houses.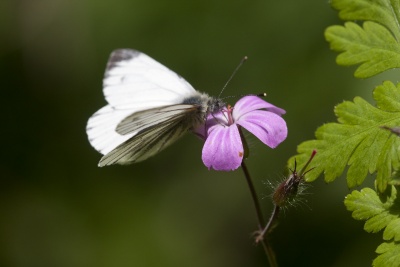 Green Veined Butterfly captured feeding on campus.
Trees and Woodland
The campus is formed from a series of suburban estates and retains many trees and woodlands from the 18th and early 19th century. Estate woodland is most noticeable on Foster's Avenue, by the Glenomena residences, around the UCD Crèche and on the Stillorgan Road. Remnants of residential ornamental tree planting can been seen at Merville House, Belfield House, Roebuck Castle and Richview.
In the late 18th century, ornamental conifers were in fashion and a representative collection, including Western Red Cedar, Giant Redwood, Sawara Cypress and Monterey Cypress remain by Ardmore House. Tall mature Lime trees, originally part of an estate boundary, line the road from the N11 entrance to the Daedalus Building. More fine Lime trees stand in front of the UCD Quinn School and recently planted trees run along the side of the building.
Tree-planting accompanied the development of the university in the 1960s and 1970s and put more emphasis on the year-round use of the campus. Pink-flowering Cherries, yellow-flowering Laburnum and white-flowering Horse Chestnuts are conspicuous in April and May. Purple-leaved trees such as Norway Maple, Copper Beech and Purple Plum are striking in summer and can be seen by O'Reilly Hall and the path to the N11 entrance. Grey-foliaged Weeping Pears, with dome shaped appearance, are evident by O'Reilly Hall and feature in many conferring photographs. Weeping Willow, Beech and Japanese Maples by the Lake offer striking colours of gold and orange in autumn. In winter, white-stemmed Birch and Paper Bark Maple are particularly noticeable by Merville House.
The large area of London Plane trees planted in front of the Restaurant and the Oak Walk, which formed a Millennium project, are relatively young and will grace the campus for many generations to come.
In recent years, large parts of the boundary woodland have been augmented with native woodland trees such as Birch, Alder, Oak and Willow. Such planting is also seen between the Glenomena and Merville residences and by the UCD Crèche.
Whether it be the woodland by Foster's Avenue, the venerable Horse Chestnut with its large branches leaning ground-wards near Woodview House or the lone Pine tree by the Daedulus Building, trees are an integral part of the UCD's Belfield Campus.
For more information on trees please visit http://www.ucd.ie/plantmat/
Birds and insects
The woodlands, wetlands, wildflower meadows and mowed grass areas around the campus provide a variety of habitats for birds, mammals, insects and other wildlife. Most of the common woodland birds breed on campus.
The woodland boundary walk provides views of some birds that are difficult to see in gardens, such as Sparrowhawk, Stock Dove, Long-tailed Tit, Goldcrest, Willow Warbler, Chiffchaff, Treecreeper and Bullfinch, with Waxwing, Siskin, and Brambling as possible winter visitors. Holly Blue, Orangetip, Speckled Wood, Tortoiseshell and Peacock butterflies avail of the variety of plants found in the woodlands and wildflower meadows of the campus, as do many wild bees. Some of these insects have quite specific food plant requirements. The wildflower meadows also provide food for Woodpigeons and Finches, such as Goldfinches, Greenfinches and Linnets.
A great variety of wildlife is present on the various lakes and areas of wetlands on campus. Common waterfowl such as Mute Swan, Mallard and Tufted Duck and also Moorhen, Black-headed Gull and Pied Wagtail can be seen on open water. Birds such as Grey Heron, Teal, Kingfisher and Water Rail may be present, especially in winter. The Common Chaser Dragonfly is also evident and occasionally the large and impressive Moorland Hawker Dragonfly breeds on campus.
In winter the playing pitches can attract coastal wading birds, such as Curlew and Oystercatcher to feed. Fieldfares and Redwings can also be seen. In spring these birds are replaced by breeding Blackbirds, Song Thrushs and Mistle Thrushs, collecting worms to feed their chicks.
Bats
The UCD Belfield campus, given its large expanse of green space and woodland in the otherwise suburban environment of South Dublin, is likely to provide habitat for several Irish bat species. The two most common species of bat found in Ireland, the Pipistrelles, are the most likely to be encountered in urban and suburban environments, and can often be seen on summer evenings foraging around trees, hedgerows and ponds, feeding on many small insects, such as midges, mosquitoes and mayflies. Their flight is fast and irregular and the two species can be distinguished by the peak frequency of their echolocation call. The Leisler's bat is Ireland's third most common and largest bat and are characterised by flying very high and in open environments. Another possible visitor may be the Daubenton's bat, this species specialises in feeding over water, catching insects off the water surface with its large feet.