Events listed on this page are either on-campus events organised by the UCD Career Development Centre, or careers related off-campus events of interest to UCD students and alumni. We encourage you to register in advance through Careers Connect as some events can be very popular. Just click on the event title - you'll be prompted to login with your UCD Connect details (students) or email and password (graduate/alumni) and you can then book your place on the event.
Smurfit student?
If you are studying at UCD Michael Smurfit Graduate Business School there are events specifically for you at the Blackrock campus.
Please login to Careers Connect with your UCD Connect username and password, click on Events > Search & Book, and filter by the event type to see Smurfit events.
‌
UCD Internship Fair
Internship work is a crucial and valuable experience for students across all academic disciplines. It is also the one of the best ways to get into a company for the long term permanent position.

The UCD Internship Fair matches organisations with UCD students. Whether you want to work as an intern for a large professional financial firm or maybe a smaller company, you'll find something here for you.

Click to view employer list and book your place.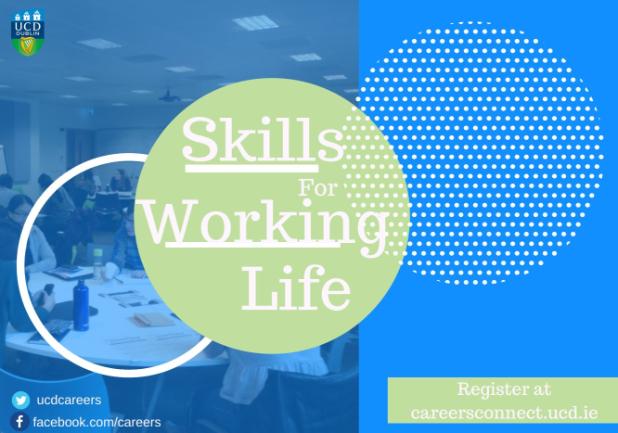 ‌
Skills for Working Life
This programme is intended to provide students with an insight into key skills employers indicate they need students to recognise, develop and relate effectively to the graduate workplace. Students will gain an appreciation of how to manage the graduate recruitment process, how to be effective in the workplace and how to be active in their own career development. Topics include Presentation & Facilitation skills, Acing Graduate Interviews, Value Chain Analysis etc.

The course comprises eight weekly informal and interactive sessions each lasting up to two hours (usually around 1hr, 45mins). During these sessions, students are able to ask questions and interact with recruiters and learn from their experiences.

Students who attend a minimum of six sessions will be awarded the UCD Career Development Centre non-credit bearing Certificate in Skills for Working Life at a presentation of certificates in late April/early May. The Certificate will be recorded on students' Diploma Supplement which forms part of your final transcript from UCD.