Prof. Kenneth A. Dawson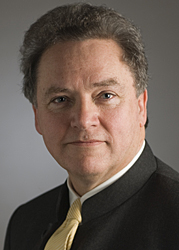 ‌
is Director of the Centre for BioNano Interactions (CBNI), which is the National platform for excellence in the interaction of nanoparticles with living systems. He is also a lead investigator of the bionanoscience activities in University College Dublin, and Chair of Physical Chemistry.
His professional roles include participation in the EMEA Nanomedicines Expert Group, membership of the Scientific Committee on Emerging and Newly Identified Health Risks (SCENIHR), participation in the OECD and ISO working groups on standards for Nanotechnology, Chairing the International Alliance for NanoEHS Harmonoisation and co-ordinating several large research projects in the area of nanosafety and nanomedicine, including the EU Research Infrastructure for nanosafety assessment (QualityNano).
He is currently Editor of Current Opinion in Colloid Science, Senior Editor of Physica, Associate Editor of Journal of Nanoparticle Research and former President of the European Colloid and Interface Society.
He has several years of experience of leading international research teams at the interface between materials and biology, including one of the first publications applying transcriptomics to materials (PNAS, 2003, 100, 6331). His work has focused on the biomolecule corona that surrounds nanoparticles in biological milieu and how this mediates nanoparticle interactions with living systems. The long-term goal of his research is the development of a rational framework to understand the interactions of nanoparticles with living systems.
Most recently Prof. Dawson has been awarded a Visiting Professorship with both Brazil and the Chinese Academy of Sciences.
Recent Publications | UCD Research Profile
ORCID: 0000-0002-0568-6588 | ResearcherID: L-2540-2016
---