Thinking about Home: Alternative Perspectives on the Housing Crisis in Ireland
As part of the coordinated events of the UCD Centre for Ethics in Public Life (CEPL) for 2023, we are hosting a discussion with experts from different fields to consider alternative conceptual, theoretical and practical issues relating to the housing crisis.
The ideas underpinning the present state of housing and rights related to housing in Ireland stretch back a long way in the public imagination. On this basis, seeing a way out of the housing crisis may also call for new or different ways of thinking about the subject of housing; whether this focuses upon the rights and responsibilities of individuals, the ideas that concern the construction and transformation of the places in which we live, or the question of how we come to see and call these spaces our homes. Within the context of a situation as complex and all-consuming as the housing crisis, the purpose of this discussion is to provide a venue to think in alternative ways about experiences and notions of home, housing and the housing crisis.
The event will include presentations by a dynamic panel of experts from a range of fields, followed by a panel discussion and audience participation.
Conference Details
Date25 April 2023
Time5:30-7:30pm
LocationMuseum of Literature Ireland, UCD Naughton Joyce Centre, 86 St Stephen's Green, Dublin 2
OrganisersUCD Centre for Ethics in Public Life
Intended Audience ALL WELCOME
Please register via Eventbrite
---
Speakers include:
Dr Michael Byrne - UCD - School of Social Policy, Social Work and Social Justice;
Dr Cian O'Callaghan – TCD - School of Natural Sciences;
Dr Samantha Williams – UCC - Centre for Criminal Justice & Human Rights;
Dr Lisa Foran – UCD - School of Philosophy & Centre for Ethics in Public Life;
Associate Professor Paul Ryan – UCD School of Business
Representatives from Threshold Ireland.
ALL WELCOME
For inquiries please email: Dr Danielle Petherbridge (e) danielle.petherbridge@ucd.ie or Jonathan Wren (e) jonathan.wren@ucdconnect.ie
Presented by UCD Centre for Ethics in Public Life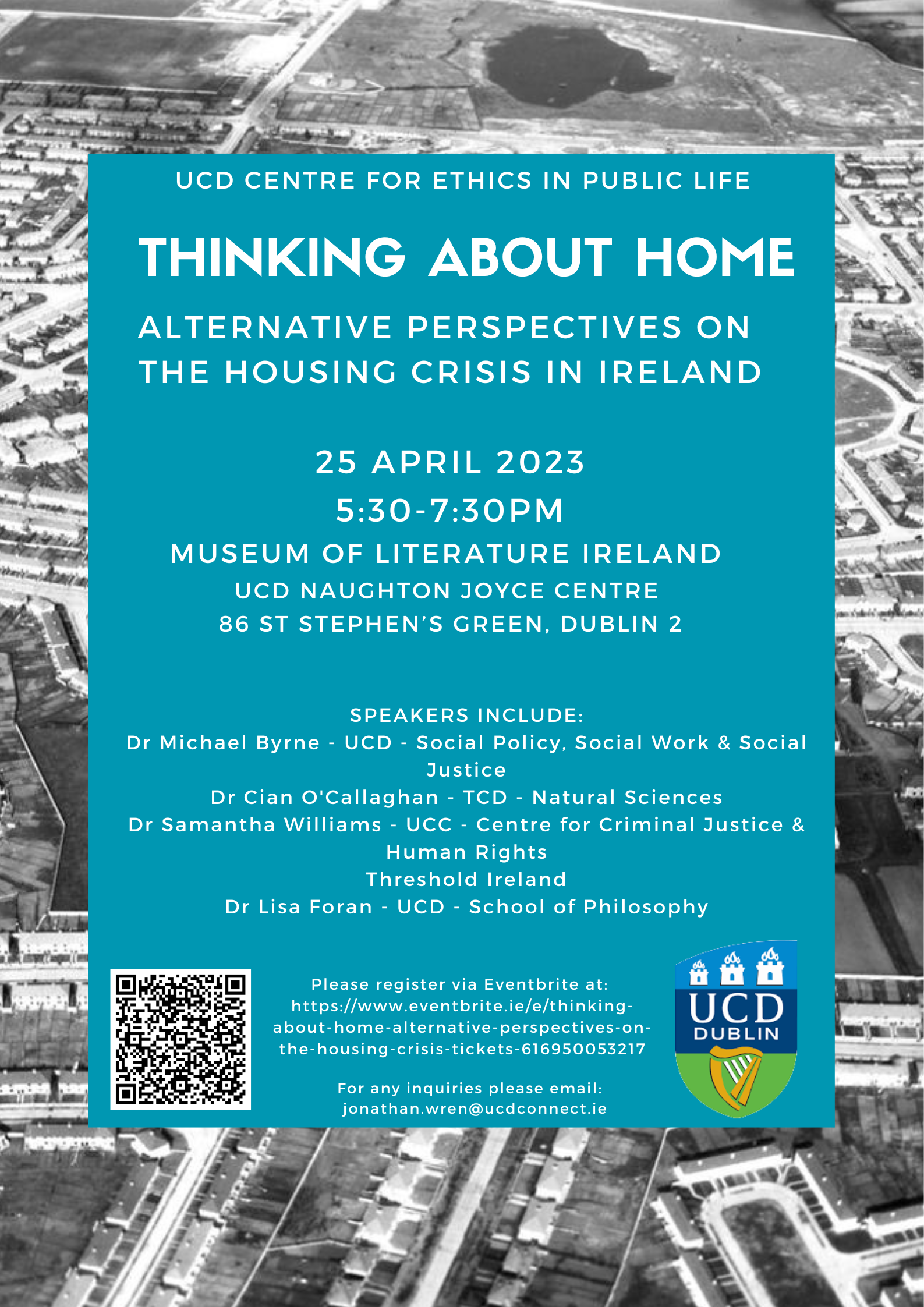 ---
Contact the Centre for Ethics in Public Life (CEPL)
CEPL, School of Philosophy, University College Dublin, Belfield, Dublin 4, Ireland. E:
cepl@ucd.ie