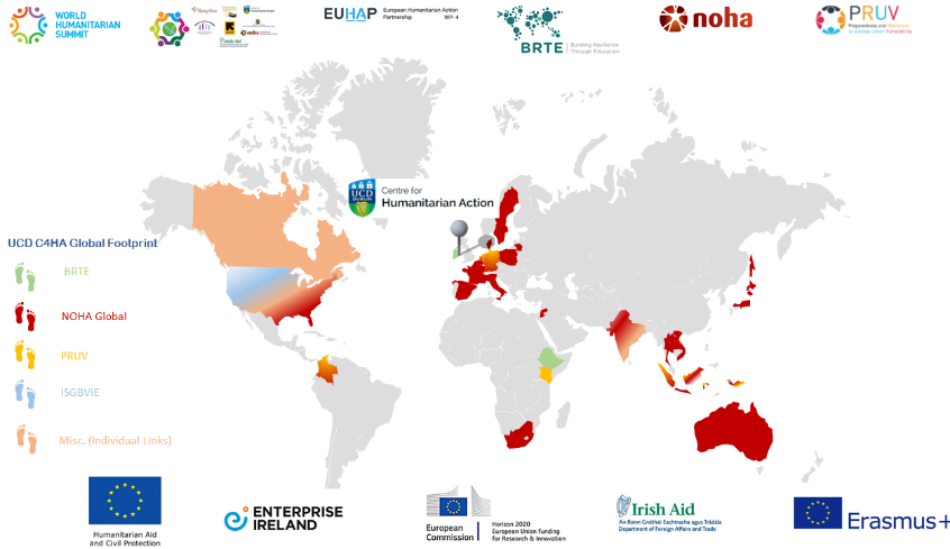 The UCD Centre for Humanitarian Action (UCD CHA) is an inter-disciplinary research and teaching platform focused on international humanitarian action, whose mission is to enhance the professional delivery of humanitarian action through the provision of inter-disciplinary and internationally recognised research to inform policy and practice.
The Centre is based in the School of Agriculture and Food Science and draws on the expertise of Schools and Institutes across UCD. It is a university-wide initiative that provides a gateway for humanitarian stakeholders (inter-governmental, governmental, non-governmental and private sector) to access the rich resource base that UCD offers across its Colleges and Schools. Equally, it provides 'opportunity' for UCD staff to engage in new ways to 'tackle global challenges'. The Centre is an interdisciplinary research and teaching platform focused on international humanitarian action: actions aimed at saving and preserving life, preventing and alleviating human suffering, and supporting life with dignity for those affected by man-made and natural disasters.
The Centre has strong links with a network of universities worldwide through the NOHA network and beyond, such as with Wolaita Sodo University, Ethiopia; University of Gadjah Mada, Indonesia; University of Nairobi, Kenya; Javariana University, Colombia; Makerere University, Uganda; Fordham University, USA; and Jadavpur University, India. The Centre also has strong links with international organisations and agencies and non-governmental organisations including the International Committee of the Red Cross, Concern Worldwide, Plan Ireland, UNHCR, German Red Cross, Irish Aid, the Irish Red Cross, GOAL, Partnership in Learning, and Link Community Development.