The College was pleased to host an event celebrating this year's recipients of the university's 10 Year Long Service Awards
Speaking at the event College Principal, Professor Cecily Kelleher, recognised the valued contribution of all faculty and staff to the university.
Recipients were presented with their awards by Professor Kelleher, with Deans and Associate Deans from across the college also in attendance, including Professor Michael Keane, Professor Catherine Blake, Professor Alex Evans and Professor Rory Breathnach.
Awardees present at the event were: Brian Bruno, Maria Fay, Olivia Fielding, David Gomez, Monica Gorman, Hanne Jahns, Michelle Keogh, Boris Kholodenko, Attracta Lafferty, Jens Rauch and Sinead Ryan.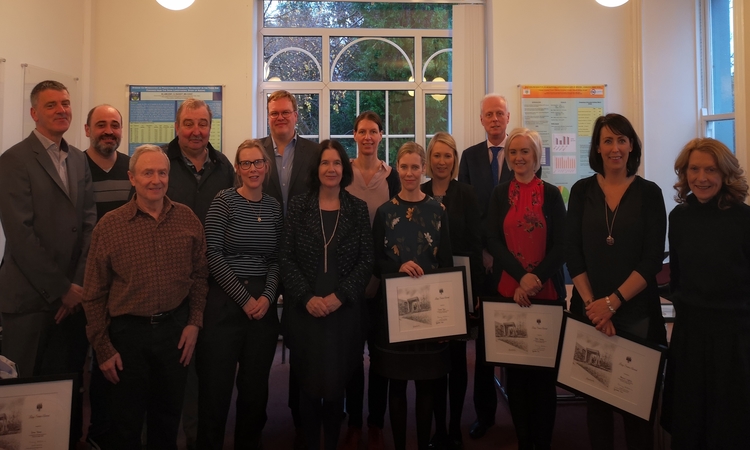 Also receiving the award are: Kevin Black, Dirk Fey, James Geraghty, Mairead Kennelly, Jan Klimas, Walter Kolch, Alan Macken, Teresa Martin, Eadaoin McKiernan and Anna Vilhelmiina Huuskonen.
A university wide event took place later that day in the O'Reilly Hall to celebrate recipients of the 25 and 40 year Long Service Awards. This year's CHAS recipients are:
Eugene Brennan, Paula Byrne, Deirdre Campion, Margaret Crean, Patrick Felle, Hamish Fleming, Bernadette Flynn, Grainne Harrington, Abbey Hyde, Eileen Lynch, Anne P Markey, Frank Monahan, Karen Mcgibney, Kevina Mcgill, Deirdre Mcgrath, Jean Mcmanus, John V O'Doherty, Patrick Quinn, and Patrick Reilly.
A sincere thanks and congratulations to all