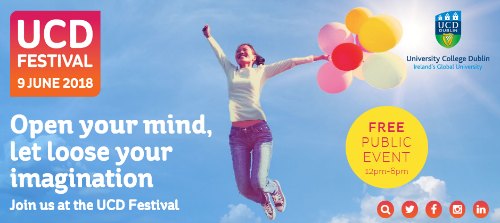 The College would like to extend our invitation to you for this year's thirst annual UCD Festival this Saturday, 9th June 2018. This is a multidisciplinary event against the backdrop of a festival atmosphere here on our Belfield campus. There will be something of interest for all ages, including an international food fair and many family friendly activities. Come and experience the unique festival of creativity, innovation and discovery.
The programme will showcase the best of the College of Health and Agricultural Sciences with opportunities to learn to save a life with CPR skills at the Student Centre, and to bring along Teddy for a health check at O'Reilly Hall. Our Health Sciences students will be on hand to make sure UCD staff are in good health too- get you rhealth check at the UCD O'Brien Centre for Science. Look after your mental health with First Fortnight Mental Arts Festival and Co-Motion- a moving musical experience that allows you to share songs that speak to you and form new connections through music.
Other UCD Festival highlights across campus include a series of hands-on science experiments and innovative technologies in the UCD O'Brien Centre for Science. There will be drone cages, virtual reality caves and stargazing alongside performances and live music with the UCD Community Choir, a student production of 'Bump' and Sean-nós dancing- there is something for everyone!
There will also be a number of thought-provoking sessions with UCD alumni and staff throughout the day, including "Re-imagining Education for the Fourth Industrial Revolution: Will our Children be Prepared?" Hosted by the UCD Innovation Academy, the central question of this panel discussion is "Are we adequately preparing young people to live and work successfully in the 4th Industrial Revolution?" Or celebrate the 100th anniversary of women's suffrage at the 'Vótáil 100 - Cad e seo chugainn' event will look at the impact this significant anniversary has had on Irish Society but also what needs to be done to bring women forward in politics over the next 100 years.

We would also like to thank in advance all of College based and University staff and students who are volunteering to run such a fantastic event.
Make sure to register for any events that you are interested in attending in advance. Full event details here.