UCD Engineering shortlisted for Engineers Ireland Excellence Award 2011
The UCD School of Civil Engineering is committed to developing the creative potential of engineering students and promoting a culture and an environment which nurtures creativity and innovation. The School have teamed up with an Irish innovation consultant, Keith Finglas of Innovation Delivery Ltd., and architect, Mark Price, to implement a studio-based approach to the development of creative design thinking, problem solving, and leadership training within the undergraduate and taught graduate programmes. The initiative is co-ordinated by Dr. Amanda Gibney.
The approach has been integrated into the curriculum in the form of two new modules:
'Creativity in Design', a core module for all 275 first year engineering students, which promotes creative design thinking and
'Innovation Leadership', which prepares Masters level engineering students for leadership and project management roles.
Development and communication of design ideas through the process of observation, visualization, visual representation, verbal communication and physical representation is central to the 'Creativity in Design' module. A key concept within the process is combining business, technology and user-centred/customer perspective within design solutions. The approach taken has been particularly influenced by the methods used by the design and innovation consulting firm IDEO and the Stanford Design School approach for graduate students, providing an active-learning design experience, challenging students to develop creative solutions.
At the Taught Masters level our 'Innovation Leadership' module prepares students to manage projects, lead teams and use innovation techniques to develop creative solutions. The development of facilitation and leadership skills of this group is achieved through the link with the 'Creativity in Design' module. The Masters students facilitate the small-group experience for the first year students, through their project management of the studio experience. This provides a sustainable approach to the logistics of provision of a small-group experience for 275 first year students.
UCD's Strategic Plan, Forming Global Minds, recognises the importance of developing inspirational leaders, those who are going to find creative ways of solving problems, adding value to the economy.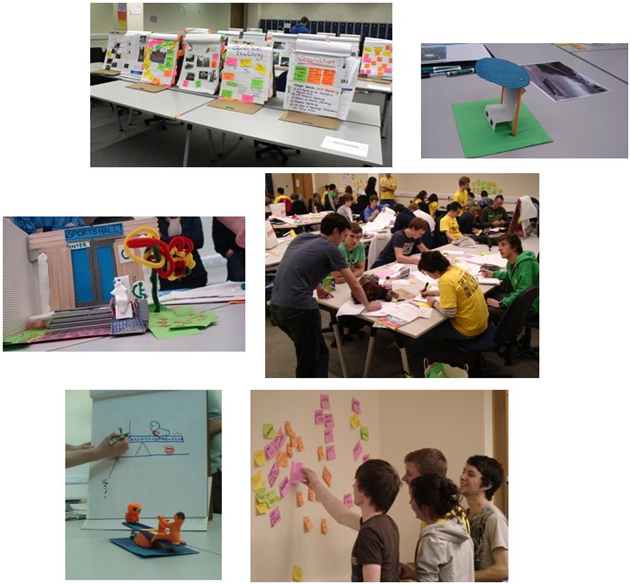 As part of Innovation Dublin 2011, the School will be hosting an exhibition of selected project solutions from the 'Creativity in Design module'.
This exhibition will take place on 16th November, from 2pm to 6pm, in the Atrium of the Newstead Building (See Building No. 57 on Campus Map: www.ucd.ie/maps/UCD_Map_July_2011.pdf). For more information, please contact: