Best Education Outreach award for Amgen Biotech Experience
The Amgen Biotech Experience programme, a joint UCD-DCU science education initiative, has won the Best Education Outreach award at the inaugural 2017 Education Awards ceremony. These awards recognise, encourage and celebrate excellence in the third level education sector on the island of Ireland from both State and privately funded institutions.
The Amgen Biotech Experience (www.abeireland.com) was shortlisted along with seven other education programmes that involve students and the public in concepts of science, environment, design and many other areas of education.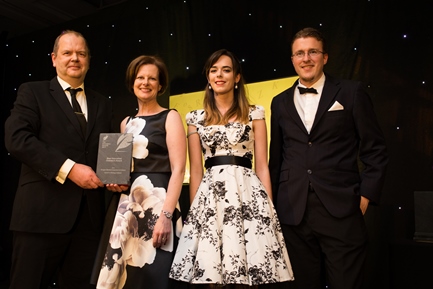 Pictured L-R: Robert O'Neill, Director of IT, Hibernia College, Education Awards Judge; Ms Elaine Quinn, Site Director (UCD Conway Institute) ; Ms Tara O'Connor, Technical Support; Dr Robert Schwamborn, Project Coordinator
The ABE Ireland team provide training in molecular biology experiments for secondary school teachers with subsequent access to professional grade scientific equipment and curriculum-linked teaching materials to facilitate the teaching of laboratory practicals in the classroom. Since 2014, 150 teachers from 113 schools and 7800 students have benefitted from the programme.
The programme is coordinated by Systems Biology Ireland in UCD under the directorship of Professor Walter Kolch. There is a project team of four. The programme is managed by Ms Elaine Quinn and Professor Richard O'Kennedy, site directors in UCD Conway Institute and DCU School of Biotechnology respectively. Dr Robert Schwamborn is project coordinator and Ms Tara O'Connor provides technical support.
This was the third award for Systems Biology Ireland who earlier in the same day won the Education Laboratory of the Year and the Collaborative Laboratory of the Year categories at the sister event, the Irish Laboratory Awards.