ATXA Therapeutics Appoints Dr Ivan Coulter as Chief Executive Officer
Company to progress candidate drug toward clinical development for treatment of pulmonary arterial hypertension
ATXA Therapeutics, a pharmaceutical company focused on the discovery and development of new therapeutic drugs in heart and lung diseases, including pulmonary arterial hypertension (PAH), recently announced the appointment of Dr Ivan Coulter as Chief Executive Officer (CEO).
ATXA Therapeutics was founded by Professor Therese Kinsella in 2015 as a University College Dublin (UCD) spin-out from the UCD School of Biomolecular and Biomedical Science and is headquartered at the UCD Conway Institute.
PAH is a devastating disease of the lung and heart with an urgent unmet need for new improved therapies. While the condition itself is classed as a rare or orphan disease, affecting 15-50 patients per million of the population, it carries an enormous health burden with an annual spend of $6 billion globally on prescribed medicines alone.
ATXA's lead drug, NTP42, is being developed to treat PAH, for which there is no cure or disease modifying therapy. The company has secured orphan drug designations from both the EMA in Europe and the FDA in the US for NTP42.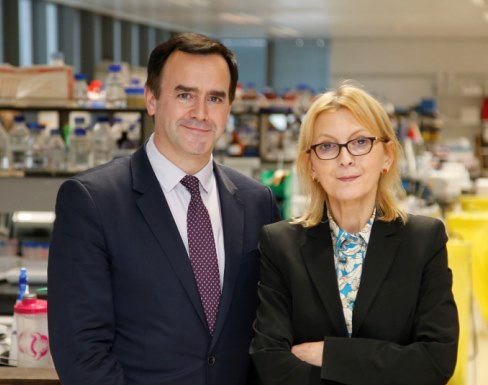 Pictured at the UCD Conway Institute are Dr Ivan Coulter, CEO, ATXA Therapeutics and Professor Therese Kinsella, Founder and CSO, ATXA Therapeutics.
Previously Dr Coulter was the founder and CEO of Sigmoid Pharma (Sigmoid) (now Sublimity Therapeutics). Under his leadership Sigmoid developed an innovative oral drug delivery technology, SmPill®, and progressed the clinical development of a SmPill®-enabled product through Phase II studies in moderate-severe ulcerative colitis.
During his time as CEO, Sigmoid brought in over €100 million of partnership and financing into the company, including Series B financing in May 2018 and a European licensing deal with Dr Falk in 2017. Under his leadership, Sigmoid has obtained multiple awards and grants.
Dr Coulter graduated with BSc (Honours) and PhD degrees in Pharmacology from UCD and an MBA from Cornell University, USA.
Dr Ivan Coulter, CEO, ATXA said, "I'm excited to be taking on this new unique and timely challenge with ATXA. The company's lead drug candidate NTP42 has the potential to be a game-changer in the future treatment of the orphan disease pulmonary arterial hypertension. Furthermore, NTP42 as well as other ATXA pipeline molecules have significant clinical potential to address unmet needs in a range of other blockbuster disease indications."
Professor Therese Kinsella, ATXA founder and Chief Scientific Officer said, "I am delighted to welcome Dr Coulter as CEO of ATXA at this pivotal stage of the company's development. His experience in technology and product innovation, building high performance teams as well as raising capital on a global scale and developing strategic relationships with key stakeholders will prove valuable to ATXA as we advance NTP42 towards initial clinical trials in PAH and beyond."
The company, an Enterprise Ireland high-potential start-up (HPSU), has recently secured €2.5 million in funding under the highly competitive European Union SME Instrument programme, having been ranked in the top 1% of applicants. This funding will support ATXA to advance NTP42 towards first-in-man clinical trials.
Dr Coulter, along with the Professor Kinsella, will now lead the company forward as it progresses its candidate drug NTP42 toward clinical development for treatment of PAH.
In addition to the opportunity in PAH, NTP42 as well as other ATXA pipeline candidate drugs have significant clinical potential to address unmet needs in a range of other blockbuster disease indications.
About
ATXA Therapeutics is pioneering the development of a pipeline of novel molecules which act to modulate the thromboxane receptor (TP) pathway. The TP pathway has been identified as an important and, to date, underutilised target for the development of novel treatments for a range of substantial and underserved human diseases. www.atxatherapeutics.com
Pulmonary arterial hypertension (PAH) is one form of a broader condition known as pulmonary hypertension, which means high blood pressure in the lungs. In PAH, increased pressure in the vessels is caused by obstruction in the small arteries in the lung, for a variety of reasons. In many cases of pulmonary arterial hypertension, the cause is unknown; others causes can be drug-related, HIV infection; connective tissue/autoimmune disorders (such as scleroderma) and others. Currently, there is no cure with treatments improving quality of life but providing limited extension to the untreated mean survival of 2.8 years from diagnosis.