Two Conway Fellows Receive 2019 Science Foundation Ireland Science Awards
Two leading UCD researchers have been announced as winners of prestigious 2019 Science Foundation Ireland (SFI) Awards at the annual SFI Science Summit held in Athlone on Thursday, 07 November.

Professor William Gallagher, UCD School of Biomolecular and Biomedical Science and Director, UCD Conway Institute, was named winner of the 2019 SFI Entrepreneurship Award while Professor Kevin O'Connor, UCD School of Biomolecular and Biomedical Science and Director, Beacon, the SFI Bioeconomy Research Centre, was named winner of the 2019 SFI Researcher of the Year Award.
A major focus of Professor Gallagher's research at UCD is the identification and validation of candidate biomarkers of breast and other cancers, particularly those which guide treatment decision making. His research resulted in the establishment of OncoMark, a UCD spin-out company, currently headquartered at NovaUCD.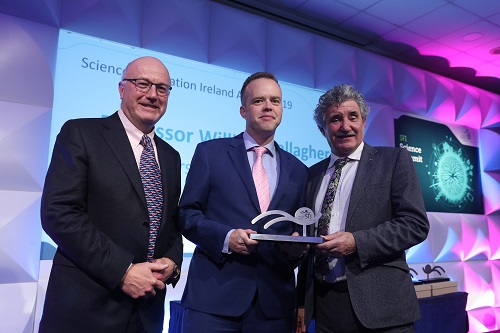 Pictured: (l-r) Prof Mark Ferguson, Director General SFI, Prof William Gallagher UCD, recipient of the SFI Entrepreneurship Award 2019 with Minister for Training, Skills, Innovation and Research and Development, John Halligan TD
OncoMark focuses on the development and application of biomarker panels which address critical unmet needs for cancer patients. OncoMark's lead product, OncoMasTR, is a prognostic test for early-stage breast cancer that can reduce the number of breast cancer patients receiving unnecessary chemotherapy.
Following participation in a selection of large-scale European networks, OncoMark in 2015 secured €2.7 million through the Horizon 2020 SME Instrument Programme Phase 2 and raised €2.1 million in 2017 from a number of VC firms, private investors and Enterprise Ireland to accelerate its product portfolio to market.
This funding has been used to clinically validate the OncoMasTR test and secure CE-marking in advance of the commercial launch of the test.
The OncoMasTR test is based on a panel of genetic 'drivers' of breast cancer. The original research that resulted in the identification of the panel was co-led by Professor William Gallagher and his team at UCD, together with Professor Adrian Bracken at Trinity College Dublin. The OncoMasTR technology was subsequently exclusively licenced by both universities to OncoMark.
Professor William Gallagher said, "Fundamental to an ability to innovate is the existence of an environment where discovery research is possible and is valued. In this respect, I have been fortunate to work very closely with excellent basic and translational researchers at the UCD Conway Institute, such as Professor Amanda McCann and Professor Bill Watson, and with clinical colleagues based in our affiliated hospitals, including Professor Cathy Kelly, Mater Misericordiae University Hospital and Professor John Crown, St. Vincent's University Hospital.
"Such interactions have been critical in allowing us to bring forward novel ideas and findings from the lab bench towards clinical implementation. A recent collaboration with Professor Adrian Bracken's team from TCD led to the development of a new diagnostic assay, called OncoMasTR, which can be used to effectively spare early stage breast cancer patients from unnecessary chemotherapy.
"The OncoMasTR assay, which is being commercialised by the UCD spin-out OncoMark, received the CE mark in 2018 and has been validated using tumour tissue from several thousand breast cancer patients. Our ability to find new innovations derived from ongoing basic research in our laboratory and others has been helped enormously by the excellent support of NovaUCD, the technology transfer arm of the university".
Professor Gallagher was also the Director of the first Irish Cancer Society Collaborative Cancer Research Centre, BREAST-PREDICT, which completed its groundbreaking 6-year programme in September 2019.
Professor O'Connor's research is seminal in the area of circular economy, circular bioeconomy and biotechnology. He is also a member of the UCD Earth Institute and has published extensively and patented technologies on the conversion of waste plastics to biodegradable plastic and the biotechnological production of hydroxytyrosol, a health promoting molecule.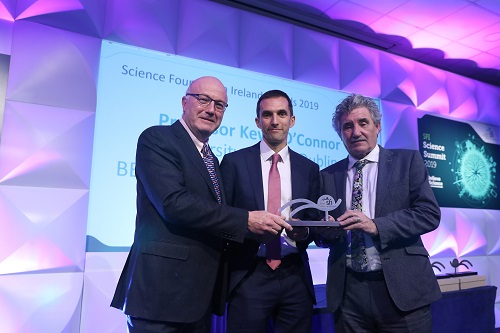 Pictured: (l-r) Prof Mark Ferguson, Director General SFI, Prof Kevin O'Connor, Beacon SFI Bioeconomy Research Centre UCD, recipient of the SFI Researcher of the Year Award 2019 with Minister for Training, Skills, Innovation and Research and Development, John Halligan TD

As Director of the BEACON SFI Bioeconomy Research Centre, he is leading blue skies and industry focused research to build and support the development of Ireland's bioeconomy. He is also shaping the European Bioeconomy Strategy through his chairmanship of the Scientific Committee for the Bio-based Industries Joint Undertaking (BBIJU), a €3.7 billion Public-Private Partnership.

Collaborating with industry, Professor O'Connor developed technology to convert a dairy by-product into an organic acid, which was patented and licensed to industry. It is now being scaled and implemented in a world first 'second generation dairy biorefinery', which has received over €30 million in EU and industry funding.

He is also the co-founder of two UCD spin-out companies, Bioplastech and Novo Mentis, both supported by NovaUCD.

Professor Kevin O'Connor said, "I am delighted and honoured to receive this prestigious SFI Award. It is a recognition of the dedication of the many researchers and industry partners with whom I work and collaborate with, across multiple scientific fields and sectors, at UCD, across Ireland and internationally. Through these collaborations we are creating knowledge and translating this knowledge into innovative technological solutions to address global and societal bioeconomy challenges.

"I would especially like to acknowledge and thank SFI for their funding, and UCD, BEACON Centre members and my wife and family for all their support".

Professor Orla Feely, UCD Vice-President for Research, Innovation and Impact said, "I am delighted that two leading members of UCD's research and innovation community, Professor Kevin O'Connor and Professor William Gallagher, have been recognised by SFI through the Researcher of the Year Award and the Entrepreneurship Award, respectively. The presentation of these prestigious awards reflects the strength and impact of research and commercialisation activities taking place across UCD.

"Kevin's research outputs in microbiology and biotechnology have resulted in major breakthroughs in the circular economy and the bioeconomy. Through his research and his leadership he is advancing sustainability and creating new opportunities in Ireland and internationally.

"Liam has an excellent track record in the successful commercialisation of research-generated intellectual property for the benefit of society and the economy. His leadership within OncoMark has been crucial to the company successfully completing clinical validation studies and securing CE-marking for the OncoMasTR test which has global market potential".

The UCD Professors were presented with their awards at the 2019 SFI Science Summit were 300 leading members of Ireland's research community came together to celebrate the significant contributions made over the past year to Science, Technology, Engineering and Maths (STEM) in Ireland. This year there were a total of eight categories with ten award winners.

Acknowledging all the award winners, Minister for Training, Skills, Innovation and Research and Development, John Halligan TD, said, "The Science Foundation Ireland Awards recognise the breadth and depth that research encompasses from industry collaborations to public engagement and the innovative breakthroughs that are leading research globally in the areas of immunology, biomaterials, cancer research and much more.

I would like to congratulate each awardee on their achievements, which illustrate the invaluable knowledge and resource that Ireland's research community offers. I am also pleased to see mentorship amongst the awards this year, highlighting the importance of supporting the next generation of researchers and enriching our growing research community".

Professor Mark Ferguson, Director General of Science Foundation Ireland and Chief Scientific Adviser to the Government of Ireland, said, "On behalf of Science Foundation Ireland, I would like to congratulate the award winners on their success and recognise their dedication in realising their ambitions and in doing so, building Ireland's reputation as a global research leader.

We are very proud of the excellent quality of research that our funding enables, and the SFI Awards are an important acknowledgement of the collective achievements of the Irish research community, which continue to be impactful, inspirational and world-leading".