A day in the life: COVID-19 contact tracing volunteer
Helen Roche is Professor of Nutrigenomics in the UCD School of Public Health, Physiotherapy and Sports Science (SPHPSS) and a Fellow in UCD Conway Institute and UCD Institute of Food & Health. Although Helen has a large research group and teaching commitments, she is one of the many volunteers who got involved in the COVID-19 contact tracing initiative in UCD.
How did you get involved in the UCD COVID-19 contact tracing initiative?
The Department of Public Health in the Health Service Executive (HSE) approached Professor Patrick Wall and Associate Professor Mary Codd in UCD SPHPSS to lead the set-up of a call centre for COVID-19 contact tracing. I responded to their request to academic and clinical colleagues to staff this centre. As it turned out, a good friend of mine from college, Margaret O'Neill, National Dietetic Advisor in the HSE is leading the tracing team there. She connected with me as 'a sounding board' in terms of refining the contact tracing processes, staffing and other logistics wherein HSE / UCD elements might integrate optimally.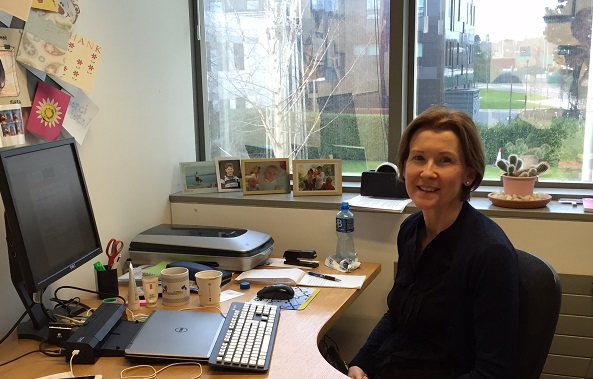 Describe the training you had to undertake before being put to work?
The first training session was completed by UCD SPHPSS colleagues and Army Cadets – then I become the trainer the following day! Two Army Cadets introduced us to the IT system, which was only recently established to track cases and their contacts – so initially there were glitches that needed to be worked out. This was the first time I ever interacted with the Army and I was seriously impressed by their professionalism.
By now, I have trained close to 120 volunteers. Among those trained were our final year MSc Clinical Nutrition & Dietetics students who were supposed to begin their mandatory 500-hour clinical training period in different hospitals last week. So now, part of their clinical training programme will be their involvement in COVID-19 contact tracing training and volunteering – again I have been really impressed by their professionalism given these circumstances.
What is a typical shift as a volunteer like?
There is no such thing as a typical shift yet - we have not got to that stage. The IT systems are constantly evolving with improvements and refinements to remove glitches. The parameters for contact tracing are also changing daily in response to evolving public health priorities. For example, we are really focusing on nursing home residents and health care workers now.
What is most challenging about this work?
The sad stories. There are so many examples of clients who cannot self-isolate due to personal circumstances – very often they do not have a room for themselves. Many health care workers share accommodation with colleagues. I was shocked to learn that Lidl pay €2 more per hour than most nursing home care staff earn. As this crisis continues, we are now connecting with family members of the COVID-19 patients who have passed away, in order to trace their contacts. These are difficult conversations, as family members are very upset.

Is there one thing you have learnt from this experience that might be of value to you in the future?
Sometimes you need to run with a system that is not perfect – however you just do the best you can, refine and improve as you go along. The management consultants working with the HSE would describe my role as a 'mobiliser'! So, pending the forthcoming SFI Frontiers funding outcome, I guess that could be an important learning in my next potential career stage!
As a research active academic, how do you balance volunteering work with your day-job?
Truthfully, not very well - although establishing an alternative clinical training programme component for candidates on the MSc Clinical Nutrition & Dietetics under challenging circumstances is a significant outcome. I am very conscious that my PhD students have been somewhat neglected but, they have plenty of work. Once the contact tracing system is set up, I hope to reconnect with them in the coming week. Although initially I was volunteering most days and evenings, we now have plenty of volunteers, so it's time to get back to my day job!
How has your research been impacted by this crisis?
We have an on-going human dietary intervention study that is paused in the current crisis. Luckily, it is a crossover study so we can prolong the washout phase. Like every research group, wet lab (at the laboratory bench) work is wiped out. However, my team are completing reviews and reading to expand the depth and breadth of their knowledge.
And finally...
I would very much like to acknowledge the technical team in UCD Conway Institute who provided hand towels, wipes and made World Health Organisation (WHO) grade sanitiser. We ran out of these essentials it quite early on and wanted to ensure our volunteers had these essential items to maintain hygiene standards and stay safe.

Also, I'd like to pay special mention to Professor Joe Carthy, College Principal and Dean of Science – who has been in the UCD O'Brien Centre for Science around the clock since we started. Joe has made sure that vital logistics for this initiative such as phones, meeting rooms, food and plenty of coffee were available to everyone involved.
In conversation with Elaine Quinn, Institute Manager (Communications & Education)