Lending scientific expertise to the COVID-19 response
Since the inception of the Institute, translational research has been considered integral to conducting research that will benefit health & well-being. Never has the collaboration between research and clinical scientists been so critical as the efforts to combat COVID-19.


Conway Fellows are lending their scientific expertise to the COVID-19 response through various initiatives. Catherine Godson, Professor of Molecular Medicine in the UCD School of Medicine and Director of the UCD Diabetes Complications Research Centre has been leading efforts with clinical colleagues in St Vincent's University Hospital to build local capacity for COVID-19 testing.


Patrick Mallon is Professor of Microbial Diseases and a Consultant in Infectious Diseases in St Vincent's University Hospital (SVUH) and a colleague of Catherine Godson.


Prof. Godson said, "Paddy Mallon contacted me and Prof. Cormac Taylor several weeks ago looking for equipment and reagents that were in short supply and asking for help with increasing capacity to perform COVID-19 testing. Given the skill set of individuals in UCD Conway Institute, we immediately thought this should be an Institute-wide effort."


An email request for volunteers from within the Conway research community with relevant expertise in DNA and RNA extraction and PCR saw more than 180 people making themselves immediately available, if needed. A number of these PhD students and postdoctoral staff were deployed to the St Vincent's University Hospital to increase COVID-19 testing capacity under the guidance of teams led by Prof. Mallon with the support of consultant microbiologist colleagues, Dr Sinead McDermott and Prof. Kirsten Schaeffer. They have been transformative in enabling the laboratory to ramp up testing of samples from in-patients and healthcare workers.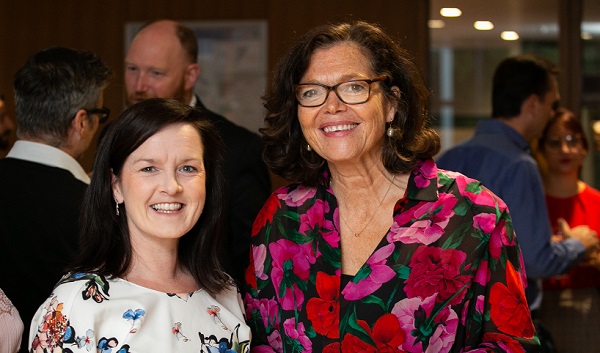 Pictured (l-r): Dr Tracey McAuley & Professor Catherine Godson, UCD Diabetes Complications Research Centre
"Together with Prof David MacHugh and Dr John Browne in UCD School of Agriculture & Food Science, we collated an inventory of instrumentation across the university. Catherine Moss, Senior Technical Officer in the UCD Conway Genomics Core laboratory was able to transfer one instrument to SVUH to bolster their current capacity.
"We then explored various options in relation to providing alternative reagents to those in short supply and John Browne, working with Dr Virginie Gautier in UCD Centre for Experimental Pathogen Host Research was able to generate and validate solutions to address this problem. Additionally, in response to requests from NVRL satellite sites, Michael O'Sullivan and Dr Eoin Brennan sourced the necessary chemicals to allow technical staff, Emer Bonham and Eimear Ryan prepare materials vital for sample preservation." added Prof. Godson.
Catherine Godson and Cormac Taylor are also working with clinical and academic colleagues to explore possible routes to establishing alternative de novo testing platforms for COVID-19 that might circumvent the reliance on reagents that are in short supply globally.


"It is a challenge to increase testing capacity when laboratories globally are competing to source stocks of reagents for the same testing process. UCD Research has given great support to efforts by Prof. Gil Lee (UCD School of Chemistry) to develop alternative platforms, which we hope will be useful in the future. Tracey McCauley and Colm McMahon have been supporting the project management of these initiatives, which is important to ensure coordination of efforts to achieve optimal local and national impact at this time of crisis."

Conway Fellow, Dr Nicola Fletcher recently began an Ad Astra fellowship in UCD School of Veterinary Medicine. Prof. Patrick Wall in UCD School of Public Health, Physiotherapy and Sports Science approached Dr Fletcher and her colleague, Dr John Browne to train technicians for a new testing facility at Enfer Group laboratories in Naas, Co. Kildare in collaboration with the National Virus Reference Laboratory.
The training involves instruction in the use of personal protective equipment (PPE) and how to safely work with potentially live viruses that must be rendered inactivate in the first step of the diagnostic testing process.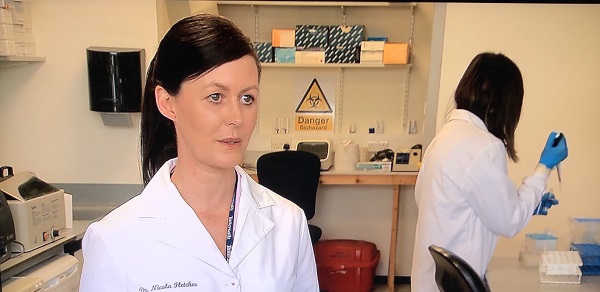 Pictured: Dr Nicola Fletcher
"Initially, we intended to conduct training in a containment level 3 laboratory but it would have been impossible to maintain social distancing due to the series of small airlocks that have to be passed through to enter the laboratory.


"Instead, John Browne set up a dedicated training laboratory in the Veterinary Sciences Centres that contains all the equipment we needed to teach people how to work safely with clinical samples containing virus.


"One of our final year undergraduate veterinary students, Margot Penney, has been an amazing help with training, organising WhatsApp groups and coordinating training schedules."

Prof. James Lyng and Prof. Joe Carthy helped to organise third year agriculture students for training. These students will be employed by Enfer and testing is currently increasing there. Once at capacity, it is estimated that Enfer would have the capability to run 10,000 tests a day.


"The teamwork, selflessness and collegiality has been brilliant, and I have really enjoyed working with these great people. I can train about 10 students a day in sample receipt and transfer of virus transport medium from the swabs into lysis buffer."