Bringing Institute public engagement initiatives to global conference
Two public engagement initiatives from UCD Conway Institute and Systems Biology Ireland were presented at a global science communication conference in Rotterdam on April 10 - 14.
Creating common ground was the overarching theme of the conference. It supports the idea of a collaborative network of researchers and practitioners in science communication who study or work within science journalism, engagement, citizen science, informal science education and innovation.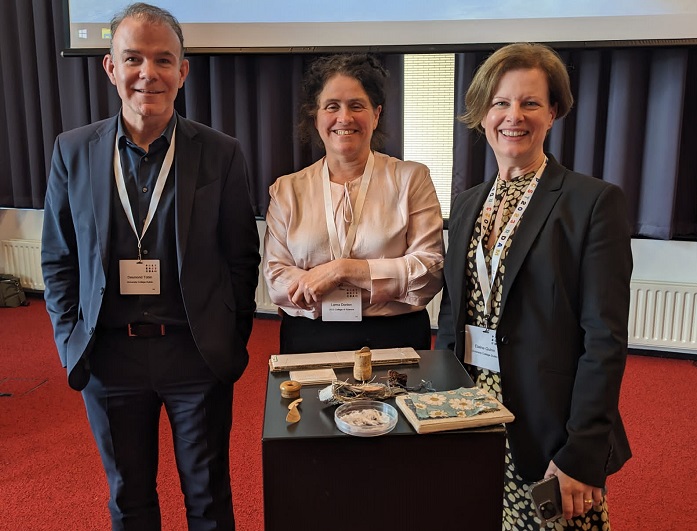 From left to right: Professor Des Tobin, artist, Lorna Donlon and Elaine Quinn. Institute Manager (Communications & Education)
Solving today' 'wicked' problems requires many stakeholders from different backgrounds, knowledge base and perspectives. We need to be willing to deal with many elements that are hidden, unknown and uncertain to arrive at a solution.
An openness towards each other and each other's views is required. Trust has to be built, so that common ground can be found and co-construction of knowledge can take place. Learning from and with each other is central in that process; not only by agreement, but also through disagreement and discussion.
Anna Wedderburn, Public Engagement in Research Officer presented an overview of developing a transition year placement programme that addresses issues of equity of access to STEM while building capacity for education and public engagement.
This 12 month SFI Discover funded programme led to the development of CuriosiTY programme for pupils from DEIS designated schools linked to UCD or those linked to the Amgen Biotech Experience Ireland initiative from outside of Dublin.
Artist, Lorna Donlon and Professor Des Tobin, Director, UCD Charles Institute of Dermatology presented along with Elaine Quinn. Institute Manager (Communications & Education) on the art and science exhibition called STEP Through The Looking Glass; Stories Told of Experimental Processes. The goal of the exhibition was to reveal scientists as ordinary people by creating a sense of connection through personal and research objects.
Researchers and patient advocates selected personal and scientific objects as unique and curious ways to spark a conversation with the artist. As storytelling devices, the objects created common ground to opening conversations about research.
The exhibition provided a window for audiences in community and hospital settings to glimpse the trappings and workings of a scientist's world by seeing and hearing explanations of objects, the research that inspired them and the person behind the research.
Finding common ground demands letting go of egos and status and showing empathy. Revealing the meaning behind ordinary but deeply personal objects created a sense of openness and vulnerability. This enabled researchers to meaningfully connect with audiences; creating a strong, tangible sense of common ground with them as people , the effect of which was palpable from both sides.
Feedback from the public engagement events suggests that visitors are impacted by the content, being surprised by how 'normal' the scientists are, and how inspired the public are by their research.
Lorna discussed her approach to opening conversations with researchers, and how she translated this into art. Prof. Des Tobin shared his perspective as an academic researcher of the experience, and how this project impacted his view and understanding of the role art plays in science communication. Elaine Quinn discussed the pitfalls and successes that emerged in the co-creation of this visual narrative of scientific research to engage new audiences.