SFI Discover award for CuriosiTY, a placement programme to broaden participation
Dublin, Ireland, 06 March 2023
Minister for Further and Higher Education, Research, Innovation and Science Simon Harris TD and Minister for Education Norma Foley TD have today (06 March) announced an investment of more than €6 million in 40 projects to empower diversity and inclusion in STEM.
SFI Discover Programme awardees will be encouraged to use the funding to build connections with less-represented voices, or with those who would not typically engage with STEM (Science, Technology, Engineering and Mathematics).
Two leading, UCD based biomedical research institutes; Systems Biology Ireland and UCD Conway Institute have received funding under SFI Discover for CuriosiTY, a transition year placement programme to broaden participation in STEM.
The award of €169,000 will fund eight immersive transition year placement weeks over the next two years under the CuriosiTY programme. CuriosiTY will focus on increasing awareness of STEM education and careers as well as developing key skills within a framework that provides equity of access and widens participation.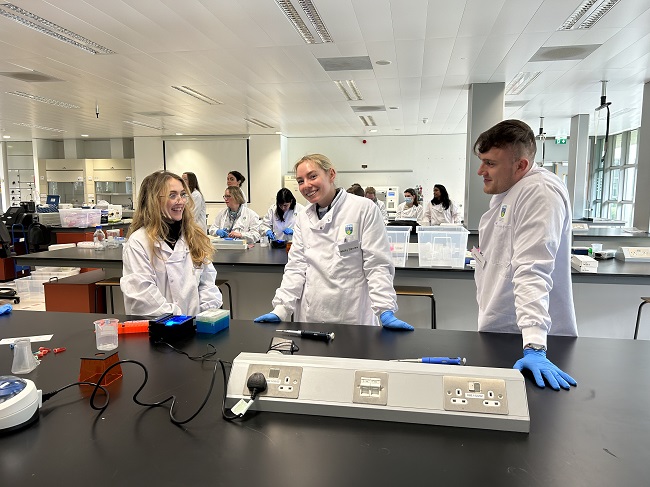 PhD students, Emma Doyle, Molly Davies, Mark Walsh take part in public engagement training as part of CuriosiTY programme funded by SFI Discover.
CuriosiTY will provide places for 192 pupils to experience research life at UCD over the next two years and will support public engagement training to 60 postgraduate researchers. Targeted measures will ensure pupils from DEIS designated schools linked with UCD and schools in areas of geographical disadvantage linked with the Amgen Biotech Experience Ireland programme can participate.
Postgraduate researchers will be trained in public engagement to lead the delivery of the CuriosiTY programme through a small group, 'buddy' system that facilitates informal mentorship. They will guide pupils in exploring the world of research through hands-on laboratory activities, research seminars and career talks.
Pupils will learn how science works as a multidisciplinary, global endeavour to address societal challenges with a variety of STEM careers supporting this enterprise.
Describing the initiative, Professor Walter Kolch, Director of Systems Biology Ireland said, "CuriosiTY builds on the experience of our public engagement team to provide insights to STEM-related careers and discoveries while breaking down barriers to entry including negative stereotypes. Pupils will work alongside postgraduates to experience first-hand the working daily life of scientists, to learn about ongoing biomedical research and discoveries that will have positive societal impact."
Welcoming the announcement, programme co-lead, Professor Helen Roche, Director of UCD Conway Institute added, "CuriosiTY builds capacity for education and public engagement among our postgraduate researchers. Providing this framework of training and support to the next generation of scientists is vital. It enables them to engage with the public about their work and continue the national dialogue on how research can impact our daily lives for the better."
CuriosiTY programme is one of a number of SFI Discover awards that is also supported by the Department of Education in collaboration with the Department of Further and Higher Education, Research, Innovation and Science.
The programme is coordinated by Anna Wedderburn, Public Engagement in Research Officer and PhD student, Felix Joel Brooke and managed by Elaine Quinn, Institute Manager (Communications and Education). Enquiries about CuriosiTY Programme to curiosityprogramme@ucd.ie.