Featured Researcher: Dr Eoin Cummins


My Research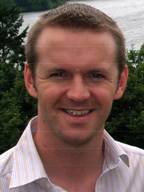 I am currently focussed primarily on investigating the contribution and mechanism of micro-environmental factors such as oxygen levels, carbon dioxide levels and pH levels on immunoregulatory and inflammatory signalling pathways.
Role
I am a research fellow working with Professor Cormac Taylor
Hometown
Firhouse, Dublin
Education
BSc Pharmacology, University College Dublin: 2002
Ph. D from the UCD School of Medicine & Medical Science: 2006
Postdoctoral researcher, Taylor laboratory, UCD Conway Institute: 2006-2008
Senior postdoctoral researcher, Taylor laboratory, UCD Conway Institute: 2008- present
Publications
Click to view full publication list in my UCD research profile
Why choose UCD Conway?
UCD Conway Institute is a research environment with outstanding facilties and infrastructure. Coupled with the expert mentorship of Prof. Taylor, his collaborators and other members of the Taylor lab, the Conway Institute has been an exciting and productive place to develop my research career.
Meet more Conway researchers