UCD Conway SPHERE
UCD Conway SPHERE, launched in September 2015, is an interdisciplinary research group that works towards the understanding of a myriad of inflammatory diseases. Our group brings together clinical, academic and scientific collaborators nationally and internationally; harnessing unique tools to diagnose and understand a host of diseases, including thrombotic disorders. The acronym SPHERE describes the state-of the art translational interests of our group; "Systemic inflammatory disorders: role of blood Particles, Haemostatic factors and ExtRacEllular vesicles".
Led by co-Directors Prof. Patricia Maguire and Prof. Fionnuala Ní Áinle, our group is based across several distinct research, academic and clinical centres in Dublin, Ireland under the umbrella of University College Dublin.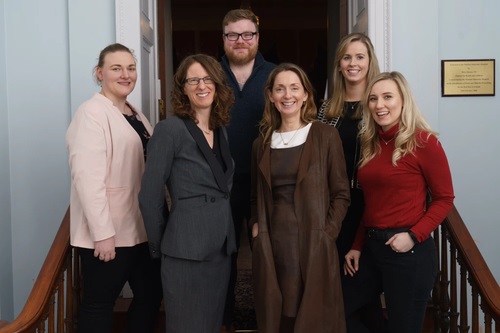 The UCD Conway SPHERE team: L-R Front row: Luisa Weiss, Prof. Fionnuala Ni Ainle, Prof. Patricia Maguire, Dr Paulina Szklanna. Back row: Dr Shane Comer, Dr Claire Murphy.
Our partner centres include;
UCD Conway Institute
UCD School of Biomolecular and Biomedical Science
UCD School of Medicine
Mater Misericordiae University Hospital
Rotunda Hospital
We are delighted to have a variety of funders and sponsors both from state bodies and from industry and we thank them for their continued support.

For further information about members of the group, our research and our publications, please follow the links below.
Show/hide contentOpenClose All