From classrooms to hospital theatres – the extraordinary potential of 3D printing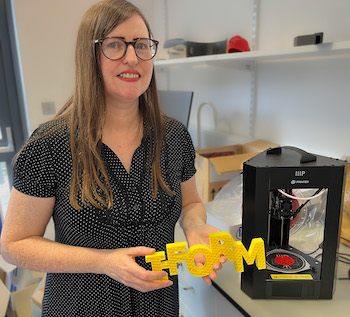 September 21, 2022
Listen to the podcast
Sylvia Leatham (pictured) is Education and Public Engagement Manager at I-Form, the Science Foundation Ireland Research Centre for Advanced Manufacturing at University College Dublin. She recently received SFI Discover programme funding for her project, 'Manufacturing in the classroom: sustainability and the circular economy'.
It was an extraordinary advance in the field of tissue engineering. In New York last March a 20-year-old woman who was born with an underdeveloped right ear had it reconstructed externally using a 3D printed living tissue implant.
"They took a scan of her left ear and, using the patient's own cells, created a 3D printed replica of her ear, which they then were able to insert beneath the skin," explains Sylvia Leatham. "Because it is done with the patient's own cells, it will be accepted by the body and will grow into the normal ear shape. Bioprinting is so fascinating." 3D printing with biological material has exciting potential for the future.
"There's talk of being able to one day create 3D printed organs so that if you are on the transplant list, you could actually get an organ printed instead of having to wait for a donor."
The groundbreaking strides in this emerging field of manufacturing must start somewhere. The Department of Education added 3D printers to their secondary schools equipment list in 2020 and Leatham discusses the entry-level 3D printing happening in Ireland's primary and post-primary schools. Part of her role in I-Form, in partnership with Junior Cycle for Teachers and 3D printing training company 3DWIT, is to help teachers to familiarise themselves with the basics of this new technology.
"One of the main things we're teaching them is not to be afraid of the 3D printer. There's sometimes a bit of a fear factor. One of the things that we teach them is how to get very hands-on with the machine - how to clean it, how to maintain it, how to take care of the nozzle. Moving beyond that we're teaching them how to design for 3D printing as well. There are a lot of tips and tricks that can really take your design to the next level."
Schools use the printers to construct three-dimensional objects from digital designs available for free on user-friendly software packages like TinkerCad.
On a table in I-Form's UCD lab are examples of the one-piece complex shapes made by schoolchildren. There's a cute Christmas tree decoration printed by a primary school pupil in Kilkenny. Some secondary school students rose to the challenge of designing an assistive device by creating a house key modified with a tactile handle for people with Parkinson's Disease.
"If schoolchildren are in any way interested in getting involved in engineering, manufacturing and 3D printing, there are so many opportunities for them. Along with training the teachers we are trying to put the message out that there are brilliant careers in these areas for boys and girls."
At third level in 2018, women made up just 16% of engineering graduates. Leatham also works to encourage more female participation in the field.
"Unfortunately there is a misperception that engineering is very industrial, dirty, heavy work more suited to men. That is just completely outdated. In some of the programmes we've run we found that what resonates with the girls is when they realise that they can use 3D printing to make an impact on society, on people's lives and the environment."
Leatham points to recent advances in the medical devices industry. She is currently working on a project funded by EIT Manufacturing, 'Manufacturing a Healthy Future', and among the partners involved is Stryker, the global medical device company headquartered in Cork.
"Another big area of our research is metal and titanium 3D printing. They can take a scan of the patient's knee or hip or spine and make the exact right shape and size medical implant for the patient's body. Traditionally a surgeon would have looked at selecting small, medium or large implants. Now and into the future they can make a custom one-off implant that is going to fit that patient's body exactly. So it's going to be more comfortable, a better fit, and you're going to heal a lot sooner."
3D printing is also proving transformative in the aerospace sector by enabling more efficient design. "There's an aeroplane engine called the GE LEAP engine and its fuel nozzle was being made using 20 separate parts joined together afterwards. Now the company is 3D printing the nozzle in one piece and reducing all of that extra manufacturing. They have also reduced the nozzle's weight by 25% and when parts are lighter they use less fuel."
In this way 3D printing has clear sustainability advantages compared with traditional manufacturing.
"There is little or no waste material. Let's say if you wanted to make a sphere in a traditional way, you might start off with a big block of material and then start taking material away until you are left with the sphere. With 3D printing, it's the opposite; you only use the material that is going into the final product."
Leatham originally studied English and Philosophy and "never thought" she would have a career in science communication.
"So much of the job that I'm doing now didn't even exist when I was a student all those many years ago."
Similarly, children getting started with 3D printing in schools right now might end up doing wonderful things with this emerging technology as it develops over the coming years.
"The potential for this technology is really just rocketing. By the time the kids who are in primary school now are going to have a job, 3D printing could be everywhere."
Listen to the podcast
This article was brought to you by UCD Discovery - fuelling interdisciplinary collaboration.