Prof Maja Pantic
Imperial College London & Samsung Artificial Intelligence Research Centre in Cambridge.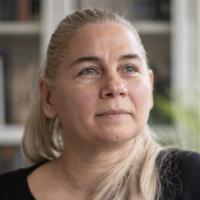 Maja Pantic is professor of affective and behavioural computing at Imperial College London and UK director of Samsung Artificial Intelligence Research Centre in Cambridge. She is one of the world's leading experts on machine understanding of human facial behaviours. She leads the Intelligent Behaviour Understanding Group [iBUG] at Imperial College, which has developed face recognition software now used in some Mercedes-Benz models. She has also led the development of an algorithm that tracks people's faces while they watch advertisements to judge how they respond - or not. Another of her projects involves using robots to teach facial expressions to children who have autism. At Samsung Prof Pantic is working on an algorithm that looks at eye movement to better understand and diagnose dementia.
Her Discovery talk in May 2018 was called Artificial Intelligence: What if Machines Could Sense How I Feel? It was followed by a discussion moderated by Adrian Weckler, group technology editor of the Irish Independent. Read more about it here.