Inventor of Disruptive Biosensors with Industrial Bioprocessing Applications Receives 2023 NovaUCD Invention of the Year Award
Inventor of Disruptive Biosensors with Industrial Bioprocessing Applications Receives 2023 NovaUCD Invention of the Year Award
Friday, 31 March, 2023
---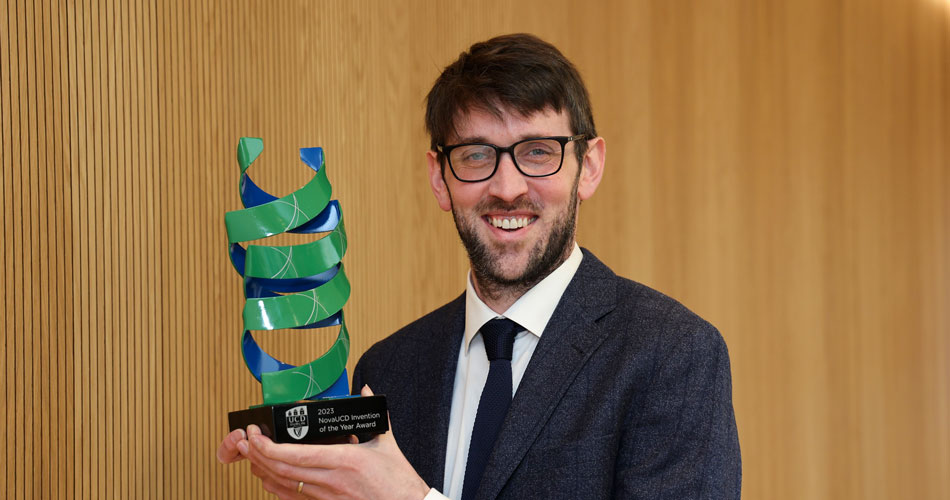 Dublin, Ireland, 31 March 2023, Dr Joseph Sweeney a research fellow in the UCD School of Biosystems and Food Engineering, has been named recipient of the 2023 NovaUCD Invention of the Year Award.
He was presented with the Award by Professor Mark Rogers, Acting UCD President, as part of the annual presentation of the NovaUCD Innovation Awards which took place at the UCD University Club.
Speaking at the Awards event Professor Mark Rogers, Acting UCD President said, "The NovaUCD Innovation Awards are a key annual event at UCD recognising and highlighting successes achieved by our research, innovation and entrepreneurial communities across the University and I congratulate all those who have received awards. I would also like to take the opportunity of wishing them ongoing success in the future as they continue to deliver economic and societal impact through their commercialisation, consultancy, entrepreneurial and innovation activities."
Dr Sweeney's research interests include climate change mitigation in Agri- and Aqua-culture, anaerobic digestion and grass-silage fed green biorefineries.
He received this Award in recognition of disruptive biosensors which have been developed by him and his research team. The biosensors are based on genetically engineered bacteria, in combination with a dissolved oxygen probe, and can identify the concentrations of specific organic analytes within bioprocesses in real- time.
Under the current design, this invention, which has been patented, consists of a number of automated biosensors each dedicated to identify and measure a specific analyte, including sugars and volatile fatty acids in real-time.
This platform technology has commercial applications in a number of industrial bioprocessing sectors to improve the efficiency in bioprocessing operations. These include, green biorefineries, anaerobic digestion, food and drink processing, precision fermentation and other fermentation sectors and water and waste water treatment.
On receiving the 2023 NovaUCD Invention of the Year Award, Dr Sweeney said, "I am very grateful to be presented with this Award. It has been a long road bringing the disruptive automated biosensors to the point where they now have several commercial applications to improve the efficiency in bioprocessing operations in industrial settings."
He added, "It would not have been possible without the invaluable input from my UCD colleagues, Professor Kevin McDonnell and Professor Cormac Murphy over the last 10 years. I would also like to acknowledge the support of NovaUCD knowledge transfer team in driving the commercial application of the invention."
At present, the control of many bioprocesses is hampered by the lack of sensors that can cost-effectively, accurately and rapidly monitor the concentration of individual analytes in the bioprocess. Consequently, many bioprocesses operate inefficiently without any monitoring, or use inferences from inaccurate observations in determining a control strategy.
To address this industry wide issue, Dr Sweeney has merged his interdisciplinary background in industrial microbiology and computer science to develop novel cost-effective genetically engineered E. coli-based biosensors, each of which is specific to a single analyte.
These biosensors which have been integrated within an automated dosing system are enabling multiple analytes to be simultaneously monitored within a number of bioprocesses.
The disruptive biosensor based monitoring and control system developed by Dr Sweeney, has allowed UCD to secure two EU-funded Green Biorefinery projects (MSCA-ITN AgRefine and LIFE farm4more) which have a combined value of €9.6 million.
The annual NovaUCD Innovation Awards highlight successes made in areas of knowledge transfer, consultancy, entrepreneurship and the promotion of an innovation culture, by members of the UCD research, innovation and entrepreneurial community.
A total of 7 Awards were presented by Professor Mark Rogers, Acting UCD President during an event held in the UCD University Club. The other Awardees are;
2023 NovaUCD Innovation Award: Professor Stefan Oscarson, UCD School of Chemistry and Professor Stephen Carrington, UCD School of Veterinary Medicine (retired).
2023 NovaUCD Spin-out of the Year Award: seamlessCARE.
2023 NovaUCD Consultancy of the Year Award: Dr Stephen Davis, UCD School of Archaeology.
2023 NovaUCD Licence of the Year Award, Associate Professor Siobhán McClean, UCD School of Biomolecular and Biomedical Science.
2023 NovaUCD Founder of the Year Award: Aidan O'Neill, founder and CEO, DOCOsoft.
2023 NovaUCD Innovation Champion of the Year Award: Dr Eoin O'Cearbhaill, UCD School of Mechanical and Materials Engineering.
UCD College of Engineering and Architecture
Room 122 & Room 126, UCD Engineering and Materials Science Centre, University College Dublin, Belfield, Dublin 4, Ireland T:
+353 1 716 1868
| E:
eng.arch@ucd.ie