Ten Days in the Ruhr - A Student Engineer's Diary (1952) - Part 2
A Diary of the German Tour of UCD's Fourth Year Engineering Class from March 21st to April 1st, 1952
Friday, 20 January, 2023
---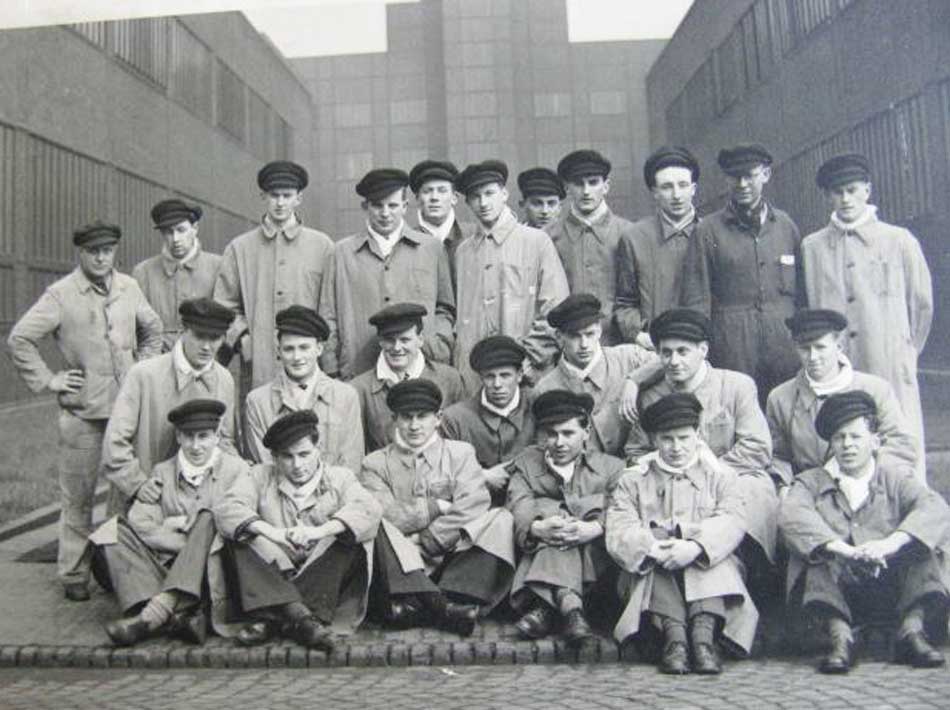 Visit to Zollverein Coalmine, Essen. March 27th, 1952.
From left:
Back Row: Mine worker, Paddy Browne, Mr J. A. O'Donnell, Dr P. Leahy, John Sharkey, Jerry Sheehan, Eddie Cunningham, Maurice Lowe, Myles Crowe, Mine worker, Des Clarke.
Middle Row: Kieran Brennan, Jim O'Callaghan, Jim Cullen, Paddy Kelly, Paddy Farrell, Chris Shouldice,
Front Row: Jack Higgins, Angus Ryan, Sean Lyons, D. McCarthy, Paddy Doyle, Gerry Sheehy
In 1952 a group of 30, fourth year, Mechanical & Electrical engineering students and a team of academics set out from Ireland and travelled to Germany to Visit the Ruhr valley. Set out below is the Diary of one of the students James L. Cullen. This will be the entries for days 4, 5 & 6, starting with a trip to Düsseldorf to visit the Mannesmann Werke, then to Mulheim-Ruhr to visit Siemens Schuckert.
On the fifth day we travel to Essen to visit the Auguste Victoria coking plant then on to the Chemische Werke in Huls.
Day 6 starts with a trip to the Herder factory in Solingen, then on to Alexanderwerke Reinscheid finishing up at Goetzwerke, Burscheid & Opladen.
Academic Staff:-
Prof. M.A. Hogan, Mr J. Morrissey, Dr. P. Leahy, Mr J.P. O'Donnell & Mr A. Mooney (Demonstrator).
Students:-
K. Brennan, P. Brown, I. Campbell, I. Canavan, E. Chandler, M. Crowe, J. Cullen, D. Clarke, E. Cunningham, P. Doyle, P. Farrell, J. Higgins, P. Kelly, B. Langley, B. Leyden, M. Lowe, S. Lyons, J. Martin, N. Mulcahy, D. Mc Carthy, J. O'Callaghan, H. O'Keeffe, L. O'Reilly, A. Ryan, G. Sheehy, R. Sweetnam, J. Sheehan, L. Shanahan, C. Shouldice, J. Sharkey.
Interpreter:-
D. O'Sullivan, (Third Year Engineering Student)
Day 4 - Monday, March 24th
We now came to the real business of our visit to Germany i.e. the visiting of engineering works. Breakfast was served at 7.30am. The bus, which was to be at our disposal throughout the tour, arrived at our hotel at 9.00am. There were many late risers, who snatched a hasty breakfast and hurried to the bus. An official from the Ministry of Commerce and Industry accompanied us to the factories at all times. The first factory was on the outskirts of Düsseldorf. It was the Mannesmann Werke, the makers of seamless rolled tubes. This factory is large and was very slightly damaged during the war. However, its dedicated powerhouse was completely destroyed and its electricity supply was now being taken from the district supply, corresponding to our own ESB.
We were first shown into a very finely appointed board room. Here a short sound film outlined the principles of tube making, from the billet of iron to the finished tube. The party was then divided into convenient groups and they proceeded on a tour of the works. Our guide could speak English reasonably well. He had been studying engineering when the war broke out and was drafted into the navy. He served on the battleship Scharnhorst for a time and was also on the Russian front. We were struck by the energetic manner in which the workers worked. They took very little notice of us at all. There were quite a few women workers doing heavy work and we were told that they got the same pay as the men. After seeing tubes of various sizes being made we proceeded to where gas cylinders were being produced. These varied in size from large oxy-acetylene cylinders to small medical gas cylinders.
At 1.00pm we came to a large dining hall where buyers and visitors are entertained. Two long tables accommodated the party of about 36 people. First, white wine was served. The teetotallers among us were introduced to Applesaft, a drink made from unfermented apple juice. For the drinkers beer followed the wine. Soup followed by pork was then served. Then came sweet followed by more drinks. We were all amazed at the quality and quantity of the food at this meal but as we discovered later this was just the beginning of a week of excellent eating and drinking.
Prof. Hogan thanked the company on behalf of us all and Donal O'Sullivan translated his speech into German, he being a fluent German speaker. Then we boarded the bus and headed for Mulheim-Ruhr, about an hour's journey away. In the entire Ruhr district one never gets away from industry. Factories are to be found on every mile of the road. The whole area has the appearance of a suburb. However, where fields do occur in this flat countryside they are large and entirely used for crops. Nowhere did we see cattle and horses were very rare.
Siemens Schuckert, a large and world famous firm of electrical manufactures was our next call. The Mulheim factory is one of theirs. Here ten thousand people are employed. We first visited the alternator department where we saw various turboalternators being made, while others were being tested. One was an experimental model using hydrogen cooling. We saw a set which had just been completed and was about to be sent to Marina, Cork. There were also sets for India and Pakistan under construction. Our guide was a very pleasant man who spoke English well and who had a real interest in his work. He was a turbine designer. We then visited the turbine shop and saw the various stages of turbine construction. After the visit we returned to a very fine canteen, where once again we had an excellent meal. We got our first sample of real German sausage and cold creamed potatoes. There was beer for the drinkers and Applesaft for the abstainers. Speeches were made and once again we started for home. We arrived at the hotel about 8.30pm. Many decided on 'early to bed' but others had a good night out, returning as late as 3.00am.
Day 5 - Tuesday, March 25th
Our bus was ready at 8.00am and due to confusion (yesterday's bus left at 9.00am) many barely managed to scramble on board, half-dressed and without breakfast. Today's destination was in the Essen direction. After about an hour's travelling we arrived at the large Auguste Victoria coking plant. The morning was dull and foggy with traces of rain. We were welcomed by the director of the company and the system was outlined. In effect the works was a large gas producing plant which also produced tar and benzene from the by-products. The gas was pumped into the national grid which stretches as far as Berlin. This visit was rather uninteresting and most of us were pleased to have it over. The works had been destroyed twice - once early in the war and again near its end - but now it was quite complete again. A new gasometer, 300 feet high, had just been completed. In a hotel in a nearby town we were treated to an excellent lunch followed by cigarettes and cigars. There were the usual speeches and, glowing with goodwill, we proceeded to Huls amid much singing and mouth-organ playing.
The Chemische Werke Huls is a huge plant covering about three quarters of a square mile. The main product is Buna from which plastics are made. Coal is the principal raw material and 6,000 tons of it is used daily. It was begun in 1937 and is the biggest in Europe. On arrival we were shown into a large lecture theatre. This was superbly fitted with the usual wood panelling, indirect neon lighting and with automatic shutters, should it be desired to show films or slides. We were welcomed by an official who outlined the process of the works. A large amount of electrical energy was required by the works so it had its own power station. The output of this power station was equal to the total power produced by the ESB in Ireland. This gives an idea of the scale of things in this factory. Some 10,000 people are employed. Nearby, in the works hotel, which has a cinema and a beer cellar, we had dinner. The drinks were schnapps, beer, applesaft, coca-cola, etc. There followed soup, stew, sweet and coffee. Cigarettes and cigars were also served. This meal lasted approximately 2 hours. We arrived back at the hotel at 10.00pm. Many of us paid our nightly visit to the Automaton and then retired, weary and footsore, to our beds.
Day 6 - Wednesday, March 26th
Three visits were arranged for today so an early start was indicated. Most of us were in time for breakfast. By now everyone had become accustomed to 'rolls and coffee' or 'tea and jam'. Vast quantities of snow-white rolls, with crisp brown crusts, were consumed so that the small round breadbaskets were frequently held up for replenishment. Breakfast time generally passed quietly with discussion of the events of the night before. The hotel management had complained of our rather late hours and somewhat boisterous manner in ascending the stairway (which was still unfinished and consisted of creaking, noisy boards). We were therefore recommended to be in by 12.00 midnight in future.
This morning we had a new guide from the Ministry. She was Fraulein Zimmerman, who soon endeared herself to each one of us. She was very tall and blond and remarkably good looking. She wore a potent yet subtle perfume (not your ordinary Eau de Cologne) and whenever she addressed our party one particular member loved to stand at her shoulder, his face lifted heavenwards and his eyes rolling - to the amusement of all. She spoke perfect English with a slight foreign accent. She had great personality and charm and as first secretary to the Minister of Commerce she was evidently a career woman who had succeeded.
Our first visit today was in Solingen, a short run from Düsseldorf. As we travelled there, snow began to fall but it didn't stay. We arrived at the firm of Herder, manufacturer of tools, knives, scissors etc. This was a small old-fashioned plant, employing skilled craftsmen who produced some very fine work. We were welcomed by the management and, having formed groups, we toured the factory. All the guides could speak English perfectly and the resulting tour was most interesting. Most of the tools were made from stainless steel die stampings. Many objects were made for other firms. Parts for Volkswagen and Ford Taunus motorcars were made in the drop forging plant. This short visit was wound up with the management presenting each of us with a penknife and a packet of razorblades.
Our next call was to Alexanderwerke Reinscheid, who make household machinery e.g. sausage makers, mincers, bread cutting machines etc. Before touring the works we were treated to an excellent lunch in the nearby café. This was up to the usual high standard we had now come to expect. The tour of the works was interesting, especially the foundry, which had a conveyor belt operating system that was fast and efficient.
The final visit of the day was to Goetzwerke, Burscheid & Opladen, who make all sorts and kinds of piston rings for the German motor industry. Here was a large factory devoted to making one object, but in every size. Many of the staff were occupied in checking the dimensions of the rings. Our guide was not an English speaker so we had an interpreter. The dinner which was served afterwards was excellent, so excellent in fact that it lasted about two hours. Drink was supplied in great variety and very frequently. Before the meal was over there were some who felt remarkably cheery. The journey home that evening was quite hilarious and many spontaneous songs were sung with great gusto. Not even the presence of the staff could dampen the jovial spirits.
By: James L. Cullen, April 8th, 1952
The previous chapter can be found here: Ten Days in the Ruhr - A Student Engineer's Diary (1954)
The next chapter can be found here: Ten Days in the Ruhr - A Student Engineer's Diary (1954) - Part 3
UCD College of Engineering and Architecture
Room 122 & Room 126, UCD Engineering and Materials Science Centre, University College Dublin, Belfield, Dublin 4, Ireland T:
+353 1 716 1868
| E:
eng.arch@ucd.ie