Ten Days in the Ruhr - A Student Engineer's Diary (1952) - Part 3
A Diary of the German Tour of UCD's Fourth Year Engineering Class from March 21st to April 1st, 1952
Friday, 20 January, 2023
---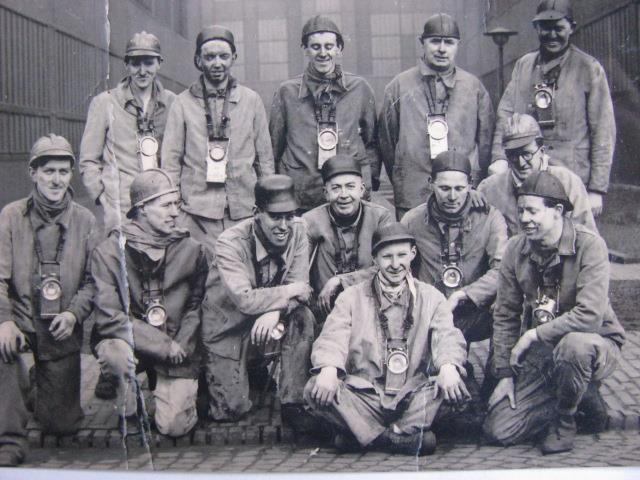 Visit to Zollverein Coalmine, Essen. March 27th, 1952. Underground Party:
From left:
Back Row: Brendan Langley, Bob Sweetnam, Ivor Canavan, Prof. Hogan, Mine worker.
Middle Row: Ivor Campbell, Hugh O'Keeffe, Joe Martin, Mine worker, Aiden Mooney, Brendan Leyden ?.
Front Row: Liam O' Reilly, Noel Mulcahy.
In 1952 a group of 30, fourth year, Mechanical & Electrical engineering students and a team of academics set out from Ireland and travelled to Germany to Visit the Ruhr valley. Set out below is the Diary of one of the students James L. Cullen. This will be the entries for days 7, 8 & 9, starting with a trip to Düsseldorf to visit the Mannesmann Werke, then to Mulheim-Ruhr to visit Siemens Schuckert.
On the morning of the seventh day we travel to Zollverein mine afterwards we travel to Essen to visit the Krupps works. Day 8 involves a trip to Cologne to visit a mine and a power station, in the evening we travel to Aachen to visit their engineering school. Day 9 sees a return to Cologne first to visit a plastics factory and then on to a tour of the city itself and some souvenir shopping.
Academic Staff:-
Prof. M.A. Hogan, Mr J. Morrissey, Dr. P. Leahy, Mr J.P. O'Donnell & Mr A. Mooney (Demonstrator).
Students:-
K. Brennan, P. Brown, I. Campbell, I. Canavan, E. Chandler, M. Crowe, J. Cullen, D. Clarke, E. Cunningham, P. Doyle, P. Farrell, J. Higgins, P. Kelly, B. Langley, B. Leyden, M. Lowe, S. Lyons, J. Martin, N. Mulcahy, D. Mc Carthy, J. O'Callaghan, H. O'Keeffe, L. O'Reilly, A. Ryan, G. Sheehy, R. Sweetnam, J. Sheehan, L. Shanahan, C. Shouldice, J. Sharkey.
Interpreter:-
D. O'Sullivan, (Third Year Engineering Student)
Day 7 - Thursday, March 27th
Today's visit takes us to a coalmine. We started out at 8. 00am as usual. Only eight students would be allowed to go into the mine. The eight were chosen by the toss of a coin. The coalmine lay near Essen and on the way we passed some beautiful countryside, which had deep wooded valleys through which flowed a sizable river, presumably the Ruhr. The mine head was an impressive place with a huge winding tower and very modern buildings of red brick. This was the Zollverein mine which was one of a large combination of coal mines in this district. Those who were not going underground had much to occupy them. The winding apparatus was controlled by one man. The most striking feature was the cleanliness of the buildings both outside and inside. We were shown how the coal was brought to the surface, washed and graded. The output was 36, 000 tons per day. Those who went underground were provided with miners' clothing and lamps, while those on the surface were given dust coats and smart peaked caps. Cameras were allowed here so there were many photographs taken. A very pleasant lunch followed where once again we had an opportunity to sample the German sausage.
After lunch we motored on to Essen where the great Krupps works are situated. Here we saw the worst war destruction we had yet witnessed. Acres and acres of huge factory buildings were to be seen in the form of twisted girders and roofless sheds. Everywhere one looked there was destruction. Krupps had been making armaments before and during the war. Now, they were making huge locomotives in the few remaining workshops that were viable. It was interesting to watch the various stages of the growth of a large locomotive. Most of the production was for export. Dinner was provided in the works hotel. Beer and other drinks were plentiful while pork was delightfully served. Coffee, cigars and cigarettes followed. The meal lasted about two hours. Our drive back to the hotel was a lively one.
Day 8 - Friday, March 28th
This morning we left the hotel at 8.00am for Köln, where we met with some of the officials of the Commerce Department. We then proceeded to a brown coal open cast mine. This fuel is rather like turf but it is heavier, drier and it has a higher calorific value. The method of digging is interesting. Two sloping cliff faces about a mile long are scraped by chain buckets which are then tipped into rail wagons. The wagons bring the coal to the briquetting factories. The day was bitterly cold. For miles around all one could see were desert-like mounds of top soil, which had been removed as the working coalface advanced. Elaborate plans were afoot to make this area into a national park by re-forestation. This particular mine has been in use since 1925 and approximately 25,000 tons of the brown coal is removed daily.
Lunch followed in the works canteen. In the afternoon we visited a large power station close-by. This station is still being completed but at present it is working fully. It is the biggest power station in Europe at present and brown coal is being used as fuel. About 4.00pm the visit ended and tea was served. After tea we headed for Aachen where we visited the Engineering School. This visit brought us away from industrial areas. We passed through flat agricultural country and many small villages. There were occasional signs of war damage, particularly in the small villages, where pock marked and spattered walls showed where street fighting had taken place. In the open spaces many large gun sites could be seen - large heaps of rubble and concrete slabs.
Dusk fell as we entered war-scarred Aachen. We were received in the university and shown through the laboratories and classrooms. Here there are 3000 engineering students. Dinner was served in the students' recreation house. Most of the students were on holidays but a few were invited to the dinner. Most of them could speak English quite well. The long journey back to Düsseldorf was shortened by spirited singing. We arrived back at the hotel at about 10.00pm.
Day 9 - Saturday, March 29th
Saturday was a wet day. Once again we set out for Köln. Fraulein Zimmerman was with us again. Having picked up officials in Köln we proceeded to a plastics factory. This was quite an interesting visit. Afterwards we were entertained to lunch in the grand style. It was now quite a wet day.
When we arrived back in Köln we were met by a guide who took us on a tour of the city. First we were shown around the mighty gothic cathedral. Our guide was a real artist and gave us a striking historical sketch of the city and cathedral. Nearby the remains of a Roman village of 200BC had been discovered. There were many old statues excavated. A whole floor of mosaic work was shown, in perfect condition. Press photographs were taken outside the mighty door of the cathedral. Up to this time we did not have one opportunity to do any shopping. Here we were in Köln with shops all around us and money burning in our pockets. Yet, we had to listen attentively to a guide talking about Roman villas.
We then boarded a special bus which had an on-board loudspeaker system and did a tour of the city. Then we went to an art gallery, which was the guide's first love, and got a long lecture on some of its famous pictures. All the time we were getting more and more uneasy. Next we went to see the sports stadium and from there to the Park Café where we were received by a representative of the Burgomeister. He delivered a long oration in German which was translated by our guide. We were served with excellent coffee and confectionary. This meal dragged on for hours. We were all anxiously watching the clock. Would we get an opportunity to do some shopping? The shops closed at 7.00pm. At 6.30pm the meeting ended much to our relief. Now to get back into town! We bundled into the bus, impatiently calling on others to hurry. We were off. We sped towards the city. After a time we seemed to be heading out of the city again. For the first time during our tour our driver had gone astray. Slowly we turned back and at about 6.50pm we arrived at the cathedral.
We all burst forth from the bus and sped in all directions. A small shop near the cathedral was invaded and for a quarter of an hour business was decidedly brisk. No words were spoken. Fingers were pointed and money changed hands. Clocks, bracelets, lighters, pens and badges were bought. At 7.30pm we returned to the bus, elated with our purchases. We arrived back at the hotel at 9.00pm.
By: James L. Cullen, April 8th, 1952
Continued here: Ten Days in the Ruhr - A Student Engineer's Diary (1954) - The Final Days
The previous chapter can be found here: Ten Days in the Ruhr - A Student Engineer's Diary (1954) - Part 2
UCD College of Engineering and Architecture
Room 122 & Room 126, UCD Engineering and Materials Science Centre, University College Dublin, Belfield, Dublin 4, Ireland T:
+353 1 716 1868
| E:
eng.arch@ucd.ie