Ten Days in the Ruhr - A Student Engineer's Diary (1952) - The Final Days
A Diary of the German Tour of UCD's Fourth Year Engineering Class from March 21st to April 1st, 1952
Friday, 3 February, 2023
---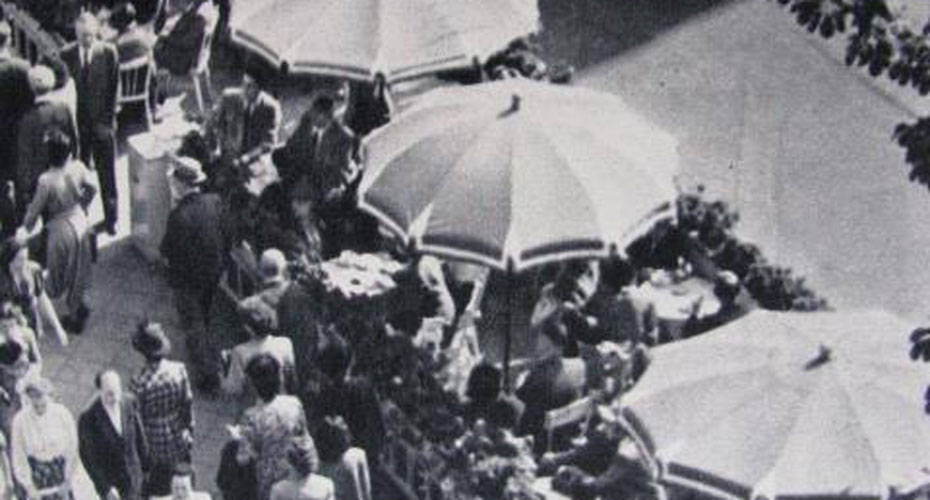 In 1952 a group of 30, fourth year, Mechanical & Electrical engineering students and a team of academics set out from Ireland and travelled to Germany to Visit the Ruhr valley. Set out below is the Diary of one of the students James L. Cullen. The final days in Germany see an evening with the Irish Guards, on monday a little shopping followed by a visit to the Klockner-Humboldt Deutz diesel engine and tractor factories and the electric cable factory of Felten-Guilleaume followed by even more shopping!
On the last day they visited the Böhln steel-making concern which occupied their morning and in the evening there was a visit to the Opera, late in the evening they started their trip home and ended this story.
Academic Staff:-
Prof. M.A. Hogan, Mr J. Morrissey, Dr. P. Leahy, Mr J.P. O'Donnell & Mr A. Mooney (Demonstrator).
Students:-
K. Brennan, P. Brown, I. Campbell, I. Canavan, E. Chandler, M. Crowe, J. Cullen, D. Clarke, E. Cunningham, P. Doyle, P. Farrell, J. Higgins, P. Kelly, B. Langley, B. Leyden, M. Lowe, S. Lyons, J. Martin, N. Mulcahy, D. Mc Carthy, J. O'Callaghan, H. O'Keeffe, L. O'Reilly, A. Ryan, G. Sheehy, R. Sweetnam, J. Sheehan, L. Shanahan, C. Shouldice, J. Sharkey.
Interpreter:-
D. O'Sullivan, (Third Year Engineering Student)
Day 10 - Sunday, March 30th
At 10.00am we rose for breakfast. Mass was at 11.15am. A long sermon was preached so that Mass was not over until 12.00 noon. At 12.30pm my room mate Des Clarke and I were taken out to the military barracks, where the Irish Guards were stationed. Sergeant Kelly introduced us to Regimental Sergeant Rooney and many more Irishmen in the Sergeant's Mess. We were shown around the barracks. A pack of beagles and horses are kept for hunting. After dinner we saw more of the barracks and were entertained by the R.Q.M.S. at his house. At 5.30pm we returned to the hotel. Ten of us had been invited to the Sergeant's Mess that night for a musical evening. It was not an easy job to decide whom to bring. At 8.30pm a Volkswagen station wagon, the sergeant's own property, arrived to bring us out to the barracks in Wuppertal, eight miles away. A lively night followed with much singing and drinking. Fortunately, half the party were not drinkers and they were a restraining influence on the others. At 1.00am the party broke up and a sleepy driver drove us back to the hotel. Difficulty was experienced in getting some members upstairs with reasonable silence. Everyone enjoyed the night, especially the Irish Guards who were glad to see people from Ireland.
Day 11 - Monday, March 31st
Breakfast at the usual early hour had many late arrivals. Our bus arrived on time. Fraulein Zimmerman was our guide for the day. As usual we collected officials in Köln. While waiting for the officials the long established firm of Farina, makers of perfume since 1709AD, was invaded by the entire party. Many purchases were made. The successor to the house, the young Farina who had been Prince of the Carnival last year, presented each of us with a small bottle of perfume and an autographed photo of himself, wearing the Prince's robes.
At length we set out for the Klockner-Humboldt Deutz diesel engine factory, which was on the outskirts of the town. This company is one of the oldest companies manufacturing engines in the world. Otto, the inventor of the Otto combustion cycle was a founder. At present all sorts of engines are being made from small stationary engines to 1,000 H.P. marine engines. This was a most interesting visit which was over too soon. A visit to the Deutz-Humboldt tractor factory completed our stay with this famous firm. Lunch was served in a small café in a wooded glade near the factory. This was an excellent meal taken in the most pleasant surroundings.
Our afternoon visit was to the electric cable factory of Felten-Guilleaume - a supplier of high voltage cables to ESB. We watched the wire drawing processes and then the insulation of the cables. A light meal followed in the works canteen. As the afternoon visit was over early we had an opportunity to do some shopping in Düsseldorf
The last Day - Tuesday, April 1st
This was our last day in Germany. Our luggage was left at Düsseldorf railway station as we were on our way to our one visit of that day. This was at the Böhln steel-making concern. Stainless steel was produced in great quantities here. This was a long visit as the premises were very large. Lunch was given in Düsseldorf in a really magnificent restaurant on the Rheinstrasse. The Minister of Commerce welcomed us on behalf of his department and the steel producers association. This was a meal in the grand style. Many speeches were made and a number of toasts were raised. A presentation was made to each one of a stainless steel penknife, in exchange for which each one gave one Irish penny. As Parliament was sitting that afternoon many of the officials, including Fraulein Zimmerman, had to leave.
The afternoon was free to us to do some shopping. At 7.30pm we were entertained at the Opera House where we saw Mozart's opera 'Il Seraglio'. This was most enjoyable. Our train left at 11.30pm for Köln, where we had a long wait. Deutschmarks were now very scarce as everyone had spent their share. After much scrounging, a meal was bought. Our train was half an hour late. The station was very large and draughty and we were relieved when the train drew in. The seats were wooden but this didn't worry us too much and we were soon asleep. On the journey we were interrupted several times for passport inspection. Daylight was well in as we neared Brussels. The countryside looked very flat and damp. Small farm houses could be seen all over the landscape. Soon we were in Ostend and on board ship. The day was fine and The Channel looked calm. Breakfast was served on board and it was not long before the white cliffs of Dover appeared. Soon we were through Customs and aboard the London train. At 3.30pm we arrived in London where the party broke up. Some were staying in London while others were going home that night. So, our very successful tour of Germany came to an end. Most of us were very tired but we enjoyed every minute of it.
By: James L. Cullen, April 8th, 1952
The previous chapter can be found here: Ten Days in the Ruhr - A Student Engineer's Diary (1954) - Part 3
UCD College of Engineering and Architecture
Room 122 & Room 126, UCD Engineering and Materials Science Centre, University College Dublin, Belfield, Dublin 4, Ireland T:
+353 1 716 1868
| E:
eng.arch@ucd.ie