Dr Ellen Rowley is an architectural historian and research fellow at UCD School of Architecture, Planning and Environmental Planning. She has been commissioned by UCD Communications and UCD Research to curate an architectural history of Belfield in celebration of over 50 years occupation and growth of UCD on the Belfield campus. Called BELFIELD 50, this celebration will unfold over the coming year 2020/21.
The Buildings of Belfield, Phase I 1962– 1982
Science Blocks #1
The Experimental Sciences building was designed in 1961 and built from 1962 – 1964 when the first Chemistry students moved in. Designed by former Prof of Architecture, Joseph Downes the concrete-framed structures were influenced by early German modernism of the Bauhaus
Science Blocks #2
These buildings for the sciences – biology, geology, physics, chemistry – were being built at the time of UCD's International Architectural Competition for Belfield (1963). Their low-lying massing and restrained materials dictated the later scales and palette of the campus
Science Blocks #3 - Bridges of Belfield
This drawing of a bridge in the original Science Blocks is by final year Architecture student, Aisling Mulligan (2019). Bridges connected the science subject blocks within a building dedicated to its own linearity and horizontal circulation
International Competition
In 1964, after judging 105 designs from 46 countries, the team of international assessors of UCD's architectural competition awarded the young Pole, Andrzej Wejchert (aged only 26) with 1st prize for his masterplan and designs for a new Arts-Commerce-Law building, an Administration building and an Aula Maxima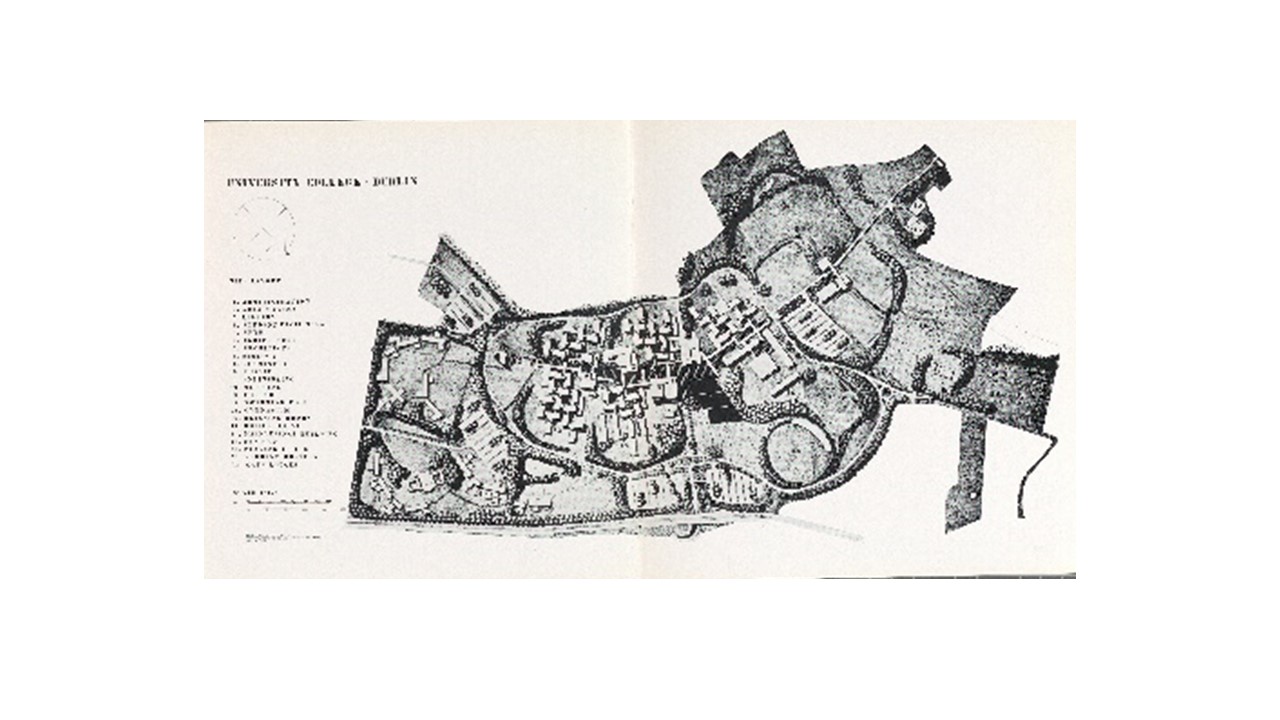 Wejchert's Masterplan, 1965
A linear cranked plan, Wejchert's design placed the primary faculties outwards from a covered walkway or spine, surrounded by an inner-ring road to keep pedestrians from cars. Buildings were dispersed, privileging gaps and views, as well as potential for extension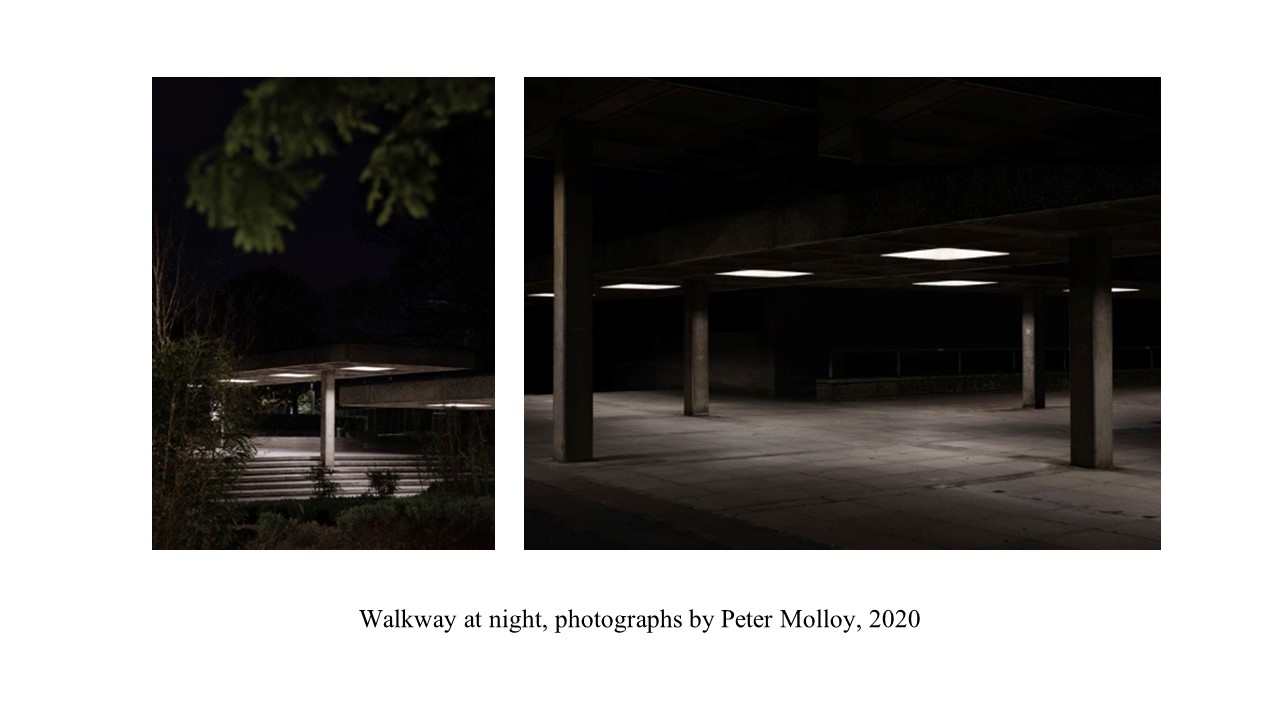 Walkway
The covered walkways originally carried the Belfield community some 600 metres from Science to the Restaurant. They impressed the judges and today are a unifying element with their common materials of waffle slab and white quartzite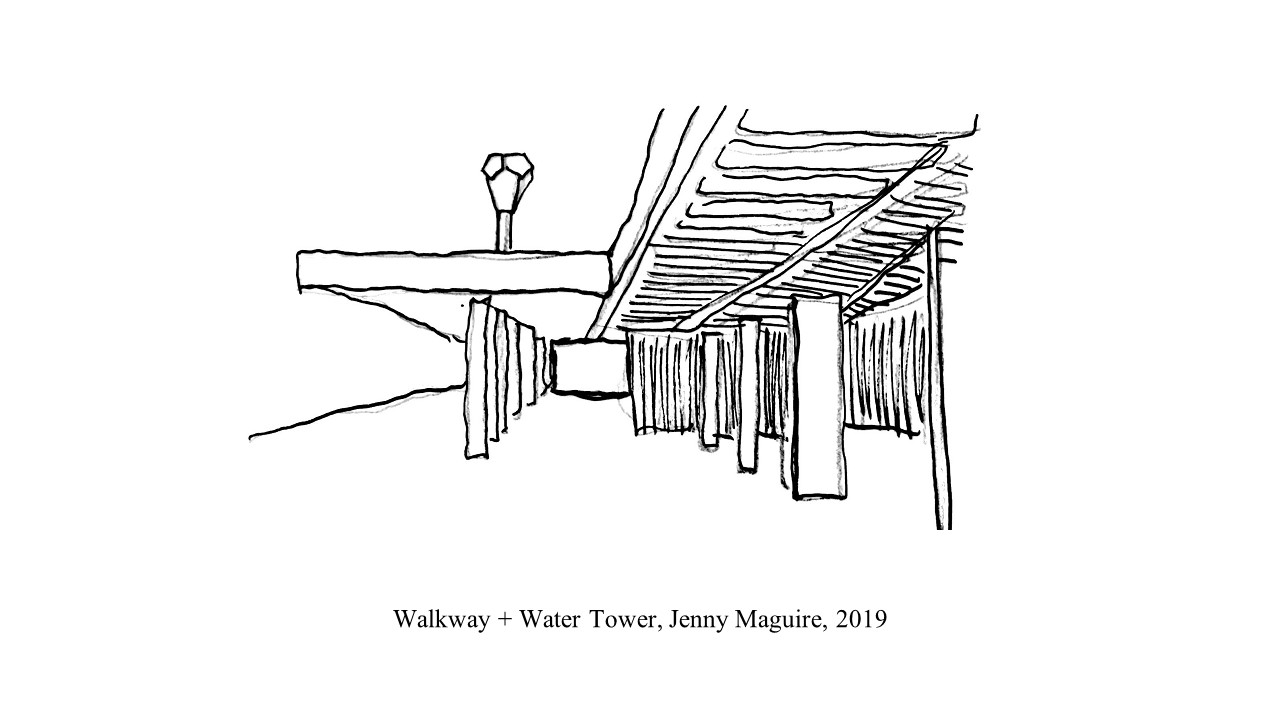 Walkways #2
This sketch by final year Architecture student Jenny Maguire places the covered walkways in relation to the verticality of the water tower: walkway as spine and water tower as marker remain the most enduring architectural features of Belfield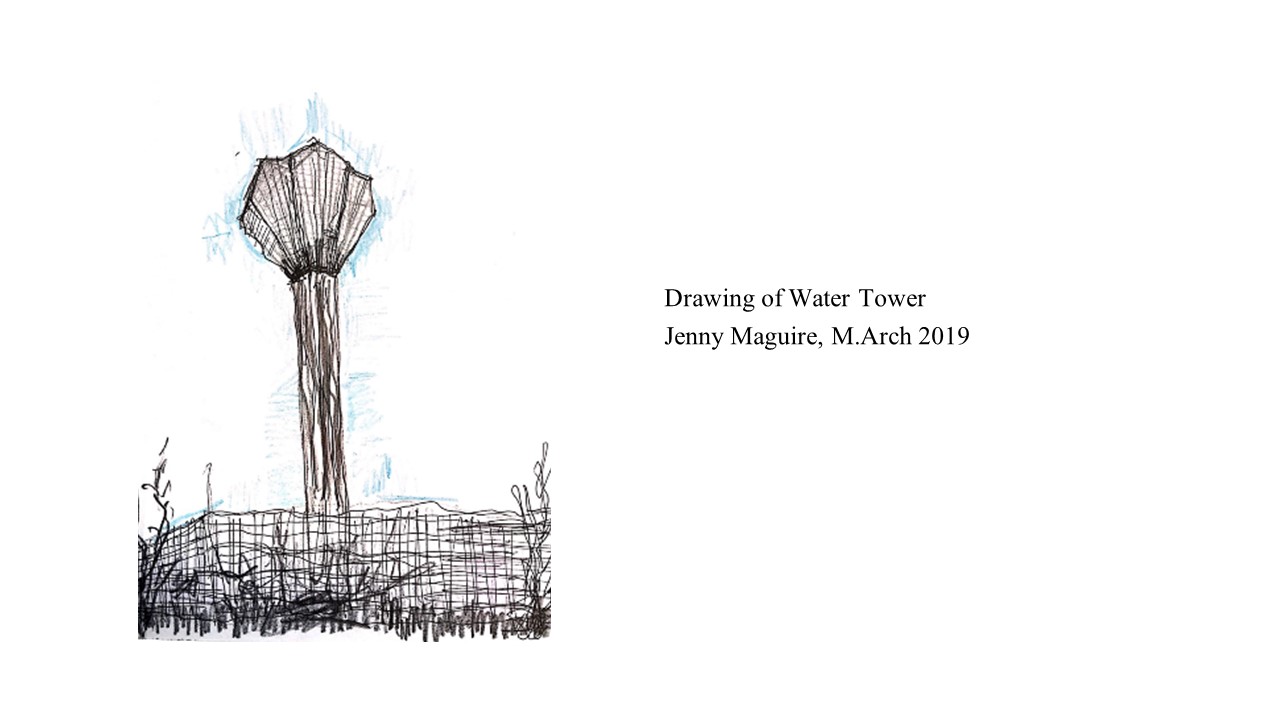 Water Tower
Finished in 1972, Wejchert's Water Tower is his most renowned Belfield structure, due to its remarkable geometry. This reinforced concrete duodecahedron, supported at its 60m height by a pentagonal stem, could hold 150,000 gallons of water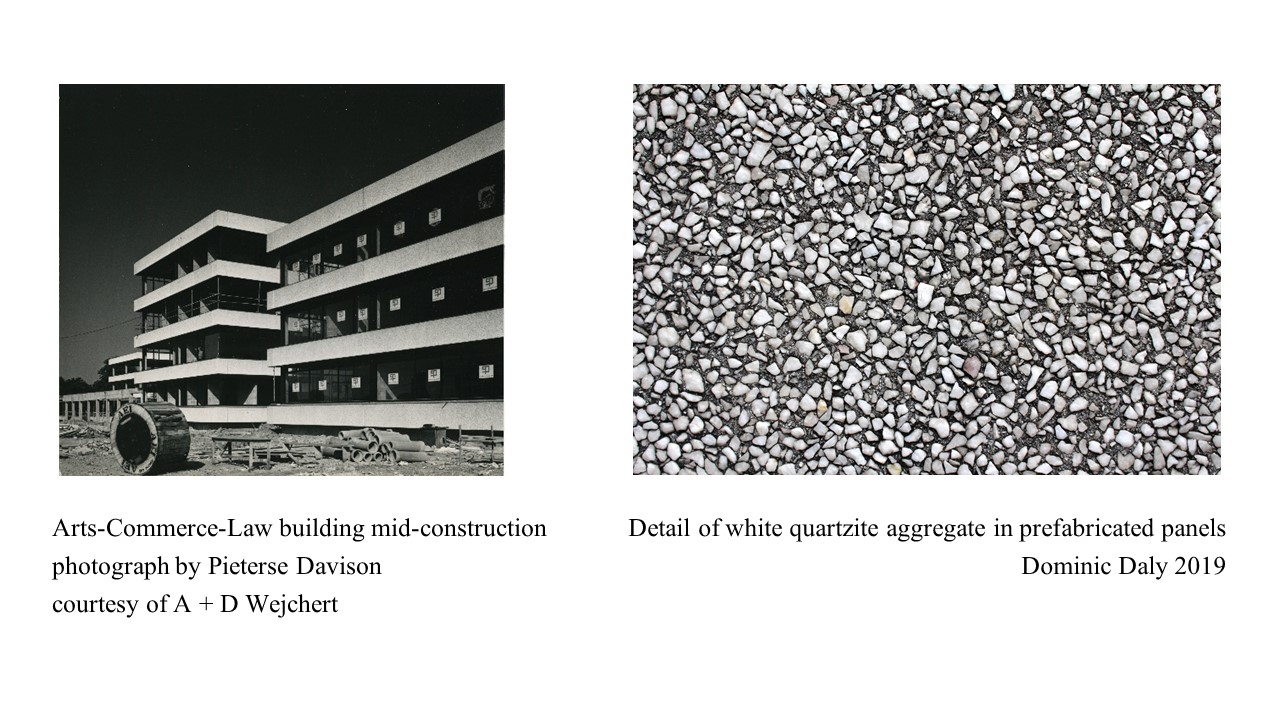 Concrete
Wejchert realised that Ireland did not have much steel, so he changed his building palette to concrete, to use indigenous stone – Wicklow granite was crushed for the prestressed reinforced concrete, waffle slab ceilings and prefabricated concrete horizontal cladding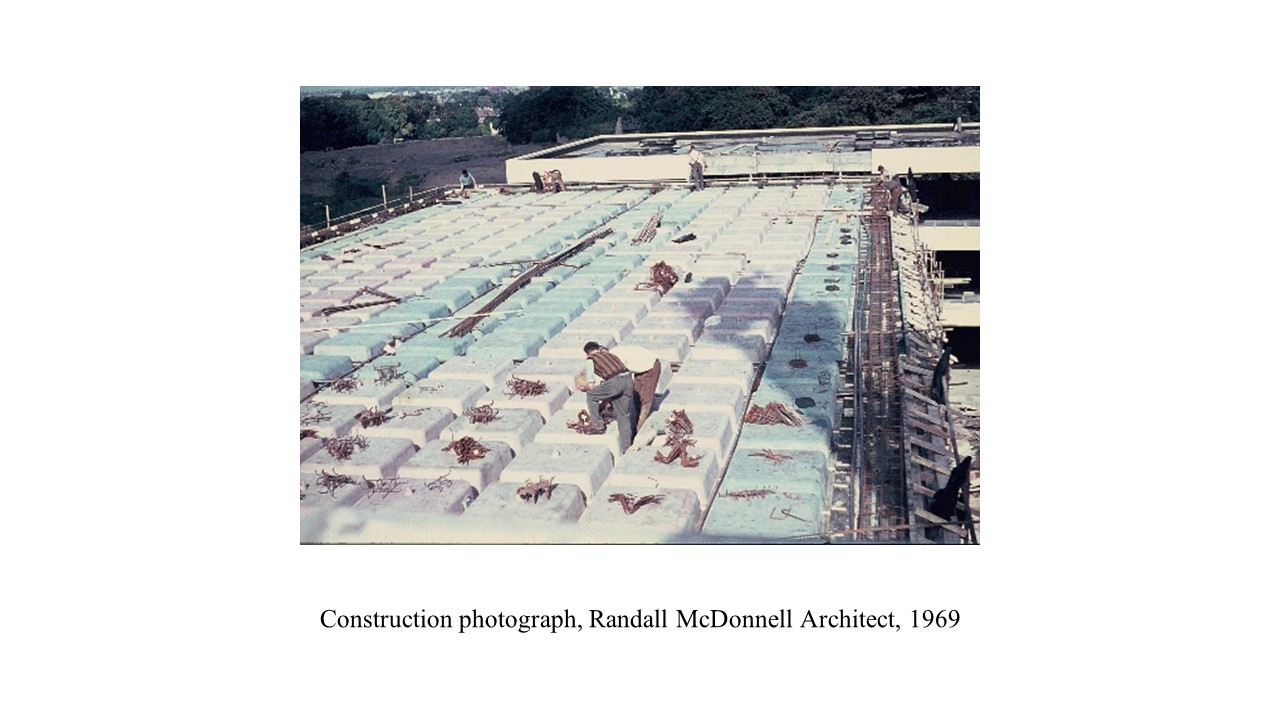 Arts Building #1 - Construction
The engineers, Thomas Garland, and the architects (Wejchert and Randal McDonnell) devised a waffle slab system for spanning the large interior spaces of Belfield's 1st buildings. The slabs were made with formwork of fibre glass moulds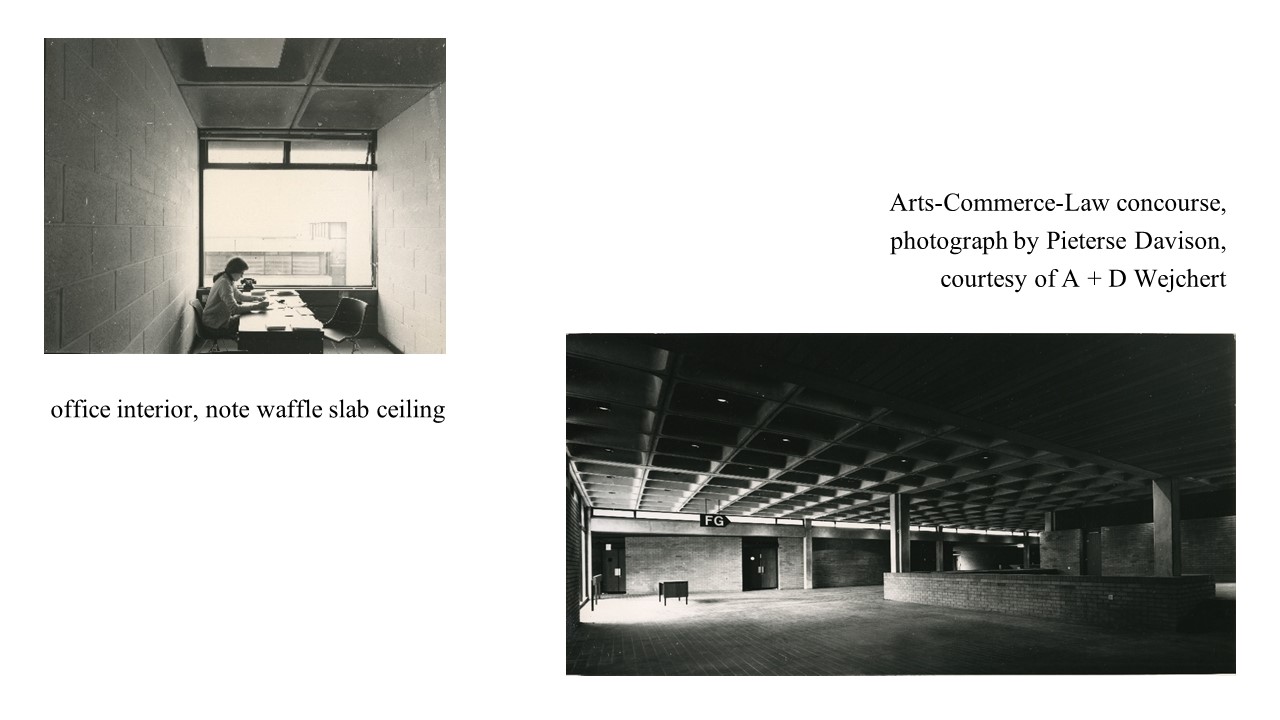 Arts Building #2 waffle slab interior
Used for its structural strength – a waffle slab floor is stronger than a flat slab and better for spanning-the waffle slab at Belfield is an aesthetic feature, as boldly deep coffer and repetitive molecular structure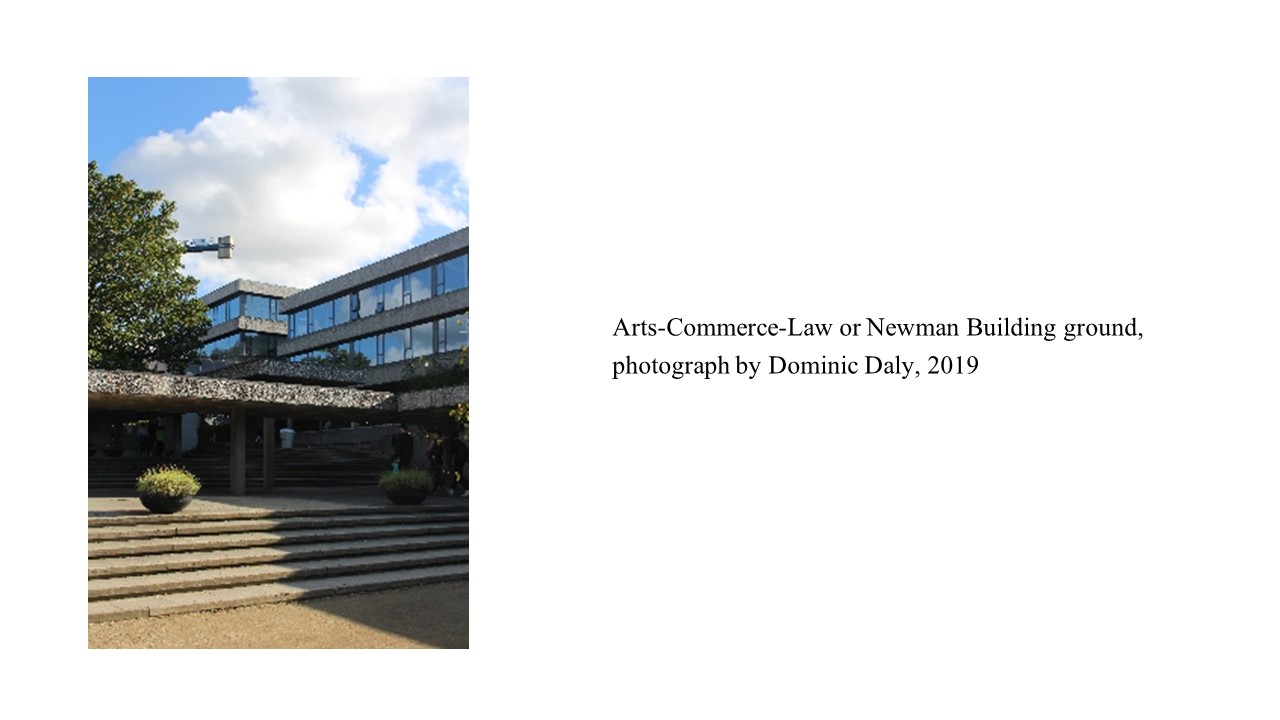 Arts Building #3
The Newman Building is difficult to negotiate (and is underappreciated as a result). One reason for this is its obscure entrance and how it touches the ground externally, on multi-levels, which ameliorates its massive bulk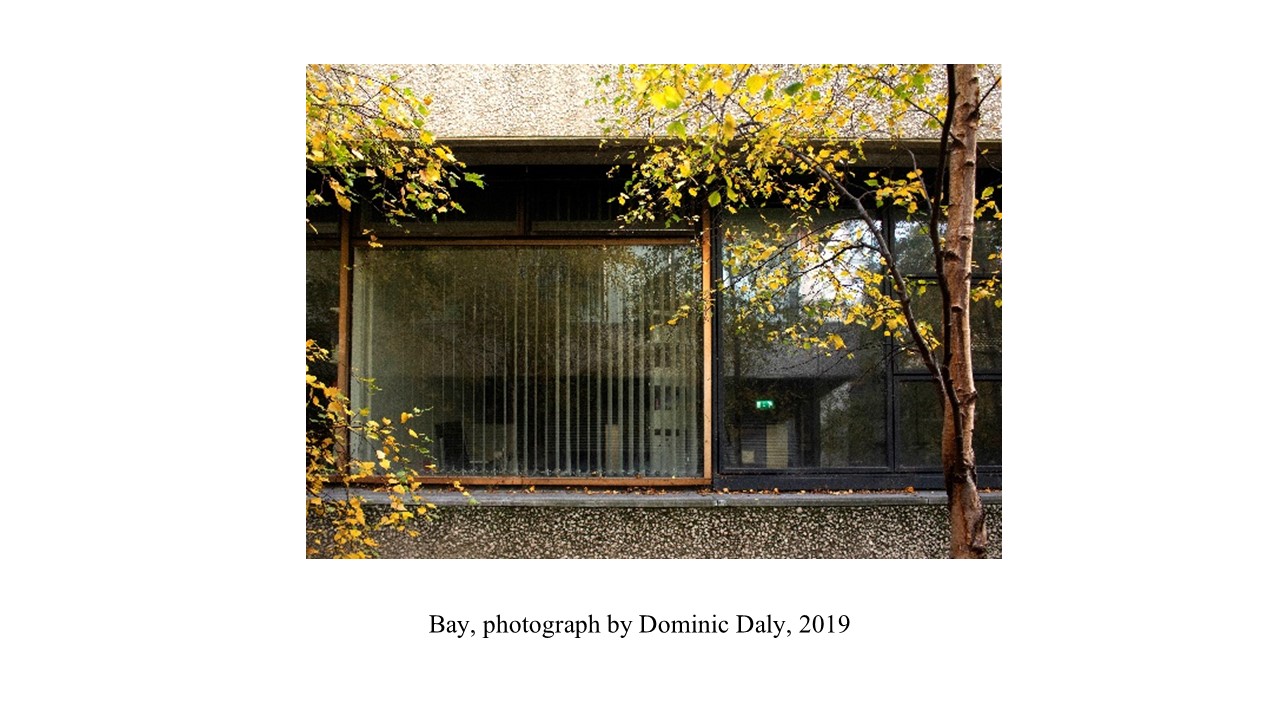 Arts Building #4 - Technology as Architecture
The Arts or Newman Building is an architecture of systems, from anodised bronze glazing to striped horizonal concrete panels which hold ducts containing heating pipes, electrical trunking, slots for fresh air intake and the safety track for window cleaning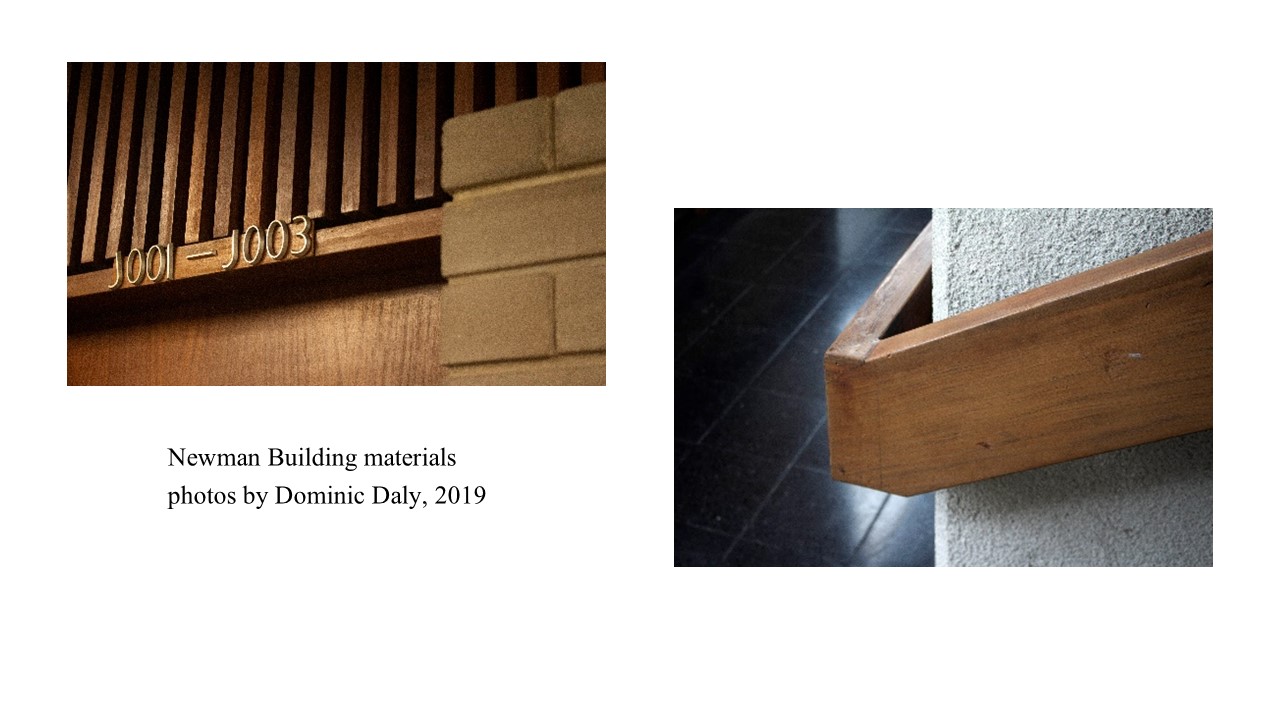 Arts Building - #5 Materials
As Belfield's mega-structure, the Newman Building should be read as a series of related volumes and masses tied together by the persistent materials of terrazzo, ceramic tile, lino under foot, afromosia timber and brushed aluminium in the hand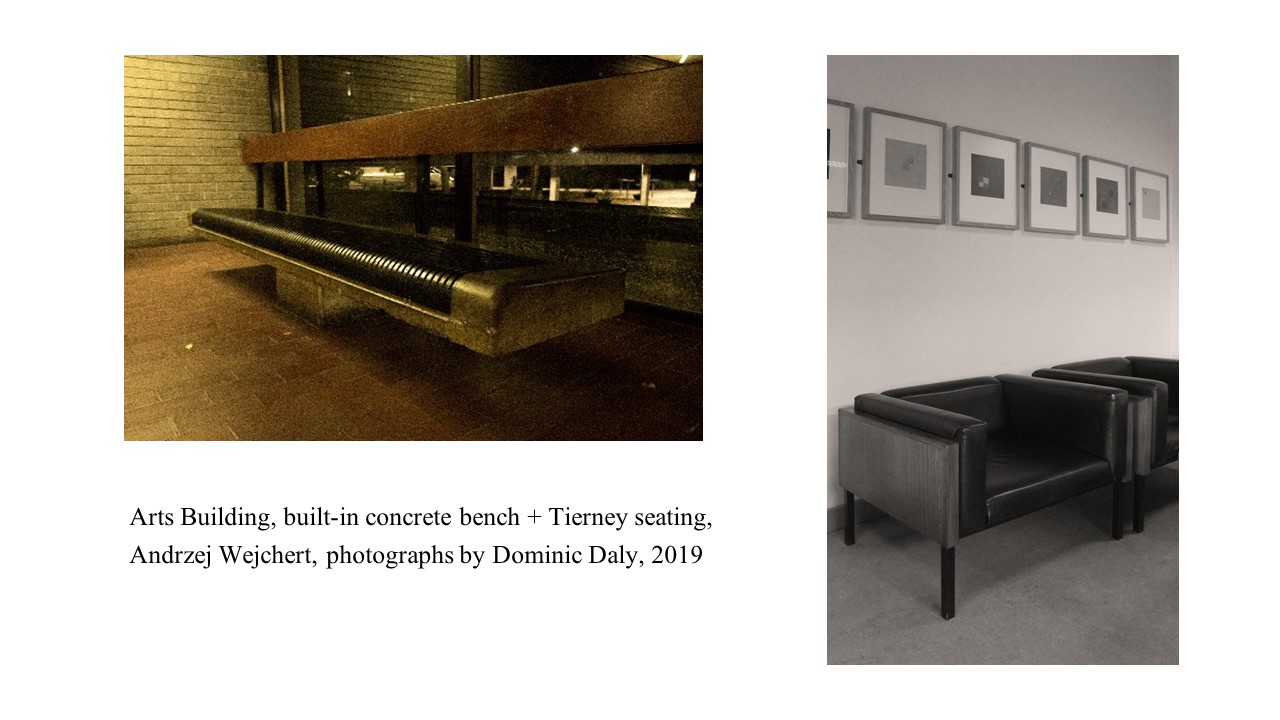 Arts and Tierney - Total Works of Art
Wejchert and his team designed the 2 buildings for Arts and Administration and the spine layout as a totality, using unifying materials and textures, which incorporated everything from built-in seating to planters and flower boxes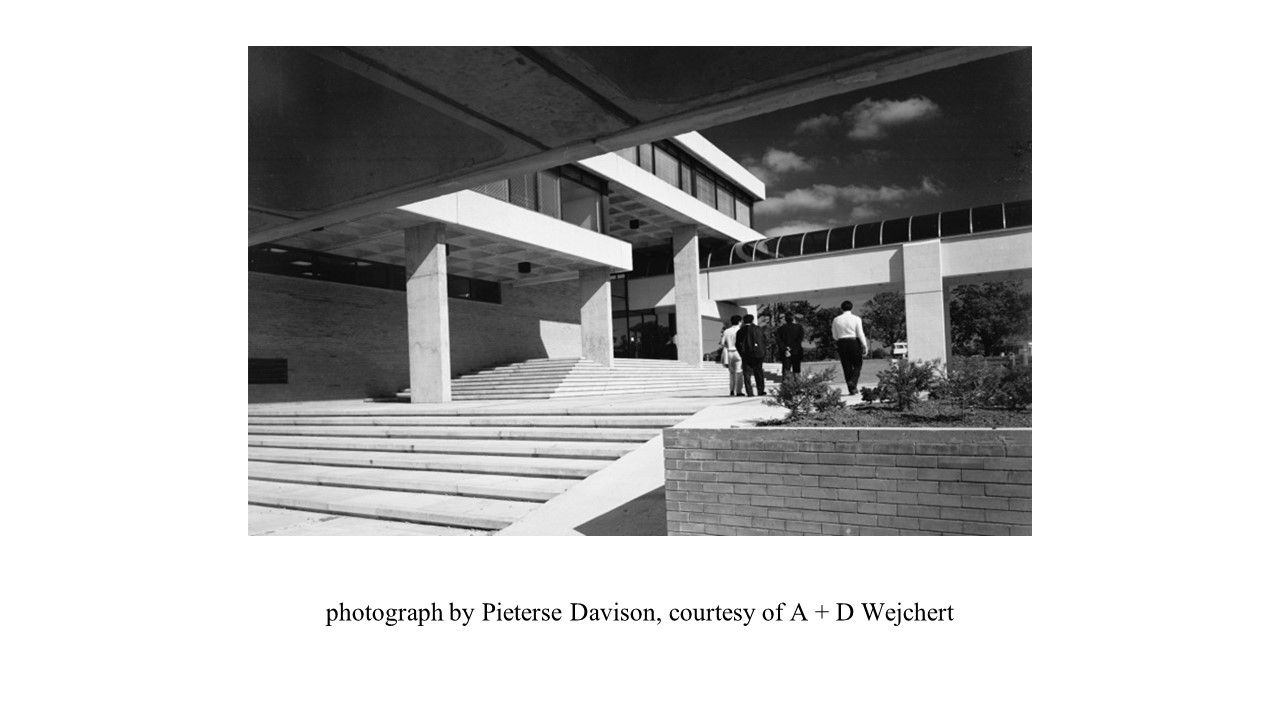 Administration/Tierney Building #1 - RIAI Medal
Soon after completion, the Administration or Tierney Building was awarded the RIAI Gold Medal (1971/3), Ireland's highest architectural accolade, citing the building's 'crisp subtle detail…atmosphere of relaxed efficiency… It is in every aspect a building of distinction'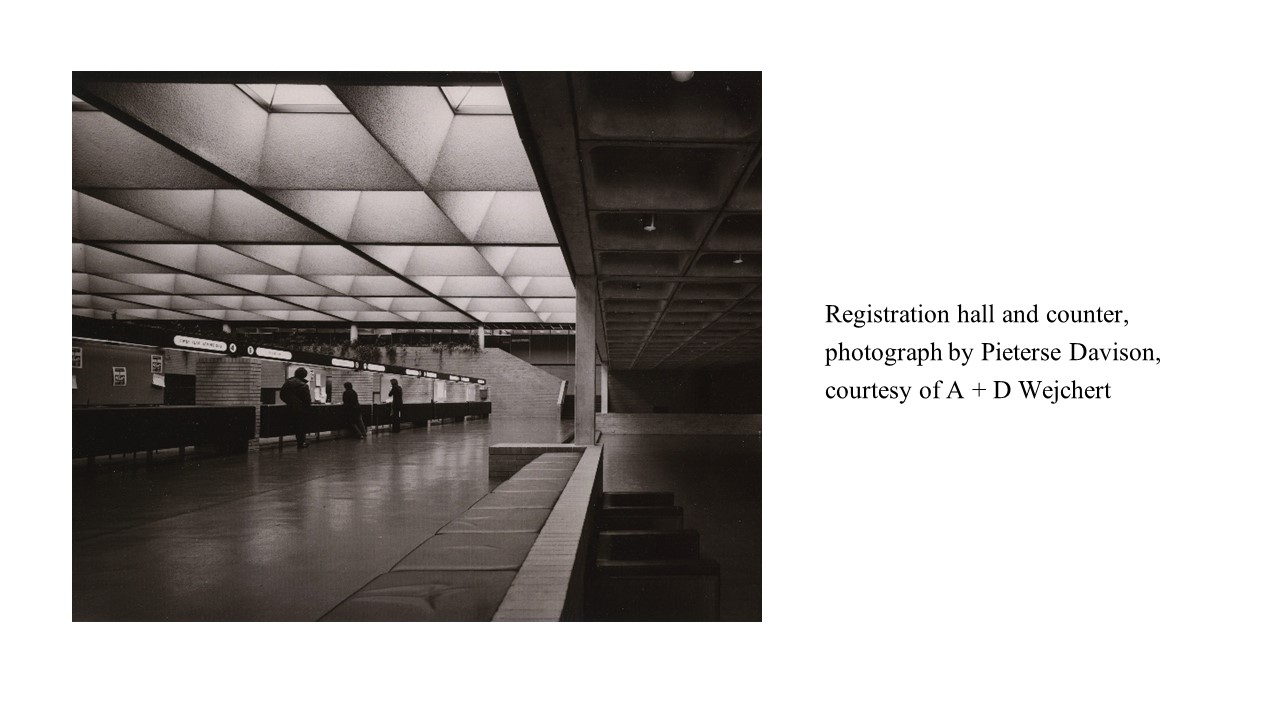 Administration Building #2
Dubbed UCD's 'nerve centre' due to its vast hall for registration, the Tierney Building is more like UCD's town hall containing multi-functions of President's and administration offices, finance, postal and registration hub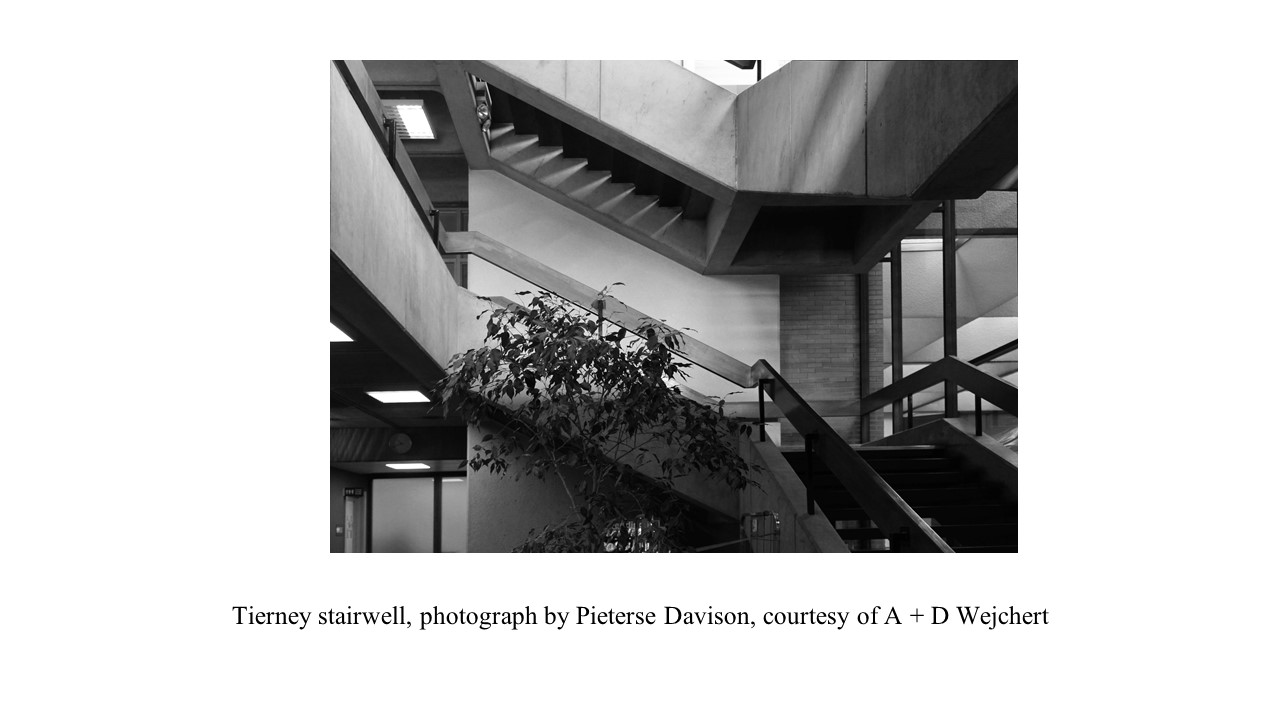 Administration Building #3 - Stairs and Materials
Boasting the most intact interiors and fabric of Belfield's original buildings, such as afromosia timber, steel balustrades and concrete stringers with open risers, the building's ceremonial staircase and generous landings are a joy to walk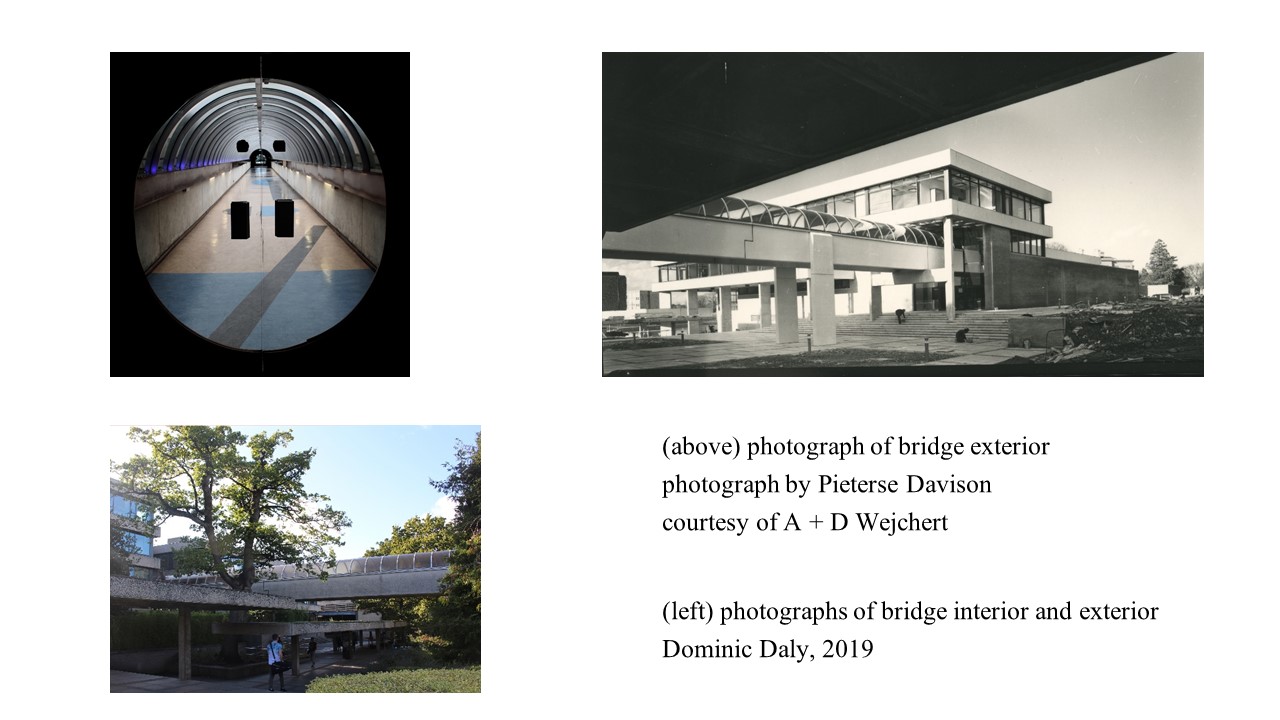 Bridge (Tierney to Newman)
The bridge between the Newman and Tierney Buildings is an iconic linking structure and something of a generational umbilical cord, in concrete and Perspex, emphasising Wejchert's quest for academic and human connectivity through design.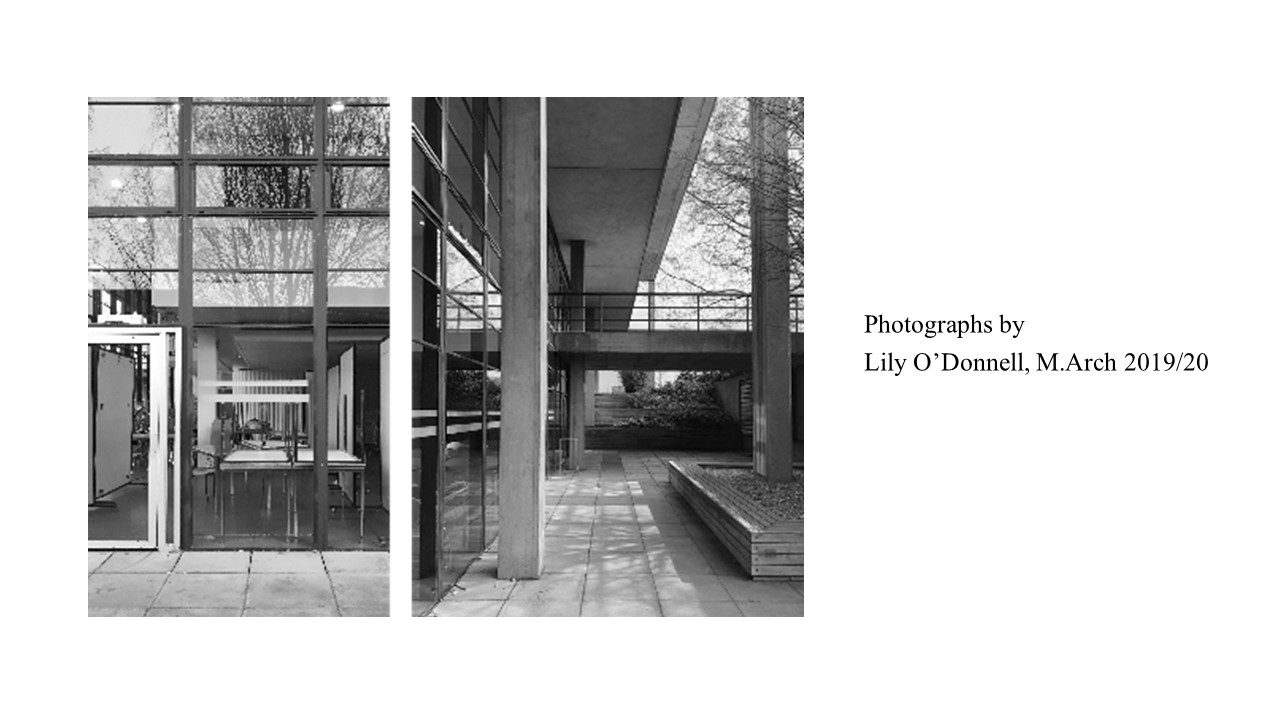 Restaurant Building, 1970, Robin Walker
Restaurant Building is usually lauded Belfield's best modernist structure. Awarded the RIAI Gold medal (1969/71), it was designed by Robin Walker (Scott Tallon Walker) and opened to students in 1970; riotously busy, it served 10,000 meals per day at times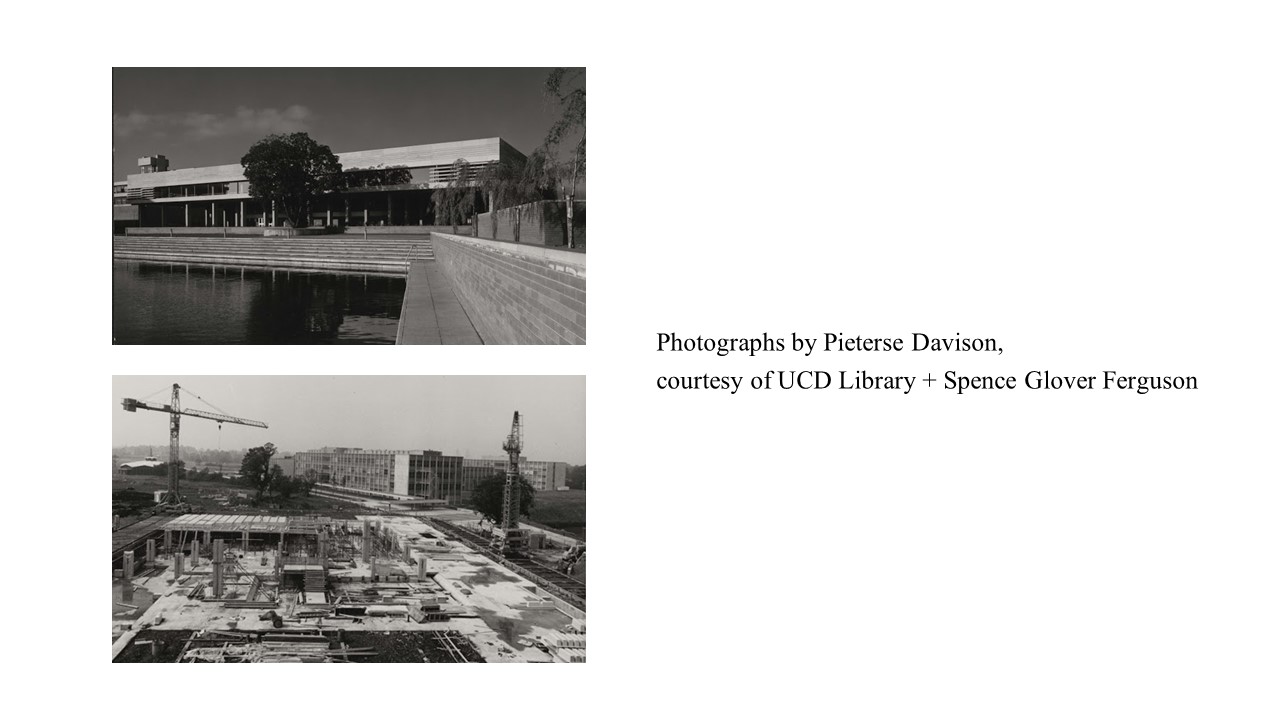 Library Phase I - Construction and Completion
UCD's library was designed by John Hardie Glover of modernist Scottish firm, Spence Glover Ferguson after an international competition held in 1966. The most visually arresting building at Belfield, Phase 1 was complete in 1973 and phase 2 in 1987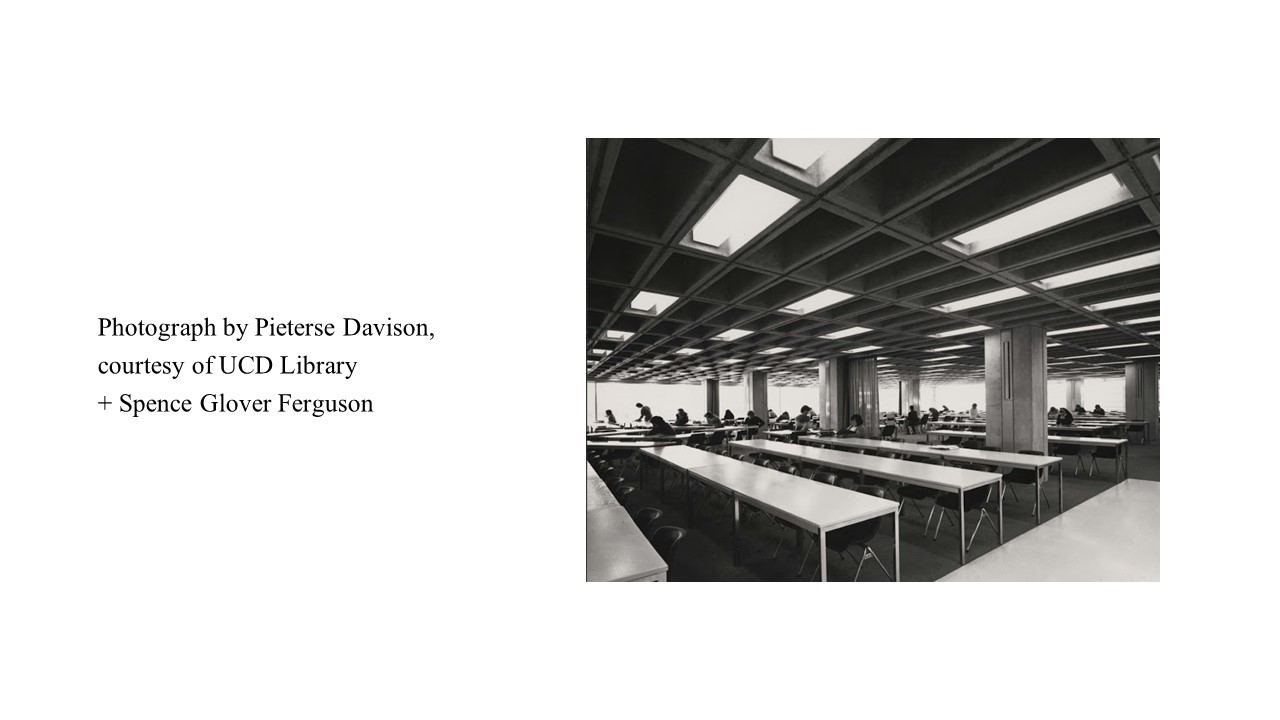 Library #2 - Interior
The library's precast and in-situ concrete structure (with Ballybrew limestone cladding) and modular nature complimented Wejchert's masterplan. It was Ireland's largest open-access library being designed to accommodate 100,000 volumes and over 2,000 readers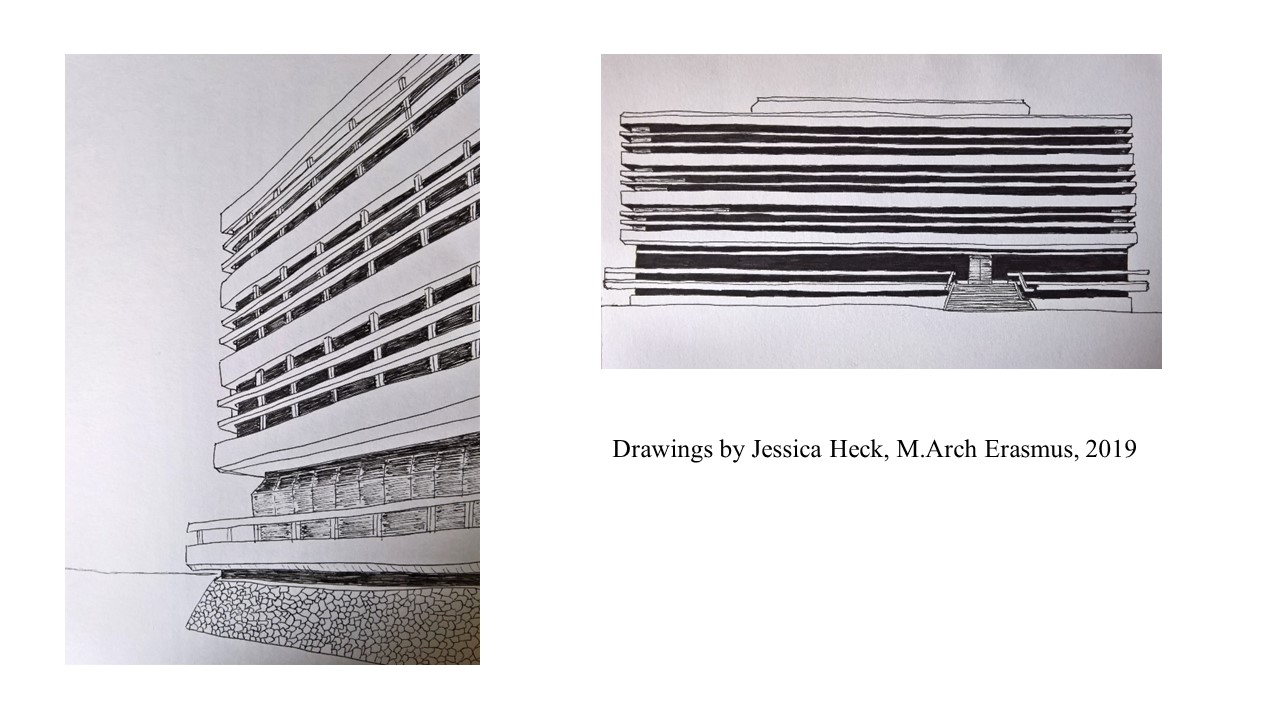 Agriculture
In the making since 1969, Patrick Rooney's Agriculture Building opened in September 1979 when it was possibly the first Irish building to be designed by computer-based design tools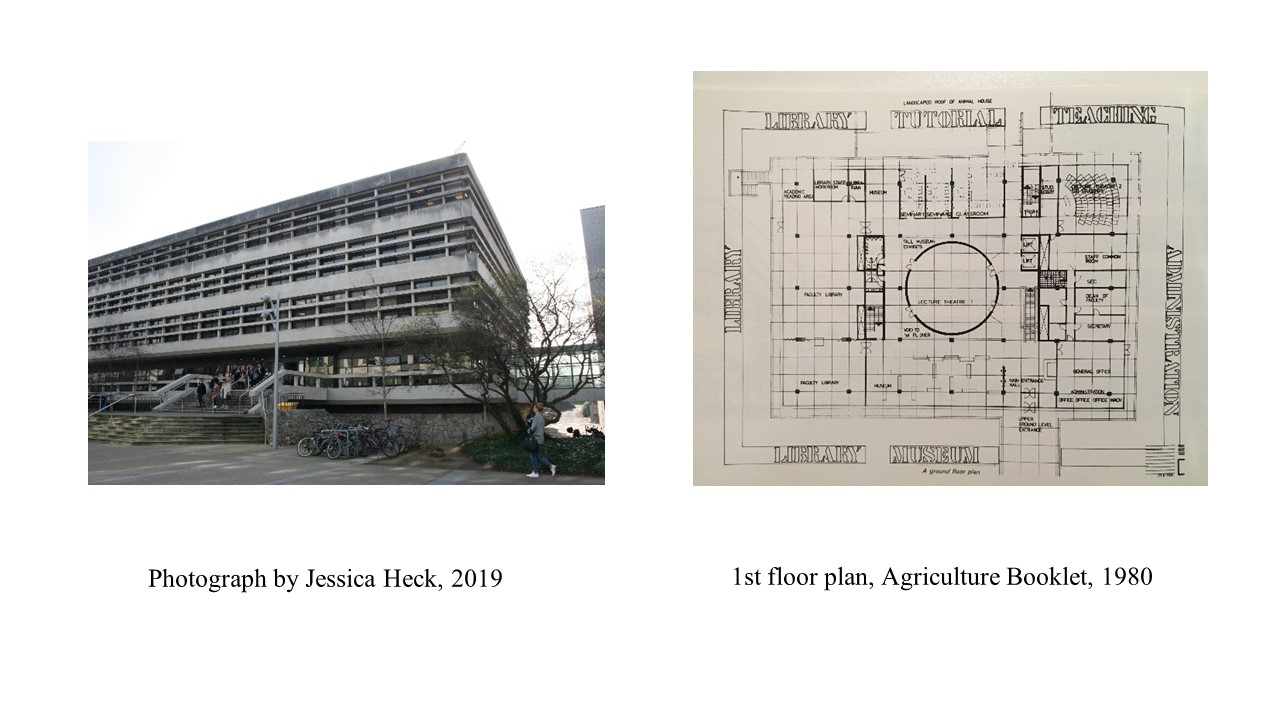 Agriculture #2
Rising over 5 storeys, the Agriculture Building included labs, tutorial rooms, a library, offices and lecture theatre for 500 students and 120 academic staff while its dominant basement/podium was made for housing up to 30 cattle/ sheep and 3,000 rodents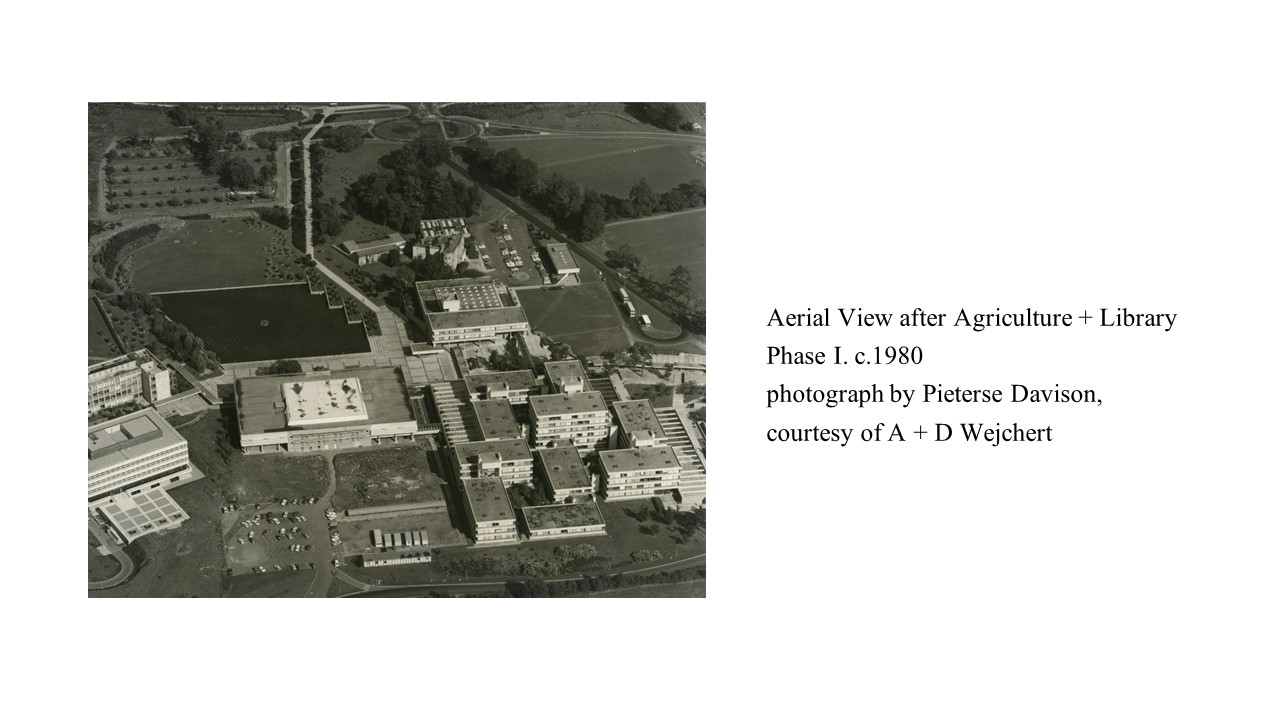 Phase I consolidation - Aerial view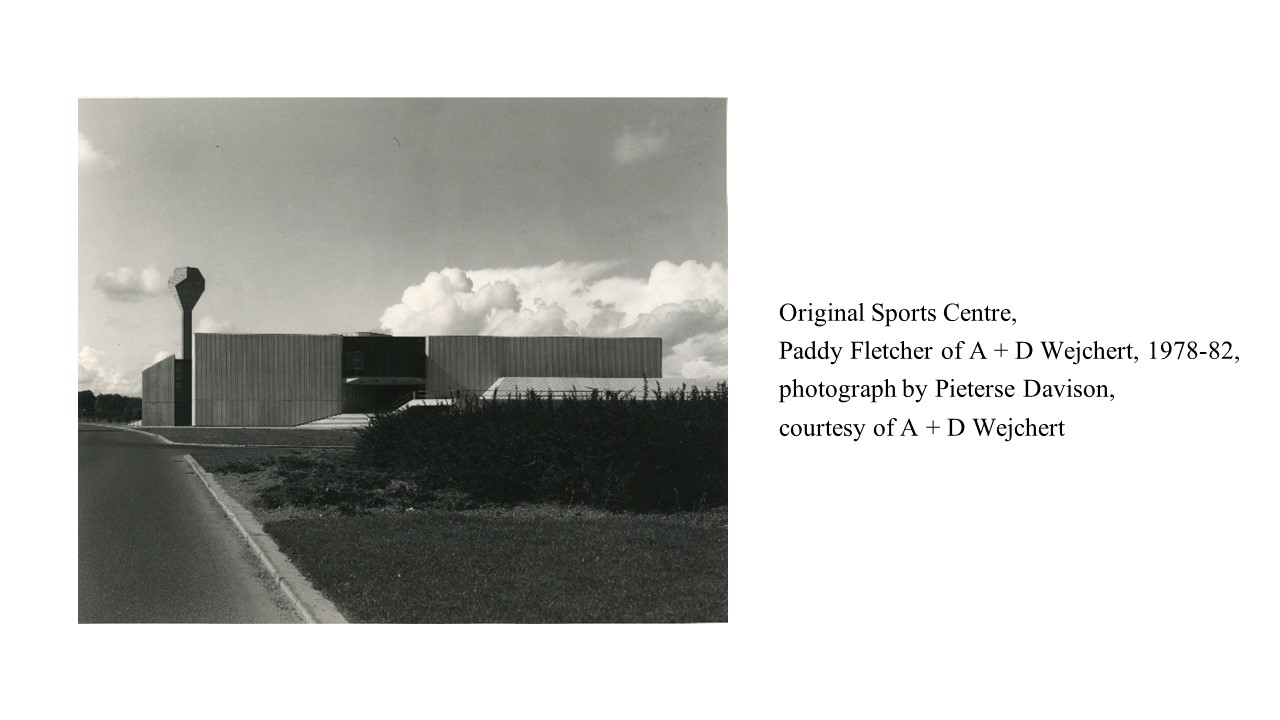 Sports Centre
The Sports Centre was opened in 1982 and was a celebration of board-marked concrete. Possibly UCD's finest concrete, this 6,800 sq.m. structure was Wejchert's final Belfield project after he unsuccessfully tried to influence the masterplan development through the 1970s