On March 22nd, UCD School of Economics hosted an Open Evening for secondary school students, their parents and teachers at the Sutherland School of Law. Over one hundred attendees heard from current UCD students about their experiences studying Economics at UCD, and from graduates about the career paths that they have followed since graduating.
Professor Karl Whelan gave an overview of the Economics Programmes at UCD. Click here for a copy of his slides.
See videos from the evening: Joint Honours Student 1, Joint Honours Student 2, Joint Honours Graduate 1, Joint Honours Graduate 2, Single Honours Student 1, Single Honours Student 2, Single Honours Graduate 1, Single Honours Graduate 2, Introduction by Prof Karl Whelan, Complete Evening's Presentation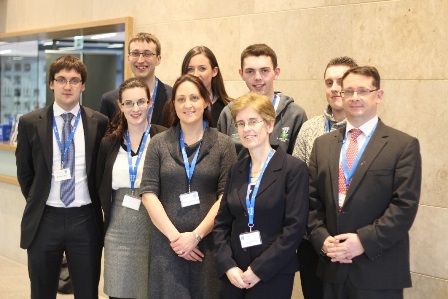 Current students and graduates joined Professor Karl Whelan for the Open Evening.