Our 'random rumble generator' has been busy selecting a number of teams to go head to head over the next 7 days to increase their step count.
Week 3 Challenge
Week 2 Challenge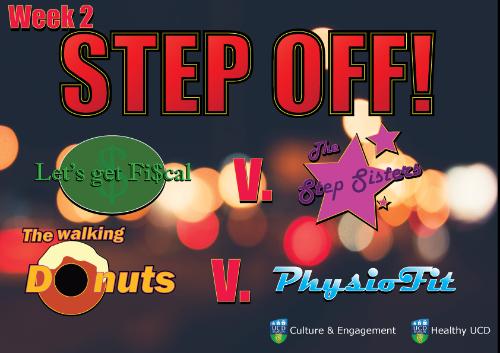 2018 Healthy UCD Step Challenge
Welcome
Building on the success of the 2017 Healthy UCD Challenge, Culture & Engagement in conjunction with Healthy UCD have a new challenge to kickstart your year.
Over 6 weeks, we are offering you and your team of up to 6 the opportunity to record your daily activity (from walking, running, cycling and swimming) and improve your health. Challenge your team to reach the top of the leader board or just increase your steps over the period of the challenge, it's up to you.
We are also keeping it simple. Use any activity tracker, on any device you like, such as a phone, phone plus app, running watch or a simple pedometer to keep track of your steps before recording them on our own Step Tracker. For activities such as cycling or swimming there are simple conversions to record your activity (1km cycling = 300 steps, 100m swimming = 450 steps). Headline information recorded on the Steps Tracker will feed through to this page so you can keep an eye on the leader board, motivate others and lets all get the benefit from increased physical activity.
------ Registration OPENS 17 January 2017 ------
------ Registration CLOSES 25 January 2017 ------
------ Challenge begins 29 January2017 ------
----- Challenge ends Sunday 11 March -----
New for 2018
In addition to re-vamping our Step Counter, this year we've added new challenges (and new prizes) as well as some tools to assist you in setting and reaching your goals.
| | |
| --- | --- |
| | ‌ |
Tools & Downloads
Team Leaderboard 1-20
Team Leaderboard 21-40