Join us on the 6th April 2019 to celebrate 10 years of Rás UCD.

Rás UCD is a community event which promotes health and well-being, the use of the Irish language, and generates fundraising for the work carried out by UCD Volunteers Overseas.

It is a 5k campus run / walk and includes a prize-giving ceremony and refreshments afterwards.

This event is open to the public and we particularly encourage students, staff, alumni, athletics groups and sports clubs to get involved.

For further information, contact rasucd@ucd.ie / 01 7168570
Route
The 2019 Rás has a new 5K route that will start and finish at the UCD Sports Centre. The course is fast and flat and participants will be chip timed.
Bookings are now open for individual or teams of 4. Please note that all team members must book individually and indicate their team name on the booking form.
Booking
If you are entering the Rás and are under 18 you will need to indicate consent from your parent or guardian.

This year we will produce a technical type tee shirt. So as to avoid waste, please indicate if you wish to have tee shirt and pay the appropriate fee (there are 4 options student/non-student, tee shirt/no tee shirt).
Student (no tee shirt) €10
Student (technical tee-shirt) €15
Non-student (no tee shirt) €15
Non-student (technical tee-shirt) €20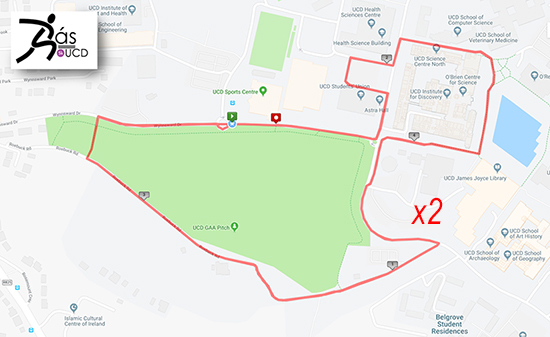 Rás UCD prizes kindly sponsored by UCD Estate Services and Bord na Gaeilge UCD.