2020 Social Distancing Step Challenge
Can your team keep up the pace? It's important to step back from the laptop once in a while so we've put together a Step Challenege to keep you in touch (virtually) with your colleagues and keep fit while the campus is closed. The challenge commences Monday, 30th of March and you can register your team now by emailling engage@ucd.ie
This is an ongoing challenge aimed at helping you mind your mental health and fitness so you're free to join at any point.
Exercising outside

Exercise is (currently) one of the reasons you are permittited to leave the house but don't forget to avoid crowded areas and keep a space of 2 metres (6.5 feet) between you and other people.
Keep up to date on restrictions via the Gov.ie site.
Exercising inside
Prefer, to keep things indoors? No problem! These exercise videos from UCD Sport & FItness and Les Mills will help you build your step count quickly.
In keeping with social distancing, and unlike previous challenges, you are free to use stationary bikes, treadmills etc
Check in with your team
Check in with you team via Zoom to make sure everyone is staying healthy, motivated and safe!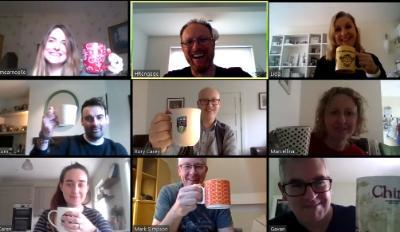 Note: We recommend that you consult with your doctor before beginning any exercise program. You should be in good physical condition and be able to participate in the exercise. You should understand that when participating in any exercise or exercise program, there is the possibility of physical injury. If you engage in this exercise or exercise program, you agree that you do so at your own risk.
Social Distancing Step Challenge - How it works overview
Captain gathers their team offline then contacts engage@ucd.ie for a sign up sheet (Team = 1 Captain + 5 Team Members)
Meet virtually via Zoom to come up with a name and share plans and ideas.
Captain completes and returns the 'Sign up sheet' to engage@ucd.ie.
Culture & Engagement will set up the team on the Steps Tracker and provide everyone with access.
All Team Members record their steps locally using an app or device of their choice.
All Team Members record their steps on to the collective 'Steps Tracker'.
All Team Members track overall steps and rankings on the Culture & Engagement site.
Recording Steps: The Challenge uses Google sheets extensively. You can only access the sheets if you are logged in under your @ucd.ie account. If you are logged in to Google under a personal email account you will not be able to see the sheets.

Contact Culture & Engagement
Culture & Engagement, UCD HR 3rd Floor, Roebuck Offices University College Dublin, Belfield, Dublin 4, Ireland. E:
engage@ucd.ie
|
Location Map