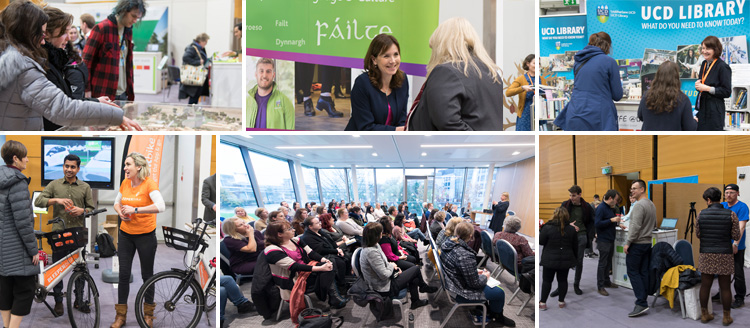 That's a wrap folks! Another year over and planning has started for WORK / LIFE @ UCD 2020. If you've got some feedback for us, the please send it on via the form below.
Post event updates:
Dermot Goode has a post-event update about choosing health insurance cover on our Financial Wellbeing page.
Wriggle Learning have a new updated deals for UCD staff including a great offer on a Microsoft Surface Pro, just in time for Christmas. See our Special Offers page for more.
Affinity Advisors have announced the winners of the Dundrum vouchers on their site
Winners of feedback draw on the day were:

Bridin Walsh
Carmen Munozgarcia
Niamh Cantillon
WORK / LIFE @UCD 2019 (Event took place in November 2019)
Re-imagined, re-designed and ready to roll. Our annual employee engagement event returns to O'Reilly Hall on Wednesday, 20 November, 10am to 3pm, in a new format.
Drop in to visit our 4 new zones: Sustainability, Career, Engagement and Life. Find out about the development opportunities, supports and benefits available to you as an employee of UCD.

Goodies for you
Amazing prize draw
Come along on the day, give us your feedback as to what you would like to see at Work/Life@UCD 2020 and be in with a chance to win some amazing prizes. All submissions included in draw for: 1st €300 Blue Book Voucher (sponsored by Affinity Advisors), 2nd €250 Dundrum Voucher (sponsored by Dillon Solicitors), 3rd €250 Voucher for Roly's Bistro (sponsored by AIB).
Seminars & Workshops
Check out the listings below then book your place (booking opens 6 November)
Show/hide contentOpenClose All
10:00 -11:00am
Making your garden pollinator friendly
Tops tips and advice from Dr Dara Stanley and Ger O'Connor (SAP Landscaping) and David McCormack (Estate Services)
Dara is an Assistant Professor in Applied Entomology in the School of Agriculture and Food Science and Earth Institute at UCD. She is an ecologist who leads a research team investigating the interactions between insects and plants, with a special interest in pollinating insects. Current projects are investigating the role of pollinators in crop production, the conservation of rare bumblebees, the effects of climate and pesticide use on pollination services, and the role of honeybees in sustainable livelihoods in Africa.
Ger is currently a Contracts Manager with SAP Landscapes Ltd. and has 30 year's experience in landscaping industry, 21 with SAP. Ger is experienced in moving with the changing landscaping industry over this time and implementing new ideas and techniques. Currently assisting DLRCC in management of wildflower and pollinator friendly initiatives within the Dun Laoghaire Rathdown area. Keeping up to date with latest machinery to manage efficiently wildflower and pollinator friendly areas.
Book your place (booking opens 6 November)
---

10:30 - 11:30am
Your renting rights
Andrea Wesolowski from the RTB will be on site to talk about renting in Ireland. Learn about rules governing deposits, notice periods and upcoming legislation.
Important changes to notice periods and rent pressure zones have been introduced in 2019 and you can find out more on the day.
Book your place (booking opens 6 November)
---

11:00 - 12:00pm
Legal advice for life - wills, enduring power of attorney
Valerie McAllister, Dillon Solicitors will discuss the importance of Wills, matters to consider when making a Will and she will also speak about the importance of having an Enduring Power of Attorney in place.
Valerie McAllister is a Senior Legal Executive with a National Certificate in Law, a Diploma in Law and B.A. Degree in Law and Business. Valerie has experience in many areas of law to include immigration and naturalisation, conveyancing, wills and probate, family law, marine law, litigation and personal injuries.
Presentation followed by Q&A.
Book your place (booking opens 6 November)
---

11:30 - 12:30pm
'The Irish residential property market: 2019 review, 2020 outlook'

Barry Cull - Head of 'Homes AIB' in Dublin South.
Barry is responsible for leading AIB's Homes strategy and managing the team across Dublin South to deliver the best mortgage customer experience in their community. Barry holds a B.Comm from NUI Galway as well as a QFA and Professional Banker accreditation from the Institute of Bankers.
John Fahey - Senior Economist AIB
John Fahey, has responsibility for the Irish economy as well as the major international economies and related interest rate and foreign exchange markets. Before joining AIB, John spent eight years at Ulster Bank, and previously worked in the Economics Department at NUI Galway, where he taught courses in economics. John holds a B.A and M.A in Economics from NUI Galway.
Phil Browne - Financial Planning Specialist AIB / Irish Life
Phil Browne is an experienced Financial Planning Specialist. Phil provides advice on areas such as, Income Protection, Life and Illness Cover, Mortgage Protection, Investments and Pensions.
Book your place (booking opens 6 November)
---

12:00 - 1:00pm
Managing lunchbox fatigue - healthy lunch options for adults
Bored with you daily lunchbox offerings? Craving that treat to spice up your lunch?
Come along and find out how to make your lunch interesting, appetising and healthy! Julie Dowsett, UCD School of Agriculture & Food will give some practical suggestions and ideas in this interactive workshop. Attendees will also receive a branded Healthy UCD lunchbox so that you can put the suggestions into practice!
Julie is a registered dietitian with 19 years experience working in St Vincent's University Hospital. She has worked in UCD since 2006 where runs a PhD Development Programme, upskilling researchers for a career in the agri food sector. She also works in Executive Education. Julie is a Fellow of the Irish Nutrition and Dietetic Institute (INDI), the professional body for dietitians in Ireland.
Book your place (booking opens 6 November)
---

12:30 - 1:30pm
Top tips for buying your home
Buying a house or apartment? Our panel of 3 experts brings together the information you will need to know on mortgages, the legal aspects and what to look for when buying.
Trevor Grant - 'how to get a mortgage and what options are available in the market'. Trevor Grant is a Director of Affinity Advisors, an award winning financial advisory firm specialising in the provision of market-based mortgage and protection advice.
Lorna McArdle, Solicitor, Dillon Solicitors, the stages involved in a purchase and sale of property and issues to be particularly aware of
David Swaine, Property Partners O Brien Swaine, top tips for buying a property. The presentations will be followed by Q&As.
Book your place (booking opens 6 November)
---

1:00 - 2:00pm
Fuss-free, healthy lunchboxes for kids
"Finding making the daily lunches a challenge? Come along to this workshop where Dr Sarah Brown will give some practical tips, advice and suggestions to thane the challenge out of making the school lunches. Attendees will also receive a branded Healthy UCD lunchbox.
Sarah is a registered dietitian with a background in community dietetics and youth health promotion. Her research focuses on school and retail food environments and the dietary behaviours of children and teenagers. Sarah currently works as a part-time Assistant Professor in nutrition and dietetics at the UCD School of Public Health, Physiotherapy and Sports Science and also holds a post-doctoral research position in childhood obesity at RCSI working with the W82GO programme at Children's Health Ireland, Temple Street.
Book your place (booking opens 6 November)
---

1:30 - 2:30pm
Renovating your home - some issues to consider
Our panel of 3 experts look at different areas to consider when renovation your home.
Trevor Grant, Affinity Advisors, switching your mortgage to save money for renovating your home. Trevor Grant is a Director of Affinity Advisors, an award winning financial advisory firm specialising in the provision of market-based mortgage and protection advice.
Michael Pike, Architect, UCD School of Architecture & Planning, planning pitfalls and things to consider. Michael is principal of GKMP Architects and an Assistant Professor in the School of Architecture, Planning and Environmental Policy. GKMP Architects are concerned with the design of housing and public space.
Since inception the practice has received a number of architectural awards.
Susan Andrews is Programme Executive with SEAI for the Home Energy grants programme, which offers financial incentives for energy efficiency in the residential sector. A graduate of Trinity College Dublin, Susan has an MSc in Strategic Management and BSc in Business and Marketing, along with eighteen years' experience across a variety of sectors including Architecture, Engineering and Construction.
Book your place (booking opens 6 November)
---

2:00 - 3:00pm
'House plants - what to get and how to look after them'
Hannah Mooney has worked with SAP Landscapes for the last 3 years. As Contracts supervisor in charge of the interior plant maintenance business, Hannah supervises installation and maintenance of interior plants. Hannah previously worked with Woodies as on-site horticulturist advising customers on indoor plants and planting. Hannah has a personal interest, not just commercial, in interior planting.
Book your place (booking opens 6 November)
---

2:30 - 3:30pm
Top Tips for Retirement - Things to think about and prepare in advance of your retirement date
The council provides support and help to people in Ireland to help them make a smooth transition from employment to a meaningful and fulfilling retirement. Established in 1974, we have over 40 years' experience and are a Registered Charity and Not-For-profit organisation. We have developed to become a Centre of Excellence in providing Retirement Educational Programmes.
Derek Bell, Retirement Planning Council of Ireland.
Book your place (booking opens 6 November)
Zones in detail
Show/hide contentOpenClose All
In association with...
| | | | |
| --- | --- | --- | --- |
| | | | |
| | | | |
| | | | |
| | | | |