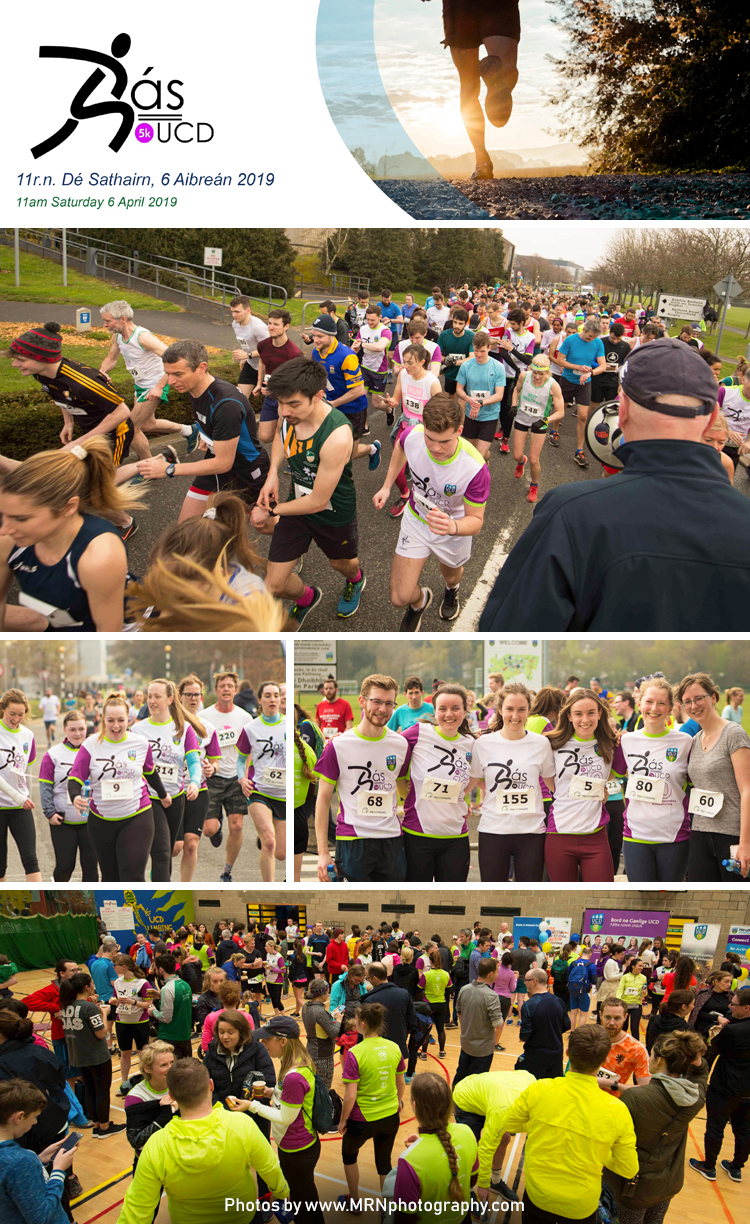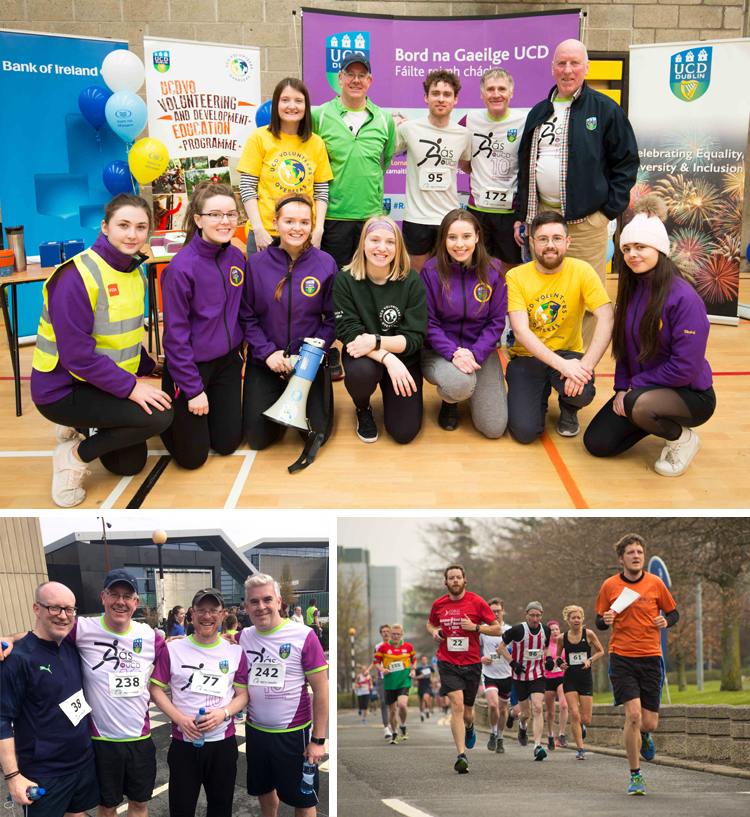 Thanks to Matthew from www.mrnphotography.com for the photos!
RÁS 2019
ag ceiliúradh 10 mbliana | celebrating 10 Years

Online resistration is closed but you can sign up on the day for €20, including a tee shirt (while stocks last). Please feel free to bring friends along on the morning!
Results will be available immediately after the race on www.myrunresults.com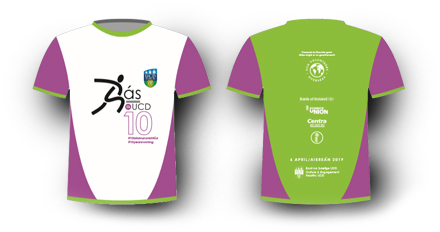 Show/hide contentOpenClose All
Join us on the 6th April 2019 to celebrate 10 years of Rás UCD.

Rás UCD is a community event which promotes health and well-being, the use of the Irish language, and generates fundraising for the work carried out by UCD Volunteers Overseas.

It is a 5k campus run / walk and includes a prize-giving ceremony and refreshments afterwards.

This event is open to the public and we particularly encourage students, staff, alumni, athletics groups and sports clubs to get involved.

For further information, contact rasucd@ucd.ie / 01 7168570
Route
The 2019 Rás has a new 5K route that will start and finish at the UCD Sports Centre. The course is fast and flat and participants will be chip timed.
Bookings are now open for individual or teams of 4. Please note that all team members must book individually and indicate their team name on the booking form.
Booking
If you are entering the Rás and are under 18 you will need to indicate consent from your parent or guardian.

This year we will produce a technical type tee shirt. So as to avoid waste, please indicate if you wish to have tee shirt and pay the appropriate fee (there are 4 options student/non-student, tee shirt/no tee shirt).
Student (no tee shirt) €10
Student (technical tee-shirt) €15
Non-student (no tee shirt) €15
Non-student (technical tee-shirt) €20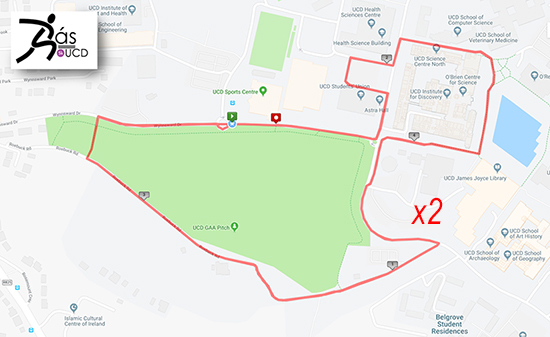 Rás UCD prizes kindly sponsored by UCD Estate Services and Bord na Gaeilge UCD.
Bí linn an 6 Aibreán 2019 chun comóradh deich mbliana de Rás UCD a cheiliúradh.
Imeacht phoiblí is ea Rás UCD trína gcuirtear an tsláinte agus an fholláine, agus úsáid na Gaeilge, chun cinn, agus trína dtiomsaítear airgead don obair a bhíonn ar siúl ag Oibrithe Deonacha UCD Thar Lear.
Rith / siúlóid cúig chiliméadair ar an gcampas atá i gceist. Cuirfear sólaistí ar fáil i ndiaidh an Rása agus tionólfar searmanas bronnadh duaiseanna.
Is féidir leis an bpobal páirt a ghlacadh sa Rás agus molaimid go háirithe do mhic léinn, baill foirne, céimithe, grúpaí lúthchleasaíochta agus clubanna spóirt páirt a ghlacadh ann.
Déan teagmháil le rasucd@ucd.ie / 01 7168570 chun tuilleadh eolais a fháil.
Bealach
Tá bealach nua cúig chiliméadar ag an Rás 2019, agus tosóidh agus críochnóidh sé ag Lárionad Spóirt UCD. Cúrsa tapa agus cothrom atá ann agus úsáidfear slis chun amanna na rannpháirtithe a thaifeadadh.
Is féidir áirithint a dhéanamh anois mar dhuine aonair nó foireann de cheathrar. Tabhair faoi deara go bhfuil ar bhaill foirne a n-áirithint féin a dhéanamh agus ainm na foirne a léiriú ar an bhfoirm áirithinte.
Áirithint a dhéanamh
Má tá tú faoi ocht mbliana déag d'aois caithfidh tú a léiriú go bhfuil cead faighte agat ó do thuismitheoir nó caomhnóir chun páirt a ghlacadh sa Rás.
Déanfaimid T-léine de chineál teicniúil a tháirgeadh i mbliana. Chun dramhaíl a sheachaint, léirigh cibé an dteastaíonn T-léine uait agus íoc an táille chuí (tá ceithre rogha ar fáil: is mac léinn mé/ní mac léinn mé, teastaíonn T-léine uaim/ní theastaíonn T-léine uaim).
Is mac léinn mé (ní theastaíonn T-léine uaim) €10
Is mac léinn mé (teastaíonn T-léine theicniúil uaim) €15
Ní mac léinn mé (ní theastaíonn T-léine uaim) €15
Ní mac léinn mé (teastaíonn T-léine theicniúil uaim) €20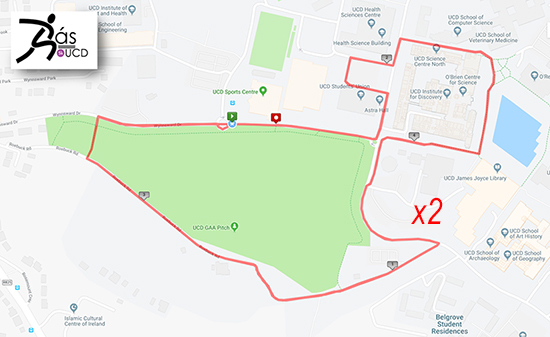 Tá na duaiseanna do Rás UCD urraithe ag Seirbhísí Estáit UCD & Bord na Gaeilge UCD
2019 Results
Female U16 - Hannah Donoghue
Male U16 - Philip Smith
Female U20 - Anais Leboucq
Male U20 - Joe Dowd
Female U30 - Bronagh Kearns
Male U30 - Rory O'Connell
Female U40 - Linda Byrne
Male U40 - Karol Cronin
Female U50 - Maria McCambridge
Male U50 - Phil Kilgannon
Male O50 - Eddie McGrath
2018 Results / 2018 Torthaí
Male / Fireann
Joseph Hastings
Jaroslaw Blacharski
Thomas Abadie
Female / Mná
Gráinne Butler
Nina Holmes
Clodagh Freyne
2017 Results / 2018 Torthaí
Male / Fireann
Robert Corbally
Phil Kilgannon
Jaroslaw Blacharski
Female / Mná
Niamh Devlin
Linda Byrne
Megan Morrissey
2016 Results / 2016 Torthaí
Male / Fireann
1st Place: Will Crowe
2nd Place: Kevin Donagher
3rd Place: Joseph Hastings
Female / Mná
1st Place: Ciara Darker
2nd Place: Amy Masne
3rd Place: Shannon Kelly
2015 Results / 2016 Torthaí
Male / Fireann
1st Place: Emmet Jennings
2nd Place: Kevin O'Connor
3rd Place: Kevin Donaher
Female / Mná
1st Place: Laura Shaughnessy
2nd Place: Aoife O'Connor
3rd Place: Louisa Browne