Maeve Binchy UCD Travel Award Winner: Declan Toohey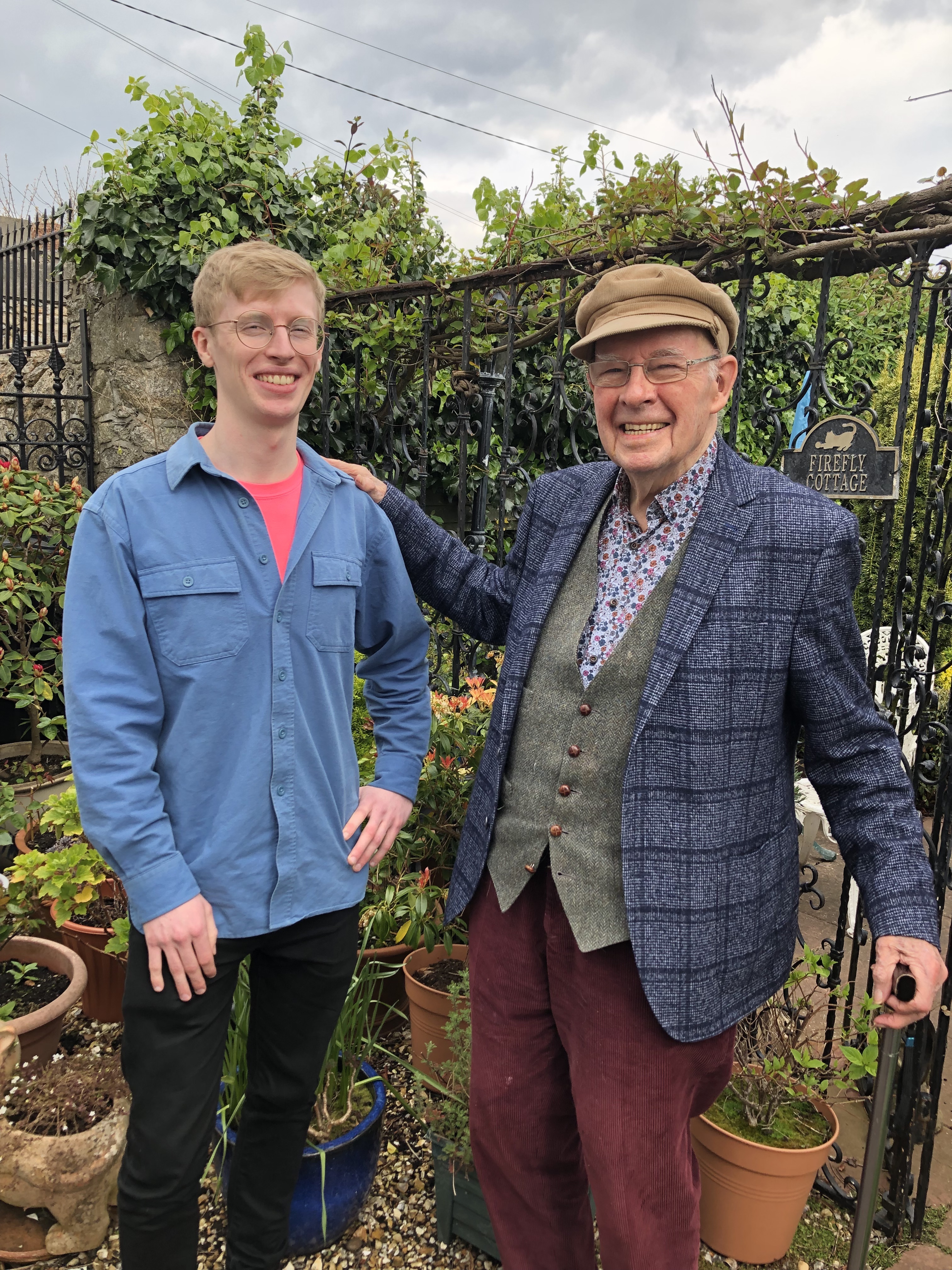 The School of English, Drama and Film is delighted to announce this year's winner of the annual Maeve Binchy UCD Travel Award: Declan Toohey. Declan is a current MFA student of Creative Writing at University College Dublin and holds an MA in Film from Queen's University Belfast and a BA in English from Maynooth University; he is the eighth winner of the award. The award will facilitate research towards a novel tentatively titled Dead Goals, in which an unhinged Irish seminarian travels towards St Petersburg by boat and train, but ultimately fails to reach his destination. Declan's novel is intended as the third in a proposed trilogy — the Madness and Misguided Masculinity trilogy— whose first novel, Perpetual Comedown, will be published by New Island in early 2023.
Commenting on his receipt of the award from Gordon Snell (pictured), Declan said: 'I'm honoured and thrilled to be this year's recipient of the Maeve Binchy Travel Award. The idea for this project has been in my mind for some time now – so it's a dream to get the opportunity to start researching the novel in earnest. Without the award, the necessary fieldwork would be simply impossible. I can't thank Gordon Snell and the judging panel enough.' Inaugurated in 2014, the Maeve Binchy UCD Travel Award commemorates Maeve Binchy, her love of travel and her world-celebrated creative writing: The Award, worth €4,000, is open to a student (undergraduate or postgraduate) currently enrolled in UCD's College of Arts and Humanities and funds a travel opportunity that will enhance the student's creative writing. The award judges are Niall MacMonagle, Éilís Ní Dhuibhne and James Ryan.
'This year marks the 10 th anniversary of the death of Maeve Binchy, and it's a very special honour for us to mark her rich continuing legacy for writers and readers through this award,' commented Professor Margaret Kelleher, convenor of the competition. 'Declan is a very worthy winner and we look forward to the launch of his forthcoming novel and his future writing. On behalf of the judges, warm thanks to all who entered this year and we encourage students to reapply in years to come.'