Equality, Diversity & Inclusion Survey Update
To better understand how individuals experience their working environment, to highlight existing good Equality, Diversity and Inclusion (EDI) practice and to identify areas where enhancements can be made, an EDI survey was carried out in May 2021. As per UCD's Gender Equality Action plan (GEAP) 2020 – 2024, UCD has committed to survey our employees every two years. This will enable the University to monitor the impact of its activities and measure progress in the area of EDI through quantitative and qualitative analysis. Reference is made throughout this report to relevant actions in the GEAP and EDI strategy 2020 – 2024 to identify where gaps are currently being addressed or where additional actions have been included as part of the review of the EDI strategy.
Please access the EDI Survey Report 2021 here: EDI Survey 2021
Additional analysis of the free text was carried out and is available here: EDI Survey Open Text Analysis
Supports for UCD employees are also listed at the end of the report and on this webpage.
Background:
Why are we running this survey?
UCD EDI is committed to supporting an inclusive culture and respectful environment where individuals are able to thrive, irrespective of their background. In order to support our equality, diversity, and inclusion planning processes in line with the UCD EDI strategy, meet statutory responsibilities and assess the impact of initiatives to date, we are conducting a survey to obtain your views and insights with all UCD employees. We would therefore welcome and encourage your participation in this survey.
Donation to UCD Cothram Na Féinne access scholarship
For every completed survey, EDI will make a donation to the UCD Champions Scholarship Fund to provide funding for a student who otherwise could not attend UCD or participate fully in college activity.
Why should you take part?
By taking part in this survey, you are helping us to identify areas for enhancement, and steps we can take to achieve this. We need to hear from you about your experiences of equality in UCD, the impact of EDI initiatives on your working environment to enhance inclusiveness and belonging and work-life balance and to identify and prioritise steps we can take to address or enhance your experiences. The survey results will be collated to provide an overall picture of EDI across the University.
Your experience
While some of the questions in this survey have fixed answers, we have included as many open text boxes as possible, to give respondents an opportunity to detail their own experience of equality in UCD. With this in mind, please expand on your answers wherever possible. We want to understand your views on/experiences of equality in UCD. The more information you provide us with, the more we will understand about the current situation in relation to equality in UCD.
Some of the results of the last survey (2019)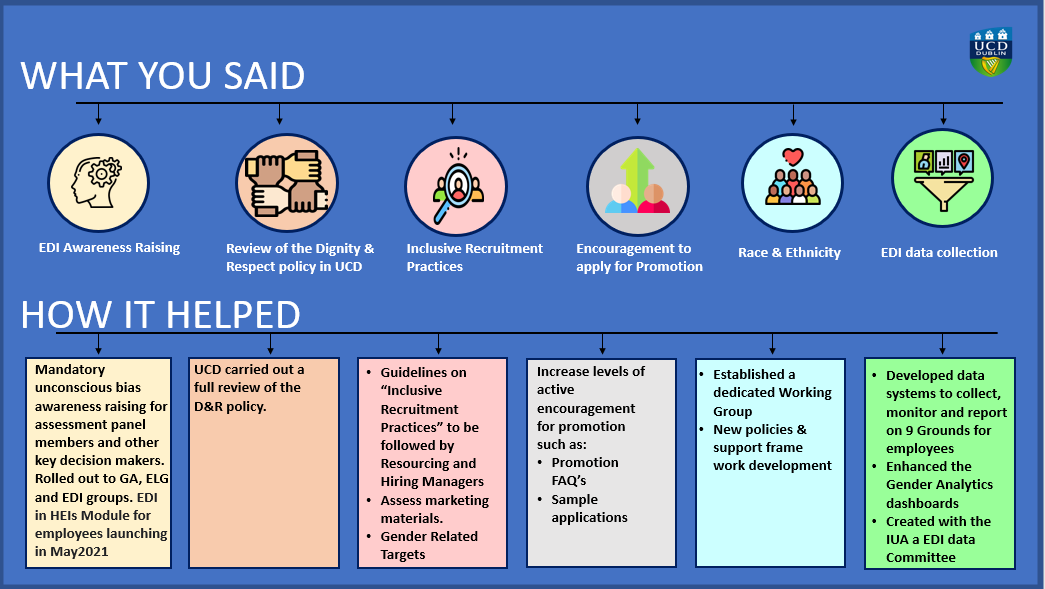 Outputs from the last survey (2019) also contributed to the development of the Gender Equality Action Plan 2020 – 2024 and the implementation of the EDI Strategy.
Useful Link:
EDI 2021 Survey FAQ's:
Show/hide content Open Close All